by Derek Hoffman
American Express (NYSE: AXP) — Credit Card Holders Spent Less & Borrowed Less
Earnings Info: Reported a 21 percent decline in earnings in the quarter versus the year ago period.
Sales dropped 16% from a year ago.
Sales and earnings managed to slightly beat the analysts' consensus of estimates.
CFO Daniel Henry said, "We need to be cautious about the impact of higher unemployment levels…It's still too early to say that all the economic challenges are behind us."
Comment: American Express suggested signs that the decline in spending could be stabilizing and the rise in loan losses easing. We'll need a few more quarterly calls to determine if stability is here to stay or if volatility is slowly creeping back.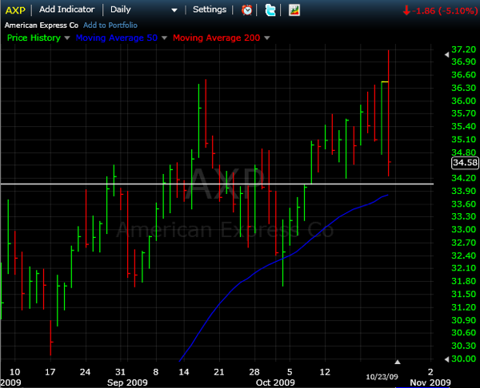 Honeywell (NYSE: HON) — Not Yet Cruising from the Cockpit
Earnings Info: For the third quarter, Honeywell said it earned 80 cents a share compared to 97 cents a share in the year-ago period. Earnings beat the consensus of analysts' estimates.
Sales fell 17% from a year ago. Honeywell missed the consensus sales estimates by analysts.
"We do expect to see top-line declines moderating as we move into the fourth quarter," Chief Financial Officer Dave Anderson told investors on the earnings call. "We're obviously continuing to plan on the basis of tough economic conditions."
Comment: The Aerospace Manufacturing Beast continues to cut the fat in order to create a healthier company modeling efficiency in today's challenging economic climate.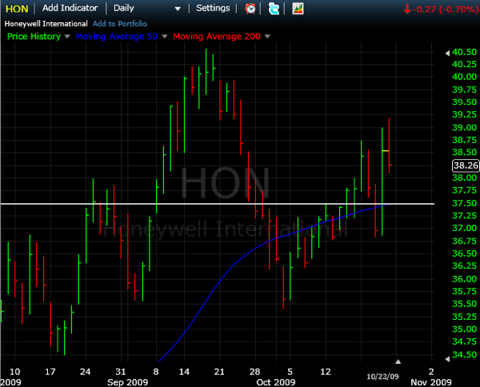 Whirlpool (NYSE: WHR) — Taking Analysts for a Whirl
Earnings Info: Earnings dropped 47% from a year ago, but Whirlpool managed to beat the analyst consensus estimates.
Sales for the quarter dropped 8 percent, yet still topped consensus earnings estimates.
"We continue to see demand levels in the United States stabilizing, albeit at lower levels," CEO Jeff M. Fettig told investors on the earnings call.
Comment: Aggressive cost-cutting measures are creating a leaner machine at Whirlpool Headquarters to fend off the waning demand for home appliances.