As someone who covers a lot of short ideas on this site, one of the most important items I follow is short interest data. One must always be aware of the short interest in a stock. A large short base could spark a short squeeze on good news, while low short interest could spark a huge drop on bad news. Every couple of weeks, we get an update from Nasdaq on short interest data, and I report on what I am seeing. Today, I'm here to discuss the end of August numbers. I'll discuss five names that short sellers are going after, whether just recently or over the longer term.
Dendreon (NASDAQ:DNDN):
Dendreon short interest increased by less than half a million shares during the final few weeks of August, less than one percent. Why is this a significant move? Well, it marks a new high in Dendreon short interest, more than 54.38 million shares. Short interest in the biotech name is up 28.5% year-over-year, and even more if you go further back, as you can see in the chart below.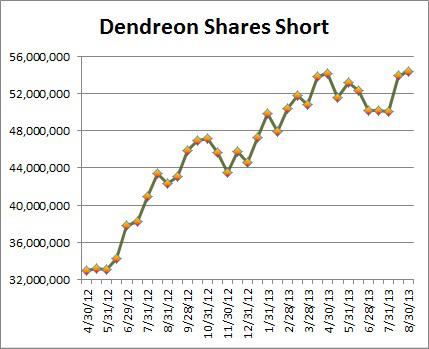 Why is short interest rising so much? Well, Dendreon's big prostate cancer treatment Provenge has continually disappointed. I've fairly asked if Dendreon's window of opportunity has closed, as the stock has dropped to new yearly lows. Dendreon's sales disappointment and lack of cost control have meant losses continue to pile up, and the balance sheet keeps getting worse. If Dendreon doesn't start to improve rather quickly, the company will need to dilute shareholders greatly in order to raise cash for upcoming debts. With a market cap of less than $463 million, any shares sold will have a very large impact.
Intel (NASDAQ:INTC):
Almost 3.5 million additional shares of Intel were shorted during the latter part of August. Again, this 1.42% increase does not seem like much. However, Intel, like Dendreon, makes this list because of a new high point reached. Intel short interest has now topped 248.6 million shares. A year ago, we were at 176 million, and in April 2012, the count was under 89 million. As you can see from the chart below, Intel's short count continues to go higher.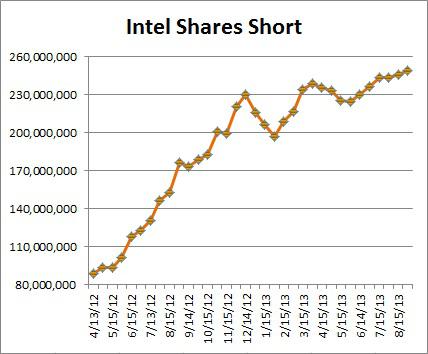 Intel shares have bounced around lately, but they seemed to have gotten a boost as the company's IDF event has kicked off. Intel has fallen behind in the mobile race, leading to 2013 being projected as a second straight year of declining revenues. Earnings are falling as well, which is why Intel's stock has not gained too much traction lately. Intel has a large dividend and strong buyback, so shorts need to be careful. Intel's stock is a sleeping giant, and if some of these product launches pan out, that giant will awake. That could finally be the catalyst for a turn in Intel short interest.
Microsoft (NASDAQ:MSFT):
More than 5.85 million shares were added to Microsoft's short interest count during the late stages of August. That represents an increase of more than 10.1%. While short interest is still relatively low overall for this tech giant, this could be a key reversal. As you can see in the chart below, the late August pop stopped a trend of falling short interest. At the last update, Microsoft short interest had hit a new yearly low, but that has been erased.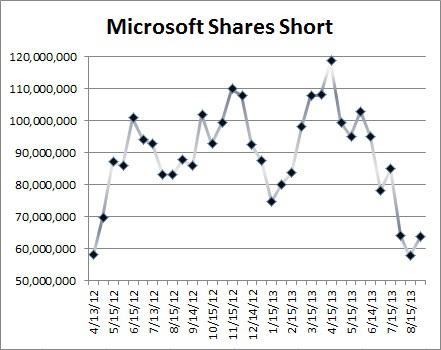 I'm wondering about a reversal because there have been many that questioned Microsoft's purchase of Nokia's (NYSE:NOK) devices and services unit, along with some patents. I called the deal a financial win, but only to the extent that it doesn't come at a cost to the dividend and buyback. Microsoft did not have to use crucial US cash resources for the deal, so those funds can be used for the dividend and buyback. Microsoft is using foreign funds for the deal. With a lot of skepticism over this deal, I am interested to see if we see another rise in short interest at the next update.
SodaStream (NASDAQ:SODA):
SodaStream short interest increased by 4.37% at the latest update, continuing a recent trend. Since the middle of June low, short interest in SodaStream is up 34.13%. At the latest update, more than 8.22 million shares were short. That is an extremely large number, because with a float of just 19.60 million, it means that nearly 42% of the float is shorted. When you see numbers like that, it means that a short squeeze could be possible on any piece of positive news.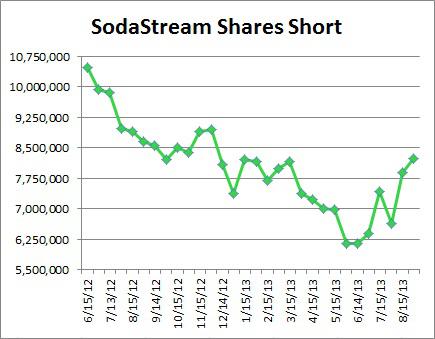 Why has short interest increased so much? Well, there have been two items that mostly have been sorted out since the end of August. Green Mountain Coffee Roasters (NASDAQ:GMCR), the company that makes the Keurig machines and k-cup single serve coffee products, is looking to enter the cold beverage space. GMCR recently had its investor day, so there were some competitive concerns for SodaStream leading up to that event. Those fears have been calmed a bit, as Green Mountain's offerings aren't as large as originally thought, and still a few years off. Also, with a large amount of production in Israel, there has been some political risk with SodaStream. Some have been concerned about Syria and the potential for a war in the Middle East. For now, that fear has been calmed a bit as well.
Tesla Motors (NASDAQ:TSLA):
The electric car maker saw a 6.4% rise in short interest over the final few weeks of August. This is the third straight increase in short interest since the recent low, marking a 16.6% jump. While short interest is still well below levels from earlier this year, a reversal has started. Tesla short interest is at its highest point in more than three months, as you can see below.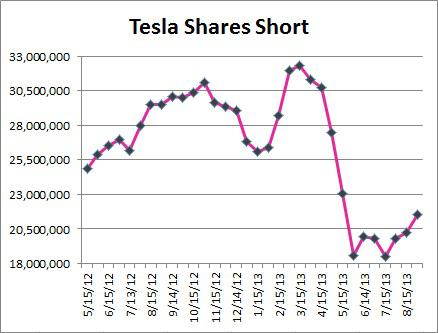 At this point, you are starting to see short interest increase just because of Tesla's price. When you have a stock go from $35 to more than $170, there are going to be those who bet against the name. A large part of the reason for the initial jump to $100 was due to short covering, and the rally has definitely continued. There are those who say Tesla is in a bubble, which is bound to eventually burst. Unfortunately for those short, that argument came at $60, $100, and $150. The rally has stalled for now, but shares are still above $160. With the brief pause, one must wonder if short interest will come down at the next update.
Final thoughts:
All five of these names have seen significant rises in short interest, whether over one update or a longer-term period. Dendreon and Intel both saw short interest hit a new yearly high, well above levels from a year ago. Microsoft short interest increased a little, reversing a recent downward trend. SodaStream short interest has popped on competitive and political concerns, both of which have been calmed a little since. Tesla short interest also continued higher as the stock's rally has pushed the name well above $150. Will any of these names make the list next time around? I'll be back in a couple of weeks with the answer to that question.
Disclosure: I have no positions in any stocks mentioned, and no plans to initiate any positions within the next 72 hours. I wrote this article myself, and it expresses my own opinions. I am not receiving compensation for it (other than from Seeking Alpha). I have no business relationship with any company whose stock is mentioned in this article.
Additional disclosure: Investors are always reminded that before making any investment, you should do your own proper due diligence on any name directly or indirectly mentioned in this article. Investors should also consider seeking advice from a broker or financial adviser before making any investment decisions. Any material in this article should be considered general information, and not relied on as a formal investment recommendation.