Financial markets must have had extremely optimistic expectations for Australia's August employment numbers. Right after the release of the employment statistics on September 12th (Australian time), the Australian dollar (NYSEARCA:FXA) pulled back sharply across the board.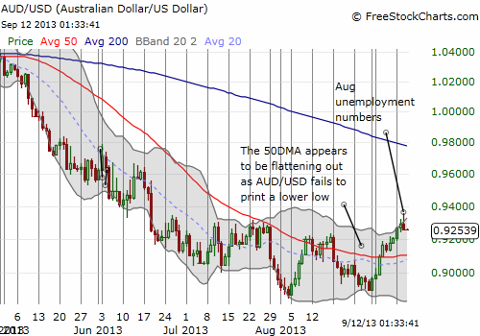 Is the Australian Dollar still bottoming despite poor unemployment numbers?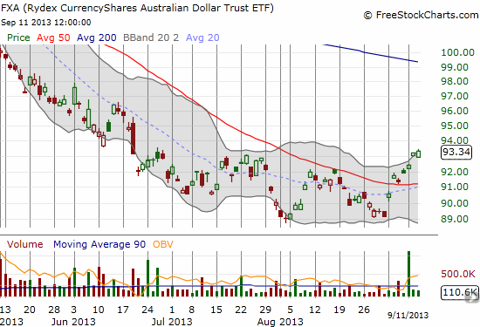 FXA, the Australian dollar ETF, sees a sudden surge in trading volume.
Source: FreeStockCharts.com
The unemployment rate ticked up from 5.7% in July to 5.8% in August, essentially back to levels last seen in the immediate aftermath of the financial crisis. The rest of the employment data were a bit mixed. Seasonally adjusted full-time employment dropped by 2,600 people to 8,128,800, and part-time employment dropped by 8,200 people to 3,508,300. Yet, seasonally adjusted aggregate hours worked increased 1.10M hours to 1,650M hours.
I will now watch more closely the change in expectations for a rate cut in October. Ever since the last statement on monetary policy on September 4, the Reserve Bank of Australia (RBA) Rate Indicator has been driving toward near certainty for no change in rates:
| | | |
| --- | --- | --- |
| Trading Day | No Change | Decrease to 2.25% |
| 2 September | 75% | 25% |
| 3 September | 79% | 21% |
| 4 September | 86% | 14% |
| 5 September | 86% | 14% |
| 6 September | 88% | 12% |
| 9 September | 88% | 12% |
| 10 September | 92% | 8% |
| 11 September | 92% | 8% |
These changing expectations have been at least partially responsible for driving the current relief rally on the Australian dollar.
When I last wrote about the Australian dollar, I was angling to fade the relief rally. I had to take losses on that small bet shortly thereafter and switch to riding the momentum for shorter-term trades. My lingering bearishness on the Australian dollar will not yet let me bet bullish for an extended period of time. Post-employment numbers, I am now positioned bullishly again, looking for a bounce after the dust settles on the employment numbers and whatever change comes in rate expectations. On the technical side, I will be looking to see how AUD/USD reacts to a retest of its flattening 50-day moving average (DMA) (see above). Such a moment will be the first true test of the notion that the Australian dollar may have finally bottomed.
Be careful out there!
Disclosure: I have no positions in any stocks mentioned, and no plans to initiate any positions within the next 72 hours. I wrote this article myself, and it expresses my own opinions. I am not receiving compensation for it (other than from Seeking Alpha). I have no business relationship with any company whose stock is mentioned in this article.
Additional disclosure: In forex, I am net long the Australian dollar