"Are they [Intel] ever going to be the leaders in power efficiency? No, of course not." - Former ARM CEO Warren East
Wednesday marked the second day of Intel's (NASDAQ:INTC) Developer Forum in San Francisco, and let me tell you - it was a good day indeed. While I'll likely talk about some of the other "non" Bay Trail stuff that I saw on another day, the focus of Wednesday was really on what I believe will go down in history as a historic occasion - the official launch of Intel's next generation "Bay Trail" system-on-chip. This is the second platform to launch based on Intel's 22 nanometer FinFET "Silvermont" cores (the first being "Avoton" for microservers), and I believe that Intel has finally proven ARM (NASDAQ:ARMH) "wrong" with respect to power efficiency in mobile devices.
What Is Bay Trail?
Say hello to Bay Trail-T, Intel's latest system-on-chip built on the company's 22 nanometer FinFET manufacturing process: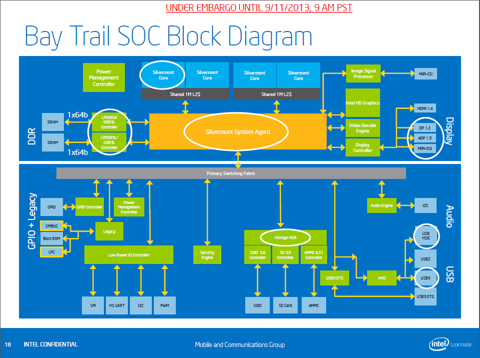 It features four "Silvermont" processor cores (each grouped into "modules" of two that share a common L2 cache), a 4 execution unit GPU that runs at up to 667MHz, a next generation image signal processor ("ISP"), 2x 64 bit LPDDR3-1066 memory channels, and all of the standard I/O goodies and support eMMC flash (the standard flash interface for smartphones and tablets - the "Bay Trail-M" will support SATA for PC I/O).
On paper, it's a truly modern SoC that integrates everything necessary for a modern, iPad-class tablet (except that it can run full Windows 8 and Android). However, how does performance and power measure up?
Performance Is Superb, Power Consumption Even More So
I was invited to a Bay Trail benchmarking session earlier this week at which I was able to see real time power measurements of Bay Trail while it ran a bunch of different workloads. In most "tablet"-like workloads, the system-on-chip typically consumed about 1W. In fact, on a per-core basis, a "Silvermont" at full tilt only consumed 750mw - 850mw (it varied). With all four cores loaded to their maximum in a PC-based benchmark (Cinebench), the SoC did not consume more than 2.5W (although from what I could tell the maximum was really more like 2.2W - 2.3W).
While Intel's Bay Trail handily outperforms AMD's (NASDAQ:AMD) "Temash" and "Kabini" on a performance/watt basis (it's faster than AMD's "Kabini" on the CPU side, but consumes significantly less power), this is expected. The real question is how Intel's parts compared with Nvidia's (NASDAQ:NVDA) Tegra 4 (which is based on ARM's Cortex A15 in a quad core configuration) and Qualcomm's (NASDAQ:QCOM) Snapdragon 800 (based on Qualcomm's home-growth Krait 400 cores).
From the tests that I've run, and from the results that the various tech press/hardware review sites got, the performance situation: it's the fastest thing on the block with respect to CPU performance (it offers better performance than either Tegra 4 or Snapdragon 800) while offering lower power. On the GPU side of things, it looks as though "Bay Trail" is very competitive with the Tegra 4 in the Toshiba Excite Write Pro (they scored roughly the same in 3D Mark Ice Storm - I expect Nvidia's GPU is faster to compensate for the slower CPU performance). The numbers against Snapdragon 800 (in an 11.6" reference design) show that the Bay Trail has a pretty significant performance lead (in the CPU intensive 3D Mark Physics subtest, I got 18376 on the Bay Trail device, while the 11.6" Qualcomm reference design scores in the 14,000 range).
On graphics is a fair bit slower than the numbers that Qualcomm has posted in its 11.6" tablet reference design (MSM8974 MDP/T), but keep in mind that Intel's Bay Trail reference design was a 10.1". We'll need to see commercial 10" tablets from Qualcomm's partners, as well as Android with final drivers, before we can really compare here, but I do suspect that Qualcomm's GPU is beefier (however, at what power cost is also unknown).
All in all, Bay Trail's performance is excellent for the 7-10" class tablet devices that it is expected to power this holiday season compared to both Intel's previous Atom efforts as well as to the very leading edge ARM system-on-chip products. In CPU Intel is very clearly showing leadership, and in GPU Intel is solidly between a Qualcomm Snapdragon 600 and Snapdragon 800. All of this, of course, at equal or lower power.
Attacking All Price Points, Both Android And Windows
Intel's goal is to get into every device possible at every price point possible, and to this end there won't just be one SKU of Bay Trail-T: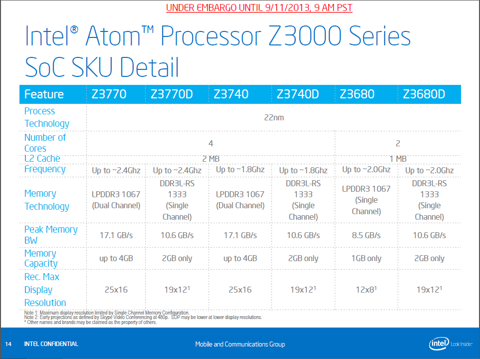 Intel will have high end parts for OEMs that want to pay more for maximum performance in order to drive ultra high resolution screens and such. It will also have cheaper parts for OEMs looking to put out cheaper and less feature-filled systems. The Windows based tablets will all be quad core parts (just a question of what clock speed and memory bandwidth they sport), while the Android devices will either be quad core or dual core (since Android is lighter weight and can push down into lower price points). Note that the "dual core" parts are just the quad core dies with features disabled (so they're likely quads that didn't make the cut).
From what Intel executives have stated publicly and from my conversations on the ground, Intel intends to leave no price point unaddressed. Everything from iPad-like boutique designs to cheap Android tablets in the Asia-Pacific region Intel is going after aggressively with its quad-core Bay Trail (and then its smartphone-oriented "Merrifield" next year - more juicy details on that part in a future article) and its disabled 2-core cousins.
Now, the thing with Bay Trail is that while it is ready to go for the Windows 8.1 launch (and you will see designs on the market at the launch), Android support isn't quite there yet. I don't mean application support - everything I tested with the exception of the WebGL portion of the Vellamo benchmark worked without a hitch - but more platform/software stack support. Intel needs to fine tune its graphics drivers for Android (while the graphics drivers for Bay Trail's Gen7 are largely mature on the Windows platform thanks to Ivy Bridge and Haswell utilizing the same graphics technology), as well as some of the more intricate things around the platform. I expect the systems to be available either by the end of 2013 or by early Q1 2014.
Intel Finally Vindicated After Years Of Ridicule, Things Look Great Going Forward
I have been expecting Intel to deliver in spades with "Silvermont" this year for about a year now, and it seems that my thesis is now validated. A big part of the reason that I've seemed so "anti-ARM" (even though I think the company is solid, albeit very expensive) is that the company has been spreading a multi-year FUD (fear, uncertainty, and doubt) campaign about Intel and how "X86" is unsuitable for mobile devices. While more technically oriented people knew that this was not really tue and that ARM's low power advantages came from targeting the right power envelopes, and not from anything inherent in its instruction set, the masses have truly been brainwashed to believe that ARM's chips are inherently lower power.
What the ARM guys could have truthfully said was that Intel didn't (yet) have cores at the right power design point to compete in this space. They could have also argued that Intel's system-on-chip development experience was lacking and that it's not enough to just have a good CPU- Intel needed a host of other technologies that weren't in place 4 years ago but are in place today.
While investors now need to wait with bated breath on the actual sell-through data for Intel's tablet (and soon smartphone) products, the pieces are finally there to succeed. In tablets, the company has an excellent solution (that should get even better as the company moves to 14nm and a new CPU and GPU), and we should see a similarly complete smartphone solution next year.
I don't know about you, but I'm pretty excited as an Intel shareholder to get through 2013 and to see what 2014 and beyond bring.
Disclosure: I am long INTC, NVDA, AMD. I wrote this article myself, and it expresses my own opinions. I am not receiving compensation for it (other than from Seeking Alpha). I have no business relationship with any company whose stock is mentioned in this article.