One of the more reliable trading models in the past couple of years has flashed a buy signal. I have been watching the VIX/VXV ratio, as pioneered by Bill Luby, for some time. This investor sentiment indicator measures the term structure of the VIX Index. By my measure, when the ratio falls below 0.92, it has provided reasonably good long entry points in the past (see my previous post Waiting for a Santa Claus rally where I backtested this indicator).
The chart below shows the SPX in the top panel and the VIX/VXV in the bottom panel. The red dotted vertical are previous buy signals when the 3-day moving average of the VIX/VXV fell below the 0.92 mark.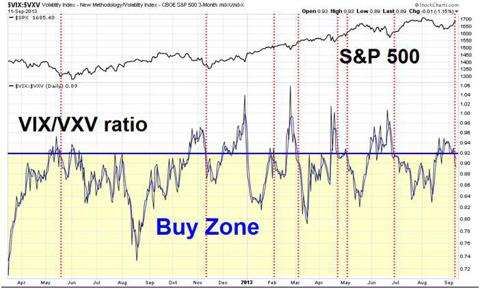 As the NASDAQ 100 stages an upside breakout to new highs, the VIX/VXV is a confirmation of the underlying strength of the stock market.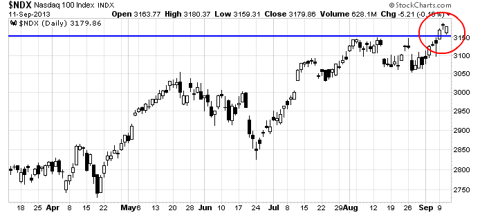 If the past is any guide, this is a tradable rally that is likely to take the major averages higher, notwithstanding the worries about the Fed taper, the new Fed chair, the debt ceiling debate, etc.
Disclaimer: Cam Hui is a portfolio manager at Qwest Investment Fund Management Ltd. ("Qwest"). This article is prepared by Mr. Hui as an outside business activity. As such, Qwest does not review or approve materials presented herein. The opinions and any recommendations expressed in this blog are those of the author and do not reflect the opinions or recommendations of Qwest.

None of the information or opinions expressed in this blog constitutes a solicitation for the purchase or sale of any security or other instrument. Nothing in this article constitutes investment advice and any recommendations that may be contained herein have not been based upon a consideration of the investment objectives, financial situation or particular needs of any specific recipient. Any purchase or sale activity in any securities or other instrument should be based upon your own analysis and conclusions. Past performance is not indicative of future results. Either Qwest or Mr. Hui may hold or control long or short positions in the securities or instruments mentioned.