There's a company that's been flashing on my radar for a couple of weeks now, The Alkaline Water Company (OTCQB:WTER). But Wednesday, the number of trades on this thing exceeded those of highly questionable Medical Marijuana (OTCPK:MJNA), AMR Corp. (AAMRQ.PK), and even Freddie Mac (OTCQB:FMCC). In fact, it was the second most active ticker (by number of trades) on OTC. So, I decided to take a closer look and share some information.
The Promotion
The company has been highly recommended by a number of different sources, with numerous emails like:
"WTER Is Ready To Shower You With Profits" - from Aim High Profits
"WTER: Our Beverage Play Thatll Make You Rich" - Pennnystock Junction
"WTER Is A Monster In The Making" and "Get WTER On Your Trading Screen Now" - Pennystock SMS
Not to mention all the hub-ub (pun intended) on InvestorsHub.
So, we'll start with a nice quote from Prairie Home Companion author and humorist Garrison Keillor, do an overview of the company and some quick "on the ground" due diligence, then review the financials. Finally, I'll make a prediction of the long-term trend of this $71 million market cap company.
"No more designer water. Water is water. If you want lemon flavoring, add a slice of lemon. You want bubbles, stick a straw in it and blow… the fact is that bottling water and shipping it is a big waste of fuel, so stop already. The water that comes to your house through a pipe is good enough, and maybe better." -Garrison Keillor
Ok, so maybe people are becoming tired of overpriced bottled water. And yes, some are even going to the extent to legislate it out of our lives. But, truth of the matter is, water is a necessary part of our lives. To maintain a healthy lifestyle, everyone should be drinking 6-8 glasses of water a day. (Or so we are told by those elementary dietary worksheets that have started to come home.) So what are we to do? Eschew all bottled water completely, and rely solely on the tap water available at our sinks and water fountains; hoping that it is as safe and pure as promised? Or is there a compromise, something better? The Alkaline Water Company wants us to believe there is, and that Alkaline84 is the solution!
The Company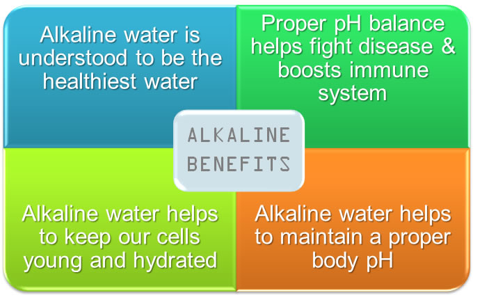 The Alkaline Water Company claims its state-of-the-art Electrochemically Activated Water system uses specialized electronic cells coated with a variety of rare earth minerals to produce drinking water incorporating 84 trace Himalayan minerals at a 8.4 pH without the use of any chemicals. The product is offered in both 3 liter and 1 gallon size bulk PET, BPA free bottles in a convenient 4 pack case. The company claims that alkaline water instantaneously inactivates human pepsin in laboratory studies, which can help prevent painful reflux symptoms that can lead to cancer. An overview provided on the company website makes these claims and recommendation:
ALKALINE84 is produced at an 8.4 pH, DESIGNED TO OBTAIN OPTIMUM BODY BALANCE.
ALKALINE84 contains 84 trace Himalayan minerals beneficial to the health of the consumer.
We recommend you drink at least 84 ounces of Alkaline water each and every day.
You'll notice the smooth soothing taste of ALKALINE84 the first time you drink it.
"On the Ground" Due Diligence
Ok, I'll bite on this one. Now, since I was previously criticized for not sampling the fare of GrillIt Inc. (OTCPK:GRLT) prior to authoring my first short piece here on SA, I suppose the first thing I should do is purchase a case of the product and sample it for myself. Easy enough, or so I think; all I need to do is hop on Google shopping and search out where I can purchase the water. (See below)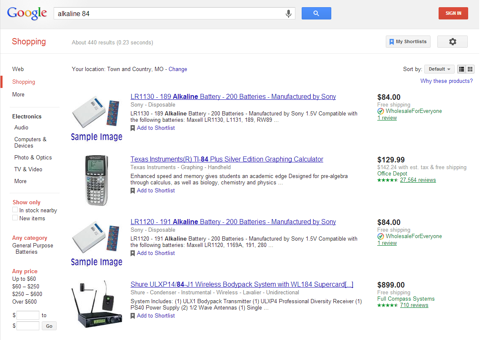 Ok, no such luck. Looks like Google has no listing selling Alkaline84 water. No problem. I am a devout eBayer, so I will simply log on, do a quick search, and find a "Buy It Now" seller.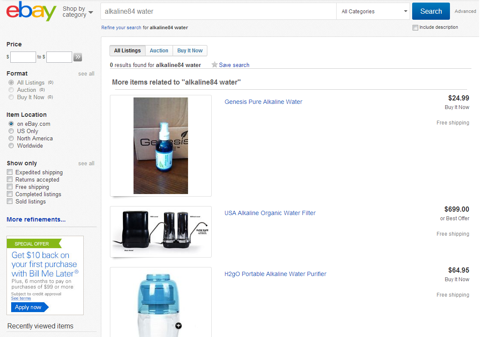 Ok, now this is getting suspicious. How come I can't find anyone selling this stuff? One last try, this time I'll go to the largest online retail site in the known universe, Amazon!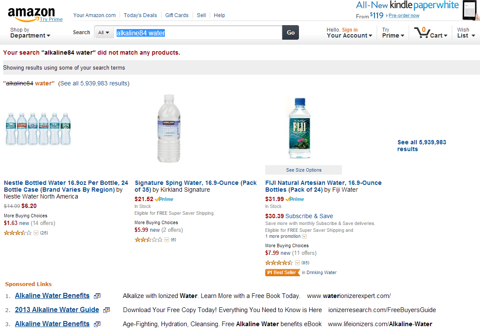 Nothing? Ok, now I am very suspicious. If I can't buy directly from the company (check their website), and I can't find it on Google (GGOG), eBay (NASDAQ:EBAY), or Amazon (NASDAQ:AMZN), how can I verify that this is a good product, let alone if the product even exists?
Fundamentals
Now, I've said in the past, and I will repeat it again. I believe every investor should look at the financials of any company they are considering as an investment. Therefore, we will look at the numbers from the last quarterly filing of Alkaline Water Company.
For the period ending June 30, 2013, the company had over $400 thousand in current assets as compared to only $38 in current liabilities. No liquidity crisis here. But Revenue was only $33 thousand, while operating expenses were in excess of $193 thousand. With a burn rate like that, this company may see a liquidity crisis in the coming year if it can't ramp up sales quickly. But, how can it ramp up sales if consumers cannot find their product to buy?
More unnerving is the current valuation of the company. The current market cap is over $70 million dollars. That gives us a price to book of more than 193 and a price to sales in excess of 3000! That's enough due diligence for me. I've found my screaming red flag, and I need go no further.
Conclusion
Alkaline Water Company is seriously overvalued at their current stock price. The shares have been talked up in price by promoters and gossip, with no justification based on the companies book value. This stock is going down eventually, and the only question is how high will the pump get before the dump starts.
Disclosure: I have no positions in any stocks mentioned, and no plans to initiate any positions within the next 72 hours. I wrote this article myself, and it expresses my own opinions. I am not receiving compensation for it. I have no business relationship with any company whose stock is mentioned in this article.