Align Technology (NASDAQ:ALGN) is a small-cap company operating in the medical industry, specifically in the dental segment. It is a medical device company engaged in the design, manufacture, and marketing of the Invisalign system, as well as 3D digital scanning products and services for orthodontic and restorative dentistry. The company was founded in 1997, and received FDA clearance in 1998. The first commercial sales of Invisalign to U.S. orthodontists began in 1999. Align Technology is listed on the Nasdaq stock exchange since 2001 and has a market capitalization of about $3.8 billion.
The company's flagship product is Invisalign, being responsible for more than 90% of its revenues. Its services segment accounts for about 6% of Align Technology's revenues. In 2011 Align acquired Cadent Holdings, a manufacturer of 3-D digital scanning solutions for orthodontics and dentistry, for $190 million in cash. Cadent has small sales but an interesting technology called intra-oral scanning, which allows for the acquisition of a 3-D digital image of the patient's mouth while in the dentist's chair. This was a perfect addiction to the Invisalign system, substituting the need to use physical molds.
Invisalign is used for straightening teeth with a series of custom-made aligners created specifically for each patient. The Invisalign system is a combination proprietary virtual treatment modeling software, and removable aligners. The Invisalign treatment consists of a series of nearly invisible, removable aligners that the patients change every two weeks for the next set of aligners. Compared with other teeth straightening options it has several advantages, including being nearly invisible, being removable during treatment, not using metal that can irritate teeth and gums, and allowing patients to eat and brush normally during treatment. On the other hand, its main negative factor is the cost, which is usually higher compared with other options.
Invisalign is prescribed to patients through trained Invisalign orthodontists and general practitioner dentists. It is sold in over 45 countries, using a direct sales model in the U.S., Canada, Europe, China, Japan, and Asia-Pacific. In smaller emerging markets it uses distributors, including in Africa, Middle East, and Latin America. Since its inception in 1999, the company has produced more than 120 million aligners, has been used to treat more than 2 million patients, and has currently over 25,000 active Invisalign doctors.
Align is focused on a small part of the orthodontic industry, but is the clear market leader on its specialty. The company has strong growth prospects as the product awareness increases, it gains market-share from traditional brackets, and expands to more countries. Furthermore, the company recently announced an exclusive distribution arrangement with Henry Schein Dental for distribution of a specific product called Realine in the U.S., which is targeted for a different customer type than Invisalign and can therefore give a significant boost to the company's revenues. Although this deal is for the U.S. only, Align may replicate this partnership on a worldwide basis if it proves successful.
Regarding its financial performance, the company has achieved strong growth and very good profitability over the past few years. Its Invisalign product has maintained its strong growth path during the past year, with over 17% volume growth reflecting continued adoption. About only 24% of shipments was for international markets, which shows the company's strong growth prospects that still exists abroad. This strong volume growth is also reflected on Align's revenue, which reached a record of $560 million in 2012, an increase of 15.7% year-on-year.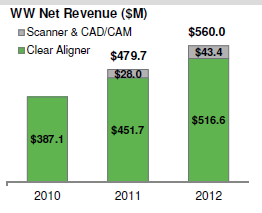 Source: Align Technology
Despite the company's strong volume growth, its gross margin declined slightly during the past year but still remains quite high at 74.6%. The company's operating income amounted to $128 million, or an operating margin of 23%. Its diluted earnings per share was $0.71 for 2012, compared to $0.83 for 2011. The company has also a good cash flow generation capacity, given its cash flow from operations of $133 million in 2012. This strong cash flow is also reflected on the company's cash position, which at the end of 2012 was above $350 million. Although the company does not pay dividends to its shareholders, it bought back $47.2 million of stock during 2012.
Regarding Align's most recent financial results, it continued to grow at very good rates in the second quarter of 2013. Invisalign revenue increased by 14.7%, with Invisalign case shipments increasing across all customer channels to over 100,000 cases worldwide for the first time. The company's revenue increased by 12.5% year-on-year to $163.8 million, its gross margin improved to 75.5%, and its EPS increased slightly to $0.36. During the last quarter, Align purchased more than $92 million of its own stock, completing authorized purchases under its stock buyback program.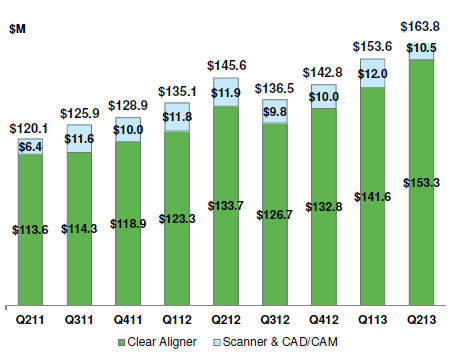 Source: Align Technology
Going forward, Align expects to continue on its growth trajectory for the next few years. Over the next three to five years the company expects to grow its revenues by 15-25% CAGR, and remain highly profitable with gross margin raging between 73% to 78% and operating margin in the range 25-30%. Regarding Align's valuation, it is trading at 37x its expected 2013 earnings, which is not particularly cheap even for a growth company. Its EV/EBITDA multiple is higher than 20x, and the price-to-sales ratio is close to 6.5x.
Conclusion
Align Technology is a growth company with very good prospects for the foreseeable future, and its recent performance demonstrates that it remains on track to penetrate its very large market opportunity. The recent deal with Henry Schein Dental can increase even further its growth opportunity over the long term, justifying its current high valuation. However, the stock is not cheap and a better entry price may be available on dips.
Disclosure: I have no positions in any stocks mentioned, and no plans to initiate any positions within the next 72 hours. I wrote this article myself, and it expresses my own opinions. I am not receiving compensation for it (other than from Seeking Alpha). I have no business relationship with any company whose stock is mentioned in this article.