SunPower Corporation (NASDAQ:SPWR) is experiencing strong momentum in its residential leasing business in the US and has increased its lease financing capacity to benefit from it. It has been very successful in this segment, as SunPower signed 2,200 leases in second quarter 2013. The company is also strengthening its position in Japan with the help of its local partners. In addition to this, the company is progressing in project development and cost reduction plans. Here's an look at how all these factors are contributing to company's growth.
Leasing momentum in the U.S. will improve margin
SunPower stated that demand for solar leasing in United States is robust and has outpaced the company's capacity to finance new leases. Leasing allows customer to purchase solar systems with no up-front capital requirement and allows them to pay in installments. In second quarter 2013, the company signed 2,200 leases, bringing its total residential energy solution customer base to more than 18,000 customers. The company was also successful in getting $100 million system bookings in the North American commercial segment. SPWR has raised its lease financing capacity by $150 million with two partners. Looking forward, the company is all set to increase its margin and customer base as its benefits from increased operating leverage from the improving sales in this business.
Strengthening in Japan will help in expansion
The company continues to see strong demand in Japan and it has captured about 10% market share in Japanese residential rooftop market. A long-standing relationship with Toshiba (OTCPK:TOSYY) and Sharp (OTCPK:SHCAY) is providing better access to the Japanese market. Its shipments to Japan have increased by more than 30%. In second quarter, the company also achieved the additional key milestone of a 25MW supply agreement for a Japanese power plant. SunPower reported that the Japan shipment accounted for 36% of total module shipments and Japan will be a key long term growth driver for the company going forward.
Other key growth drivers
· Sunpower started developing Oasis, an integrated and standardized solution, for the company's power plants in 2010. Now all systems are built using Oasis. The company has set some cost reduction target from Oasis. The company is progressing to achieve these targets well in advance of goal. It is helping to improve financial performance of exiting plants and will help in cost reduction and expansion in the future, also.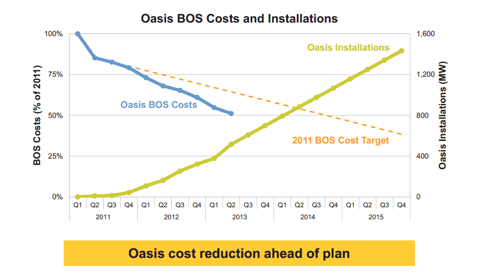 Source: Company Presentation
· Project development is one of the key drivers for the company. SunPower completed installation of panels in its California Valley Solar Ranch project three months ahead of scheduled. It has also accelerated construction at the 579 MW Solar Star project. Due to these plants, SunPower achieved $100 million pull forward in revenue from business that it is expected to receive in second half of 2013.
· In the second quarter also company focused on its cash and working capital. Its cash has increased to $720 million in second quarter 2013, up from $535 million in first quarter 2013, and inventory has been reduced by $46 million. The company is expecting $100-$200 million free cash in the full year of 2013.

Source: Company Presentation
Peer Analysis
Sunpower's stock has significantly outpaced its peers. The company's share price is up by 333.69% as compared to First Solar (NASDAQ:FSLR), up by 28.32%, and JA Solar Holdings (NASDAQ:JASO), 123.79% YTD.
Source: Google Finance
Despite of this underperformance, the prospects of its peers also looks good. JA Solar Holdings is looking to expand in project development which will complement their core business.
"I mentioned in my opening remarks that we are looking at opportunities to expand our involvement in project development. This will enable us to control more of the channel, diversify our solar solutions, and capture higher profitability. And it will also complement our core manufacturing business and provide greater visibility over medium-term module shipments."

- Jian Xie - JA Solar Holdings Co., Ltd. - COO in 2Q13 Earnings Call

As a part of project development initiative, JA Solar is planning to develop three solar power projects of 300MW in Xingtai City near Hebei Province. The company also has received permits for two 50MW projects in Dunhaung. Now, it will not face uncertainties in Europe and China markets because regulators of both the regions have avoided potential tariffs and reached a resolution on price and volume of product imports from China. It will help JA Solar to strengthen mono product segment and generate new demand.
First Solar is expected to realize most of its revenue in 2014 from new projects or 2013 acquisitions. It acquired 1.5GW project pipeline from Element Power, which has increased First Solar's pipeline projects to 8GW. It decided to hold its two projects, Macho Springs and SolarGen2, until completion. It also announced purchase of General Electric's cadmium telluride (CdTe) IP portfolio, which will strengthen its position in thin-film technology. In exchange of this, GE has agreed to purchase modules from First Solar.
Conclusion
Sunpower's residential solar leasing business is gaining market share in the United States. The company is strengthening its position in Japan. Project development has helped it in gaining $100 million in revenue. It's also progressing on its cost cutting and working capital reduction targets. Hence, I recommend buy.
Disclosure: I have no positions in any stocks mentioned, and no plans to initiate any positions within the next 72 hours. I wrote this article myself, and it expresses my own opinions. I am not receiving compensation for it (other than from Seeking Alpha). I have no business relationship with any company whose stock is mentioned in this article.