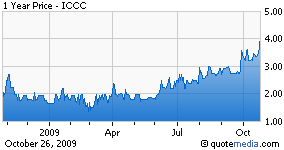 ImmuCell Corporation (NASDAQ:ICCC) is a 12 million market cap animal health biotechnology company. It's focused on developing, manufacturing and selling products that improve animal heath in the dairy and beef industries worldwide. ICCC has been in business for over 20 years.
Some of their products are First Defense, Wipe Out dairy wipes and other proprietary commercially effective products used to prevent and promote health and prevent disease with cows. Their current product line can be found here.

Mast Out recently received press given the success of meeting a pivotal effectiveness study end point. According to management, the positive results justify further product efforts and I believe greatly increases the ultimate commercial introduction. If interested, please read and review the exciting news released on 09/23/09.

My original interest in the company was driven by their unique profitable niche, pipeline potential, talented management, and their financial position. Historically management has kept a close eye on the financials while still contributing to R&D.
The current price is $3.85 with $1.62 in cash, no long term debt and an enterprise value of only $2.25 or about 6.5 million. The book value is $3.28. Shares outstanding have remained stable and virtually unchanged over the past 5 years. Insider activity has been positive this year and 2008 with over 90,000 shares purchased during 2009. The annual SGA/revenue was only 36%. Furthermore, they own a 26,800 square foot building at 56 Evergreen Drive in Portland, Maine purchased November 1993 for only $350,000.
Catalyst: FDA approval or additional evidence of Mast Out efficacy and commercial roll out. The dairy industry has an economic rebound and a return to normalized sales of their existing product line.
Full disclosure: Long ICCC