Tobacco stocks have for some time now been the stock of choice for income-seeking investors, as they offer an attractive dividend yield, and have solid cash flows. Philip Morris (NYSE:PM) remains my top pick in the tobacco industry, as the company has delivered strong financial performance in the past, and has a diverse revenue base.
Yesterday, PM announced a dividend increase of 10.6% from a quarterly dividend per share of $0.85-to-$0.94. The dividend increase was ahead of market expectations of a 7% increase. The company has been consistently increasing its dividends to share its success with shareholders. Yesterday's dividend increase represents the fourth consecutive year in which the company has increased its dividends by more than 10%. Last month, Altria Group (NYSE:MO) also declared a dividend increase of 9.1%. The chart below shows the annual dividend per share offered by PM.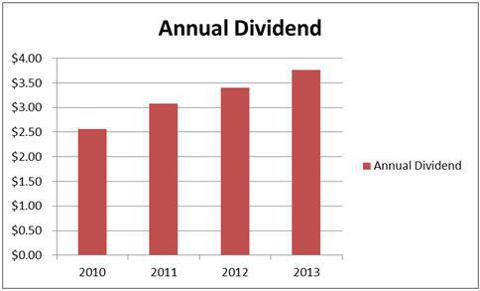 Source: pmi.com
PM has maintained its reputation of being a shareholder-friendly company, as it passes on its profits to shareholders through aggressive share repurchases and healthy dividends. Since Q2 2008, the company has repurchased more than $31 billion worth of common stock, or almost 25% of its outstanding common stock. It has also returned more than $25 billion to its shareholders through dividends since 2008.
Based on analysts' EPS forecast of $5.43 for 2013, the new annualized dividend per share of $3.76 translates into a payout ratio of 70%. The expected payout ratio of 70% is higher than the company's long term target payout ratio of 65%. As there was no signal from the company's management as to an increase/change in its long term target payout ratio, I think the recent dividend increase shows the commitment of the management to deliver value to its shareholders, and reaffirms confidence in its ability to maintain its strong cash flow position. PM now offers a decent dividend yield of 4.40%, which is backed by its solid free cash flows; PM has a high dividend coverage ratio of 1.70x, as compared to its peers, as shown below.
| | | | | |
| --- | --- | --- | --- | --- |
| | PM | MO | Reynolds America (NYSE:RAI) | Lorillard (NYSE:LO) |
| Payout Ratio | 70% | 80% | 87% | 66% |
| Dividend Coverage (=Free Cash Flow/Dividends) | 1.70x | 1x | 1.2x | 1.3x |
Source: Companies Report
Among the other reasons why I remain bullish on PM and believe that it is the best stock in the industry are its better-than-industry volume growth and healthy margins. Since 2010, the company has consistently outperformed the tobacco industry in volume growth. Also, PM has the highest gross margin among its peers. The company also has higher operating and net margins than RAI and LO. Moreover, it has been continuously working to improve upon its cost structure, which will fuel its future earnings growth. The table and chart below show the volume growth and margins of PM in comparison to its peers and the industry average.
| | | | | |
| --- | --- | --- | --- | --- |
| | 2010 | 2011 | 2012 | Q2 2013 |
| PM | 4.2% | 1.7% | 1.3% | |
| Industry Average | -3.8% | -3.5% | -2.5% | -4% |
Source: Company Reports
Risks
Given that the company has significant international market exposure, currency movements remain a risk for the company's top and bottom lines. Significant foreign currency exposure is expected to shave away 4%-6% of the company's earnings growth in the near term. Lessening of cigarette volumes also remains a serious concern for the company, as volumes of traditional cigarettes are on the decline due to health concerns and strict regulations. However, to offset the impact of lessening volumes, and grow its top and bottom lines, the company has been aggressively working on product innovation. By 2016-2017, the company plans to come up with its Next Generation Products, which I believe remain an important long term performance driver for the company.
Conclusion
I believe PM offers a good investment opportunity for investors. The stock is currently trading at attractive valuations; it is currently trading at a cheap forward P/E of 14.3x, in comparison to the S&P 500's forward P/E of 15x. Also, the company has a lower PEG of 1.60, as compared to its peers' average of 1.90, which reflects that the company offers cheaper growth. Due to the aforementioned factors, I remain bullish on the stock.
Disclosure: I have no positions in any stocks mentioned, and no plans to initiate any positions within the next 72 hours. I wrote this article myself, and it expresses my own opinions. I am not receiving compensation for it (other than from Seeking Alpha). I have no business relationship with any company whose stock is mentioned in this article.