Headquartered in Denver, Colorado, Enservco Corporation (NYSEMKT:ENSV) is a small-cap oilfield services company that provides well enhancement and fluid management services to domestic onshore oil and gas exploration and production companies through its two operating subsidiaries; Heat Waves Hot Oil Service and Dillco Fluid Services. Below is the one-year price chart.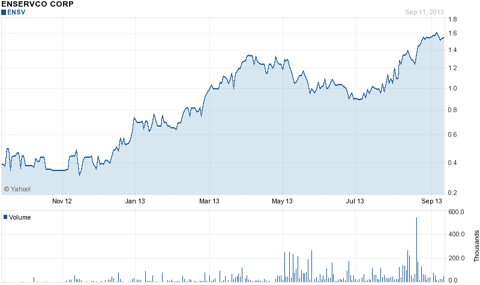 At the writing of this article, ENSV was trading at $1.46 with a 52-week high of $1.65 and low of $0.32. I believe ENSV is undervalued and overlooked, and here's why.
Oil & Gas Production & Company Growth
The nation is in the midst of an oil & natural gas drilling boom that is expected to last for years and advanced recovery methods (fracking) are helping production soar. Oil & natural gas operations use and produce significant quantities of fluids. ENSV provides a variety of services for the transportation, storage and disposal of fluids that are involved during both the production of oil & gas and the development or remediation of wells (drilling, fracking and workovers). Operators of oil and gas wells desire to optimize the productivity of their wells through production management. There are a variety of methods to optimize well performance, including the implementation of scheduled maintenance services to enhance the flow of production. Hot-oiling and acidizing are two effective stimulation and workover procedures, both of which improve the permeability in production wells: one (hot oiling) for removing paraffin, tar and other organic deposits and the other (acidizing) for dissolving scale precipitation and fines that have migrated and are blocking the movement of hydrocarbons. ENSV operates 27 hot-oiling trucks and three acidizing vehicles with an additional four hot-oilers and one acidizing truck expected to be added to the fleet by the fourth quarter of 2013.
The current energy boom in North America is being driven by the development of domestic shale gas resources through horizontal drilling and hydraulic fracturing. The development of unconventional shale plays offer considerable opportunities for frac-heating, frac-fluid hauling and frac-tank rental services, especially in areas of cold weather where frac-fluids must be heated during the fracturing process. Heat Waves Hot Oil Service operates 25 frac-heating trucks and the rental of 15 frac-tanks. Frac-fluid hauling is completed through Heat Waves and Dillco, which operates 75 water-hauling trucks. Photos of each type of vehicle operated by ENSV can be viewed at this gallery.
ENSV is well-positioned to benefit from the U.S. energy renaissance, which in part is being driven by advances in horizontal drilling and hydraulic fracturing. The increased drilling activity, especially in pursuit of shale oil & gas along with tight gas, increases the demand for its well-site services. This macro-trend provides favorable conditions for the company's top-line growth. As oil and gas companies accelerate redevelopment of existing basins, requests for well enhancement services has enabled ENSV to expand into the Marcellus shale region in 2010, Bakken shale and Niobrara shale fields in 2011, the Mississippi Lime play in 2012 and the Utica shale in early 2013. Further fueling growth, ENSV recently announced that it has expanded its service territory into Wyoming's Powder River and Green River Basins which incorporates the highly productive Jonah natural gas field.
ENSV's existing customers have announced major 2013 capital expenditure plans: Anadarko Petroleum and Noble have announced major drilling programs targeting the D-J Basin, EQT Corp. is spending $860 million to drill the Marcellus and Utica formations in the Appalachian Basin and Gulfport Energy has allocated approximately $500 million for the Utica shale play.
ENSV's organic growth strategy is driven both by external and internal factors. The resurgence in the U.S. oil & gas industry is largely due to advances in horizontal drilling and hydraulic fracturing that are able to unlock tight hydrocarbon-based resources in U.S. basins. Oil and gas companies are ramping up development of tight oil and gas in shale and sandstone formations. Management is taking advantage of the favorable macro-trend by adding organic-growth-enhancing capacity, along with expanding the company's geographic reach through the opening of operations centers strategically located to serve U.S oil & gas basins on a national level. While ENSV is well-positioned for continued organic growth, management also continues to evaluate acquisition opportunities.
Through its growth strategy of geographic expansion and capacity additions, ENSV is achieving double-digit, year-over-year revenue growth and benefits from both the megatrend of hydraulic fracturing and the stability of providing ongoing water hauling and hot oiling and acidizing services at well-sites.
For 2013, management's organic growth strategy should benefit from the $4.7 million capital investment into additional new frac-heating, hot-oiling and acidizing trucks in preparation for the upcoming seasonally strong fourth and first fiscal quarters. The expansion of frac-heating capacity by 40% and the hot oiling fleet by 15% should enable the continuation of the momentum of organic revenue growth. During 2012, two new hot oilers and five double-burner frac-heating trucks were purchased and fabricated. The units were deployed in the Rocky Mountain region where heating season tend to be longer (usually starting in mid-September vs. mid-November) enabling better capacity utilization. Moreover, progress in the implementation of hydraulic fracturing require higher slurry temperatures, which has resulted in extending the heating season in several basins from four months to as many as ten months.
On May 2, 2013, ENSV reported record quarterly revenue, gross margin, net income, and EPS for Q1, 2013. Total revenues increased 94.9% to $18.6 million vs. Q1 last year, primarily due to strong demand for well enhancement services (frac-heating, hot oiling and acidizing). Revenues of the Well Enhancement segment increased 125% to $16.5 million from $7.33 million in Q1 last year, driven by colder temperatures, capacity additions in the Rocky Mountain region (two hot-oilers and five double-burner frac-heating trucks) and approximately $3.0 million of incremental revenues in the Eastern U.S. region from strong demand in the Marcellus (PA and WV) and the company's expansion into the Utica (OH). Revenues from the Fluid Management segment declined 8.7% year-over-year due to some delays in hiring key personnel. Despite the substantial increase in revenues, general and administrative expenses only increased 0.4% to $907,073 vs. $903,360. The gross margin expanded and improved to 44.0% from 30.9% in Q1, 2012.
Net income from continuing operations increased 958% to $4.01 million (or $0.11 per diluted share) vs. $378,757 ($0.01 per diluted share) in Q1 last year. Earnings benefited from a sizeable decrease in depreciation expense ($759,000) since the estimated useful lives of the company's trucks, equipment and disposal wells was increased during a reassessment in Q2, 2012. Working capital also increased significantly to $7.41 million vs. $1.56 million on December 31, 2012.
Company Attributes and Competitive Advantages
A significant banking relationship with PNC Bank was established in November 2012 that allowed ENSV's debt to be refinanced at a favorable rate and a new revolving credit line will facilitate the development of a larger vehicle fleet.
ENSV exhibits several attributes of competitive advantage, namely differentiation, operational effectiveness and customer satisfaction. With a fleet of modern, well-maintained vehicles, ENSV distinguishes itself from many local competitors that utilize dated trucks. Not only are employees enabled with up-to-date equipment, but also trained to provide a high quality level of service. As a result, Heat Waves and Dillco enjoy a strong reputation for reliable service that has established long-term relationships with customers within existing areas of service and prompted referrals for new business in other basins. Its modern fleet positions Heat Waves and Dillco to outperform most competing providers. Major capacity expansion and refurbishment programs have been implemented during the last two years. For 2013, $4.7 million has been allocated toward fabricating new equipment and $1.3 million toward enhancing existing equipment. Two double-burner frac-heating trucks, six single-burner frac-heating trucks, four hot oilers and a well acidizing truck are expected to be field-ready for the seasonally strong fourth quarter. During 2012, ENSV purchased and fabricated five double-burner frac-heating units, two hot oil units and two water-hauling trucks. Additionally, seven additional water transports were leased.
The tempo and tenor of capacity enhancement differentiates ENSV from the majority of its competitors. In addition to investing in new equipment, it also promotes a culture of quality service to achieve a high-level of operational effectiveness. In an industry where high employee turnover is common, ENSV nurtures the retention of experienced employees and supplements their knowledge base with training to ensure safe, reliable performance. A combination of modern equipment and quality service allows Heat Waves and Dillco to perform at a higher level than many of their competitors. As a result, ENSV has gained a competitive advantage by offering quality customer service and value.
ENSV's competitors include a multitude of locally and regionally-focused companies, including mom and pops, but few maintain a fleet of modern equipment and perform at high, consistent standards of service. Many smaller operators do not have the resources and guiding principles to provide the level of service and expertise that ENSV's management strives to maintain. Almost all compete on the basis of being in close proximity to the oil and gas field being serviced and often rely on past relationships in the community. The industry is very fragmented. When procedures such as hot-oiling, frac-fluid heating and water hauling are contracted, customers prefer utilizing companies with whom they have had positive experiences or about whom they have received exemplary references. Management has generated competitive advantage for ENSV by adopting a business strategy of providing well-site services with modern equipment that is operated by experienced and conscientious workers.
In the oil and gas industry, Master Service Agreements (MSAs) allow for field services (such as drilling, well enhancement and production services) to be easily and quickly contracted. MSAs do not obligate a company or contractor to commit to any particular work, but if a job is requested, an MSA allows both parties to complete work orders rapidly by referencing the more extensive provisions contained within the previously-executed MSA. Often, MSAs are negotiated, executed and in place between parties who regularly conduct business together, especially for on-site services performed on a repetitive or scheduled basis, such as water hauling, hot oiling and well acidizing. Thereby, operators can respond to operational changes in a timely manner. One of ENSV's major attributes of competitive advantage is the number of active MSAs in place under which the company may receive work orders. ENSV has over 100 MSAs with E&P companies including Exxon Mobil, Chesapeake Energy, Anadarko Petroleum, Noble Energy, EQT, XTO Energy, EOG Resources, Occidental Petroleum, Gulfport Energy, SandRidge, Statoil, Whiting, El Paso, Devon, Hunt Oil, Hess, ONEOK, Kodiak Oil & Gas, Stone Energy, Pioneer Energy Resources and others. Oil and gas companies are increasingly consolidating contractor lists and choosing companies that have the reputation of being a reliable provider of quality services. Management has concentrated on creating and cultivating these relationships to be on the short list of service providers. In some cases, Heat Waves and Dillco have attained preferred provider status.
Delivering high-quality well-site services with positive customer experiences has enabled ENSV to develop a large core of loyal customers who are willing to recommend its services both internally and externally. It benefits from this strong reputation, especially when employees at oil and gas companies change firms and recommend (and sometimes insist) that Heat Waves provide well-site services for their new employer' s projects. There have actually been situations where frac-operators have demanded that oil and gas companies use ENSV's services. As a result, it has been able to leverage its service model because management is eager to expand geographically both by providing deeper and more expansive coverage in existing basins, and also by developing new operations centers in other basins.
Currently, demand for frac-heating during cooler months is greater than existing supply, primarily due to the adoption of and advances in hydraulic fracturing. Management's challenge is to deal with this market that is experiencing rapid growth while maintaining smooth and reliable execution of operations. Management has pursued a strategy of providing differentiated services with distinctive operational effectiveness. In a broad sense, ENSV has gained an edge over many rivals by being able to perform at a higher level than competitors. The company's reputation has resulted in deeper penetration of existing service territories and, through referrals, geographic expansion into other basins.
Valuation Metrics
The appropriate security valuation methodology for ENSV is comparative analysis of similar oil service companies. ENSV's mix is relatively unique among public oil services companies, since the majority of revenues are derived from services provided during the hydraulic fracturing process or well site workovers. Therefore, the industry comparables should be such that a significant portion of their revenues are derived from similar services since the character of reoccurring revenues and the related profitability are usually assigned higher valuation multiples. Additionally, ENSV is experiencing rapid double-digit revenue growth, (40% annually) and comparable companies should share these same attributes. The following companies offer good comparisons for those wanting to dig deeper: Exterran Holdings (EXH), Key Energy Services (KEG), RPC Inc. (RES), Newpark Resources (NR), Basic Energy Services (BAS), C&J Energy Services (CJES), Nuverra Environmental (OTC:NES), and Flotek Industries (FTK).
The most meaningful valuation metrics for ENSV are price-to-sales (P/S) and enterprise value-to-EBITDA (EV/EBITDA) due to the character of the company's enterprise, namely a small-cap company with a rapidly growing revenue profile that should continue to expand over time as management invests in the underlying businesses, deepens the company's presence in existing markets and expands into new service territories. P/S valuation incorporates a company's ability to generate revenues and cash flow.
The average P/S multiple of the industry comparables is 1.3 vs. ENSV's current multiple of 1.0; the average EV/EBITDA multiple is 8.9 vs. ENSV's 4.9. In other words, ENSV is trading at a 22% discount to the industry's average P/S multiple and a 45% discount to the average EV/EBITDA multiple. ENSV is currently trading at 9.4x 2013 estimated EPS and just 6.0x 2014 estimates. Key financial data is displayed here.
Conclusion
ENSV is not widely followed but I did find a "Buy" recommendation from Zacks which generously contributed information to this article. Indications are that ENSV is undervalued and overlooked by mainstream analysts. If its current growth trends continue and the oil and gas boom stay on track, which there is no reason to believe otherwise, I believe this stock could double over the next 24 months. That being said, as with any stock, there is the risk of capital loss, so conduct your own research and speak with your investment advisor about ENSV.
I first wrote about HK last May here. Recent SEC filings reveal that there were large insider-purchases of the stock by top company officials when the share price recently dipped into the $4.70 range near the 52-week low. This is the first significant insider buying since Floyd Wilson became CEO nearly two years ago, and I believe it is a sign that his turn-around efforts are gaining traction. Recent increases in WTI Crude seem to be holding at the $105 a barrel range and are providing a tailwind for the turn-around. All that said, HK could become an attractive M&A candidate by late 2014, early 2015 which would fit Wilson's modus operandi throughout his career.
Disclosure: I have no positions in any stocks mentioned, but may initiate a long position in ENSV over the next 72 hours. I wrote this article myself, and it expresses my own opinions. I am not receiving compensation for it (other than from Seeking Alpha). I have no business relationship with any company whose stock is mentioned in this article.