A few years after the 2008 Financial Crisis, we are seeing more and more signs of "normalization" or what could be called a "reversion to the mean". When a crisis or financial panic hits an industry, a company, or the entire global economy, values can drop significantly. In the aftermath of the financial crisis, prices for stocks, housing, autos, collectibles, commodities, energy, and many other assets, fell sharply. In this example, asset prices went significantly below historical averages (or the mean) as economic activity weakened, investors panicked, and liquidity dried up, in many cases. However, we have seen and continue to see a number of sectors and asset classes rebound in a reversion to mean (or average) values and growth rates. Even interest rates are starting to revert to the mean and become more normalized after being at depressed levels for years.
The auto and housing sector have already seen significant rebounds and "reversions to the mean" in terms of units sold, growth rates and selling prices. Other assets such as oil have also moved higher and consumption rates around the world have generally moved back towards historical averages. While these examples show a general trend of normalization for asset prices and growth rates in various sectors of the global economy, there are still some commodities have yet to experience a full rebound. However, based on improving fundamentals in the global economy and other signs of normalization, I strongly believe that some "left behind" sectors and stocks will also experience a major rebound or reversion to the mean. Demand for certain commodities could be poised to play "catch-up" as many major industries like housing and autos drive growth. Demand is also likely to rise into 2014 and beyond as the European economy looks to be on the mend. China could also be another driver as its economy seems to continue growing and therefore it is avoiding worst-case fears of a major slowdown.
Some of the hardest hit commodities have been coal, steel and other metals like iron ore and copper. Many of the best-known stocks in this sector have recently started to experience sharp rebounds in what could be another sign that it is time to get into commodity stocks that could follow suit and see a major "catch-up" rally.
Just take a look at shares of iron ore producer, Vale S.A. (NYSE:VALE) which have surged from about $12.50 in July to nearly $17 in recent days. Shares of coal producer Walter Energy (NYSE:WLT) were around $10, in August but now trade for nearly $15. If the global economy continues to rebound these initial moves in Walter Energy (which traded for more than $100 per share in 2008 and 2011) and Vale (which traded for over $40 in 2008) could just be the tip of the iceberg in terms of potential gains. These and other coal and metal producers are highly leveraged in terms of potential profit increases, if commodity prices continue to move higher.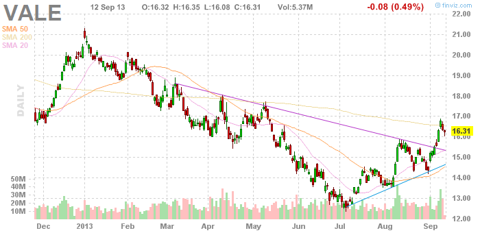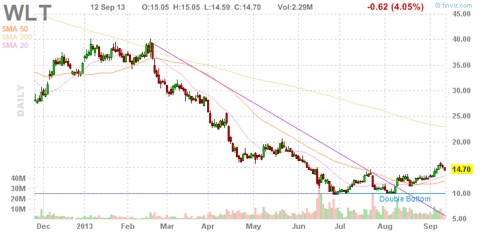 A recent article states that JP Morgan gives ten reasons why investors should go "overweight" into commodities now and this is another sign that investment professionals are seeing a potential turnaround in this sector. With all of these macro factors pointing to a potentially significant rebound for metals and other beaten-down commodities, it makes sense to consider some lesser-known stocks that could be poised for big gains. While the well-known commodity stocks have already started to make big moves and could still have plenty of upside, some smaller companies could see even bigger moves in the long-term and still look very cheap.
Metalico, Inc. (NYSEMKT:MEA) shares could be an ideal "reversion to the mean" play as it is a leading recycler of a wide variety of metals which includes aluminum, molybdenum, lead, tungsten and others. In addition, it processes precious metals from automotive catalytic converters. This stock is trading for less than half of the 52-week high of $2.90. It is also trading way below book value which around $3.70 per share. When commodity and metals prices were rising in 2008, before the financial crisis hit, this stock traded for nearly $19. Even if this stock rises to half of its all time highs one day, that would imply very significant upside and create a "multi-bagger" for investors who get into the stock while it is still depressed.
Obviously industrial metals prices have been soft and that is a big reason why this stock trades for less than $2. Another reason is because Metalico shares were removed from the Russell 2000 and the Russell 3000 Index on June 30, 2013, due to portfolio allocation changes. This led to a sharp drop in the share price leading up to June 30, as funds and ETF's that track the Russell Indexes needed to sell this stock in order to make room and buy stocks that were added to those indexes. The good news is that this index based selling is just a one-time event and the stock has clearly stabilized.
Metalico posted revenues of about $528 million in the past year, so it generates a substantial amount of business. It has a price to sales ratio of about .12 which is very low and indicates substantial upside potential. For the first quarter of 2013, Metalico achieved $611,000 in operating income before deducting interests and taxes, which created nearly break-even results on a per share basis. For the second quarter of 2013, Metalico reported a consolidated net loss of $2.7 million, or 6 cents per share. These results for the past six months shows there is room for improvement, but it also shows that the company has only posted a very small loss, especially relative to its revenues which are typically over $500 million on an annual basis. A small improvement in metal prices could have a major and very positive impact on profit margins. Furthermore, the company has been reducing payroll, benefits and other operating expenses which could also lead to improved results in the future.
The big catalyst for this stock to rebound would be higher prices for industrial and other metals. Based on the improving economic data in China, Europe and the United States and the recent gains in some major commodity stocks, it might not be long before Metalico begins what could be a multi-year advance. By looking at the chart below, you can see this stock has also started to move higher in the past few days and this could be signaling it is prepared to make a large move higher soon.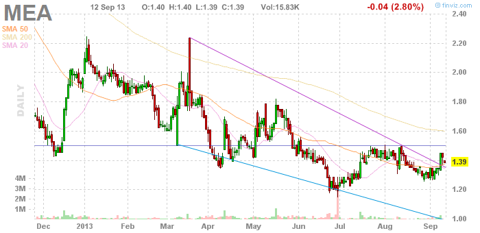 A few insiders already have a very significant stake, but the CEO recently bought more shares in what could be another "buy" signal for this undervalued and neglected stock. The CEO, Carlos E. Aguero owns a significant stake of over 5.5 million shares in Metalico and he recently purchased 40,000 more shares on August 30, 2013 in a transaction valued at over $51,000. His multi-million share stake and his recent buy, appear to be strong signs of confidence. Furthermore, he has been a savvy investor as he sold shares of Metalico at much higher prices in the past. Buying when he buys (NYSE:LOW) and selling when he sells (high) could be a smart way to invest in Metalico.
Metalico closed an acquisition in late July which seems to be indicating that it sees a turnaround coming in this industry and it is positioning itself for a brighter future. It acquired the assets of Segel & Son., Inc., a 100-year old iron and metal recycling business with facilities in Warren, Pennsylvania and Olean, New York. This acquisition is expected to boost business in that region and provide supply materials for Metalico`s Buffalo, New York shredder. By making acquisitions before this sector sees a full turnaround, Metalico is taking advantage of industry weakness and positioning itself to become a bigger player in the long-term.
Even though there are many recent signs indicating that this industry and stock has reached a bottom, there are some potential downside risks that remain. The company is only expected to earn a small profit in 2014 and any major setbacks in the global economy could delay a potential recovery. However, those risks appear minimal now and worth taking. Just considering that there is only about $1.40 of downside and potentially many dollars worth of upside if this stock trades back towards its former highs of about $19, this is a risk to reward ratio that makes lots of sense. In the short term, I expect this stock to rebound back to its 200-day moving average which is $1.61 per share and then make a move back over $2 per share. In the long-term, very significant additional gains could potentially come as metals prices improve along with the global economy.
Data is sourced from Yahoo Finance. No guarantees or representations are made. Please consult a financial advisor before making investments.
Disclosure: I am long MEA. I wrote this article myself, and it expresses my own opinions. I am not receiving compensation for it (other than from Seeking Alpha). I have no business relationship with any company whose stock is mentioned in this article.