In May of 2012, I outlined in SA a contrarian approach to stock selection that I dubbed the Fear And Loathing Stock strategy, as a somewhat extreme alternative approach to income related investing. To summarize, Fear And Loathing Stocks refer to distressed stocks that are out of favor with Mr. Market, and have been priced in the refuse bin accordingly. As a rough threshold, I looked at stocks that were down 40% or more from peak value, since this is a typical price drop threshold in contrarian stock picking. Stocks get in these situations in a variety of ways. Some were stocks in static or declining businesses, some were in bad places in the world (i.e. Europe), some had other special circumstances. What made this group of losers special, was they were continuing to pay above market dividends (in excess of 6.5%) and had metrics that to my mind supported the dividend. This made them interesting, even aside from their turnaround potential, from an income point of view.
My logic, as discussed in the 2012 article, worked on the assumption that regardless of their beaten down state, if there was sufficient value and cash flow to cover the dividend, these might be safer income investments than they first appeared. With this in mind, I set "safety" guidelines of five underlying metrics that made these dividend paying Fear And Loathing Stocks worth consideration. These were:
Current dividend income, 6.5% or higher, with a historical commitment to paying regular dividends.
Stock price declines of at least 40% over the past 1-1.5 years
Free cash flow and/or future earnings estimates that covered at least 150% of the dividend.
A price/book value less than 1
A cash on hand to cover 2 years of dividends
A stock was a viable investment candidate under these criteria, if it hit on 4 out of 5 of the metrics. Six dividend paying stocks - FTE (recently re-tickered ORAN), RR Donnelley (NASDAQ:RRD), Pitney Bowes (NYSE:PBI), ST Micro (NYSE:STM), Nokia (NYSE:NOK), Telefonica (NYSE:TEF) were identified as examples that met 4 of 5 of the criteria and represented a cross section of having disdained businesses and being European based. Four other high dividend distressed stocks: Frontier (NYSE:FTR), Safebulkers (NYSE:SB), Centurylink (NYSE:CTL), Winstream (NASDAQ:WIN) did not meet majority of criteria, were included for contrast as distressed income stock alternatives. At the time, I promised to report back at some point on how this investment hypothesis turned out.
Even though the most important point of the article to me was the metrics and their rationale for investment, not surprisingly, the first thing most folks who remember the article want to talk about is "how did the stocks perform". The metrics from the original article are given in this table updated from original Fear and Loathing article. May 2012 refers to metrics as of 5/23/2012; Sept. 2013 metrics were taken on 9/10/2013.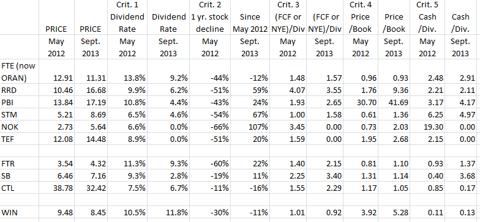 As 2013 has featured a generally strong market, from a pure ROI point of view, I was not surprised to see an overall positive return on the portfolio. Since the whole point was that the companies had some good fundamental financials, and were beat down pretty hard, this seems to validate one main point of the exercise, which is that by virtue of being already distressed, they had more upside than downside as investments.
Of the 6 primary examples, 5 increased in price, the exception being FTE (now having symbol ORAN), down roughly 12% on a combination of factors, including a dividend cut. Interesting that ORAN, which I noted as having the best conformance to all my criteria, is the (sic) loser, but is also the sole survivor of the original portfolio.
So how did other stock fall out of the portfolio? The big surprise to me is that half the cases (RRD, STM, NOK) saw increase in stock price > 50% from May 2012 values, quite a bit ahead of the general market return. (NOK price has benefited from its recent Microsoft deal, but qualified even prior to that). The most beaten down stocks were those that increased the most, which in hindsight, has a certain logic; but overall, I did not anticipate that level of improvement in market opinion in such a short timeframe. In comparison, the returns for the weaker metric "also-ran" stocks (FTR, SB, CTL, WIN) was much less, with only FTR (the most beaten down of the bunch) seeing a significant increase of about 20%.
As surprising, while the stocks as total return investments did nicely, their performance as income investments was much more checkered. Since May 2012, only RRD and STM have maintained their original dividend. ORAN and PBI roughly halved their dividends, NOK and TEF cut theirs entirely. Of the also-ran stocks, FTR and WIN have maintained their dividends, while SB and CTL have reduced them. The one conclusion to draw from this dividend analysis is "Location Matters" - European companies (SB, ORAN, NOK, TEF) accounted for majority of the reduced or eliminated dividends. My takeaway is this is something to consider when chasing income yield overseas, where maintaining dividends is not as highly held an idea as in US markets.
In keeping to the metric guidelines, between changes in stock price and dividends, most of the stocks have fallen out of the Fear and Loathing income portfolio; as mentioned, the only stock from the original list that continues to meet all Fear and Loathing for Income criteria is ORAN. This is in no small part due to a combined widely anticipated dividend decrease at end of 2012 and corresponding drop in stock value, that resulted in a more sustainable but still compelling ~10% dividend (we assume that ORAN will keep to its stated $1.04 payments in 2013). It is worth noting that CTL over the last year, has evolved into a similar solution; losing value after dividend cut to wind up with basically the same yield as before the cut (but with improved financials).
It is worth noting that both CTL and FTR come increasingly close to hitting the criteria (primarily in CTL case, still falling short on the cash Criteria (5)) and are on watch to be part of a next generation Fear and Loathing stock portfolio. Also worth noting that WIN, which has been my general counter-example (consistently failing Criteria 3-5) continues to pay its impressive dividend, even as it stock price continues to drop almost in synch with dividend payments for a breakeven return.
I want to reiterate that in the original article and this follow-up, my primarily focus is on the metrics used to filter investing in distressed stocks for income. Investing in distressed stocks has risks to be sure; following the stocks on the original list was a definite rollercoaster ride (not something I look for in investments) Discussion of the stocks above are used only as examples, and my observations and conclusions should be considered in that context rather than as investment advice. No advanced numerical analysis was attempted - the stock sample size and timeframe as discussed in the articles is recognized as too small and short for any significant trend or correlation analysis between stock dividend performance and the metrics at this point. However, I do find these metrics to be a very useful rule of thumb for evaluating distressed companies, and one that validates by Fear and Loathing as (one of several) stock investment criteria, if not a reliable dividend generator. I am formulated a new crop of Fear and Loathing stocks (a little more difficult in today's stronger market - any suggestions?), and plan to post these in a future article.
Disclosure: I am long CTL, FTR, NOK, PBI, RRD, SB, STM. I wrote this article myself, and it expresses my own opinions. I am not receiving compensation for it (other than from Seeking Alpha). I have no business relationship with any company whose stock is mentioned in this article.