While both the rumor that Amazon (NASDAQ:AMZN) was planning to offer a free smartphone, and the recent comment from the company stating that it would not release any smartphone this year or a free smartphone in the future, are news for shareholders, the implications of Amazon joining the smartphone wars run deeper. The classic business model used by companies like Apple (NASDAQ:AAPL) and Samsung (OTC:SSNLF) targets selling hardware for a profit, while companies like Google (NASDAQ:GOOG) are more reliant on aftermarket revenues - Google gives away Android for free and hope to profit on mobile ads and app sales at the Google Play store.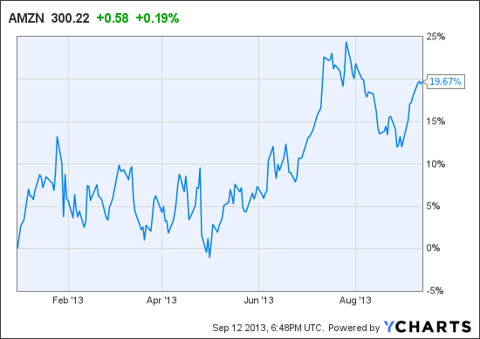 If Amazon were to enter the market, particularly with a free or largely subsidized smartphone, it would likely mark the introduction of a new business model that could shake things up. The ecommerce model for which Amazon is famous is easily detectible in its Kindle strategy. The tablets run a "forked" version of Amazon, meaning that pure Android is locked well below the surface. The company has been unapologetic in its strategy to deliver the device just above cost, making profits on the good and services that consumers buy with that device.
In the video below, I discuss the ramifications of an Amazon smartphone, and why, despite the delayed release of such a device, Amazon stock still has some appeal at current levels.
Disclosure: I have no positions in any stocks mentioned, and no plans to initiate any positions within the next 72 hours. I wrote this article myself, and it expresses my own opinions. I am not receiving compensation for it (other than from Seeking Alpha). I have no business relationship with any company whose stock is mentioned in this article.