As part of our process, we perform a rigorous discounted cash-flow methodology that dives into the true intrinsic worth of companies. In Baidu's (NASDAQ:BIDU) case, we think the firm is significantly undervalued. But by how much? Let's dig in.
But first, a little background. We think a comprehensive analysis of a firm's discounted cash-flow valuation and relative valuation versus industry peers is the best way to identify the most attractive stocks at the best time to buy. This process culminates in what we call our Valuentum Buying Index, which ranks stocks on a scale from 1 to 10, with 10 being the best. Essentially, we're looking for firms that overlap investment methodologies, thereby revealing the greatest interest by investors (we like firms that fall in the center of the diagram below). More interest in a stock = more buying a stock = increased likelihood the stock price will converge to intrinsic value.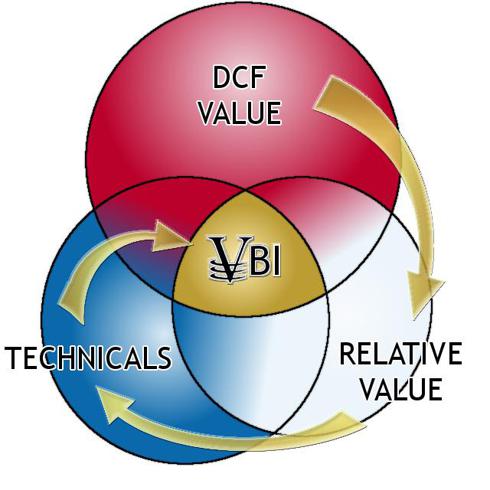 If a company is undervalued both on a DCF and on a relative valuation basis and is showing improvement in technical and momentum indicators, it scores high on our scale. Baidu posts a VBI score of 10 on our scale, reflecting our "undervalued" DCF assessment of the firm, its attractive relative valuation versus peers and bullish technicals. We compare Baidu to peers Facebook (NASDAQ:FB), Google (GOOG) and Yahoo (YHOO). In the spirit of transparency, we show how our strategy has stacked up relative to that of peers: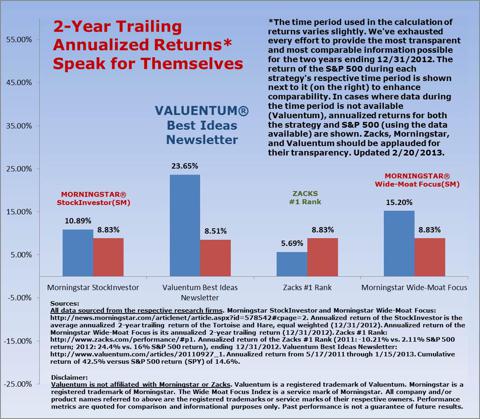 Our Report on Baidu

Investment Considerations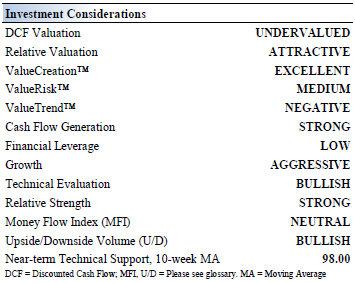 Investment Highlights
• Baidu earns a ValueCreation™ rating of EXCELLENT, the highest possible mark on our scale. The firm has been generating economic value for shareholders for the past few years, a track record we view very positively. Return on invested capital (excluding goodwill) has averaged 227.4% during the past three years.
• Baidu provides its users with many channels to find and share information. In addition to its core Chinese web search product, the firm powers many popular community-based products, such as Baidu PostBar, Baidu Knows and Baidu Encyclopedia.
• Baidu has an excellent combination of strong free cash flow generation and low financial leverage. We expect the firm's free cash flow margin to average about 33.7% in coming years. Total debt-to-EBITDA was 1 last year, while debt-to-book capitalization stood at 31.4%.
• China's Internet space is booming. With the world's largest Internet user population, and a long way to go to reach internet penetration levels of developed countries, China's internet is growing in both influence and sophistication. Baidu remains at the forefront of this trend.
• The firm experienced a revenue CAGR of about 76.4% during the past 3 years. We expect its revenue growth to be better than its peer median during the next five years.
Business Quality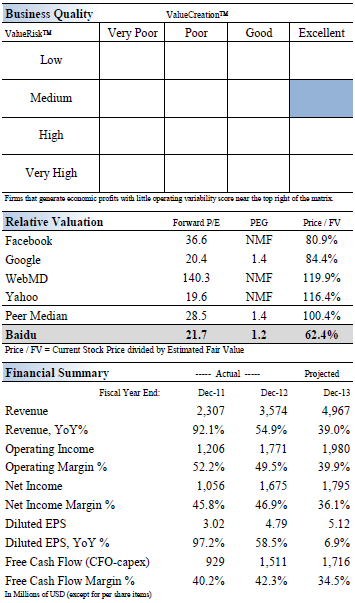 Economic Profit Analysis
The best measure of a firm's ability to create value for shareholders is expressed by comparing its return on invested capital (ROIC) with its weighted average cost of capital (OTC:WACC). The gap or difference between ROIC and WACC is called the firm's economic profit spread. Baidu's 3-year historical return on invested capital (without goodwill) is 227.4%, which is above the estimate of its cost of capital of 11.5%. As such, we assign the firm a ValueCreation™ rating of EXCELLENT. In the chart below, we show the probable path of ROIC in the years ahead based on the estimated volatility of key drivers behind the measure. The solid gray line reflects the most likely outcome, in our opinion, and represents the scenario that results in our fair value estimate.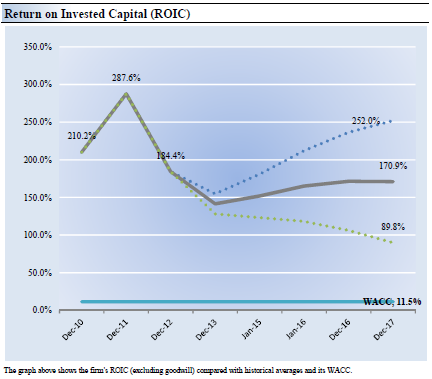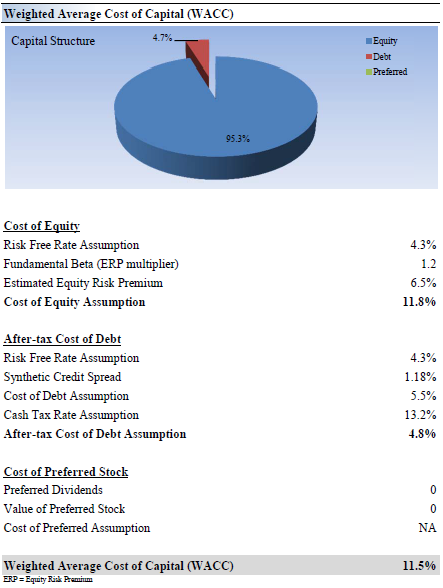 Cash Flow Analysis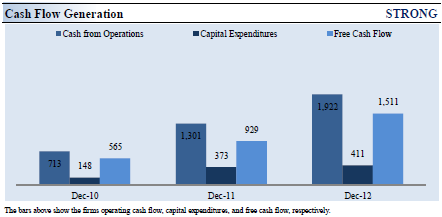 Firms that generate a free cash flow margin (free cash flow divided by total revenue) above 5% are usually considered cash cows. Baidu's free cash flow margin has averaged about 43.2% during the past 3 years. As such, we think the firm's cash flow generation is relatively STRONG. The free cash flow measure shown above is derived by taking cash flow from operations less capital expenditures and differs from enterprise free cash flow (FCFF), which we use in deriving our fair value estimate for the company. At Baidu, cash flow from operations increased about 169% from levels registered two years ago, while capital expenditures expanded about 178% over the same time period.
Valuation Analysis
Our discounted cash flow model indicates that Baidu's shares are worth between $125-$231 each. The high end of our fair value range represents our upside case with respect to the firm's fair value. Why such the large range? Click here.
The margin of safety around our fair value estimate is driven by the firm's MEDIUM ValueRisk™ rating, which is derived from the historical volatility of key valuation drivers. The estimated fair value of $178 per share represents a price-to-earnings (P/E) ratio of about 37.2 times last year's earnings and an implied EV/EBITDA multiple of about 29.2 times last year's EBITDA.
Our model reflects a compound annual revenue growth rate of 26.3% during the next five years, a pace that is lower than the firm's 3-year historical compound annual growth rate of 76.4%. Our model reflects a 5-year projected average operating margin of 39.6%, which is below Baidu's trailing 3-year average.
Beyond year 5, we assume free cash flow will grow at an annual rate of 8.6% for the next 15 years and 3% in perpetuity. For Baidu, we use a 11.5% weighted average cost of capital to discount future free cash flows.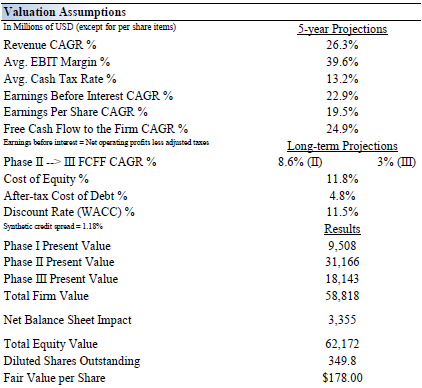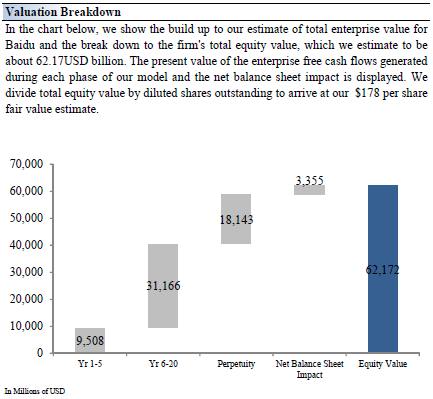 Margin of Safety Analysis
Our discounted cash flow process values each firm on the basis of the present value of all future free cash flows. Although we estimate the firm's fair value at about $178 per share, every company has a range of probable fair values that's created by the uncertainty of key valuation drivers (like future revenue or earnings, for example). After all, if the future was known with certainty, we wouldn't see much volatility in the markets as stocks would trade precisely at their known fair values. Our ValueRisk rating sets the margin of safety or the fair value range we assign to each stock. In the graph below, we show this probable range of fair values for Baidu. We think the firm is attractive below $125 per share (the green line), but quite expensive above $231 per share (the red line). The prices that fall along the yellow line, which includes our fair value estimate, represent a reasonable valuation for the firm, in our opinion.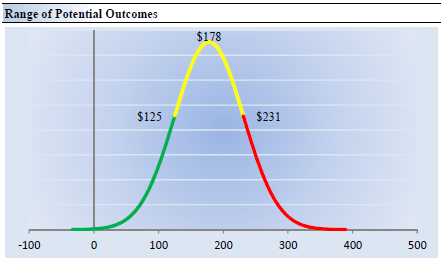 Most Recent Quarterly Results
Baidu recently reported fantastic second quarter results. Revenue surged 39% year-over-year to $1.2 billion, easily exceeding consensus expectations. Earnings per share declined 3% year-over-year to $1.26 on a non-GAAP basis, which is several cents better than consensus estimates. Free cash flow was very solid at $433 million, equivalent to 36% of total revenue.
Baidu's core search business is growing at rates we saw from Best Idea Newsletter portfolio holding Google in its earlier days as Chinese internet usage continues to grow. Baidu is doing a fantastic job extracting more revenue from existing marketing customers, as revenue per marketing customer increased 3.9% year-over-year to $2,623, which represented sequential growth of 11%. The market was particularly focused on this metric, after it fell for two consecutive quarters. However, we think customers are realizing the value of the firm's online advertising platform. This is also evident in customer growth, as Baidu acquired 58,000 online active customers during the second quarter-the highest amount ever in a single quarter.
Traffic acquisition costs (TAC) continue to soar, increasing to $143 million (11.6% of total revenue) compared to $71.4 million (8.3% of total revenue) during the same period of 2012. CFO Jennifer Li explained the increase in TAC, saying on the conference call:
"Majority of the TAC spend and the TAC increases are due to contractual business, and contractual business generates incremental revenue for us and we share a part of that with our union partners. And as I mentioned, also hao123 promotion is a driver for the increase of TAC and that has been going on since the last quarter as well. So overall, as Robin mentioned, the arrangement hasn't really changed. The initiatives are driving specifically are mainly in contractual ads and hao123. As you look into the future for the rest of the year, I think looking at TAC, obviously it's dynamic and it depends on the mix for the different sources of revenue our union partners help us bring in."
TAC remains well below the 25% level we see at Google, so we wouldn't be surprised to see this number expand as a percentage of revenue going forward. It is a necessary part of the online advertising business, and nothing to worry about at this time, in our view.
Baidu is also executing on the mobile front, where mobile advertising revenues now account for 10% of the total mix. Though not as impressive as Facebook's advertising revenue, we are pleased to see Baidu capitalizing on the secular trend.
Looking ahead, Baidu provided strong revenue guidance of $1.422 billion to $1.6 billion for the third quarter of 2013, an increase of at least 40% year-over-year. Even though Chinese economic growth is decelerating, we think the prevailing tailwinds are strong enough to prevent macroeconomic issues from preventing top-line expansion at the firm. We're not worried about the firm's lack of earnings growth as the company continues to invest heavily to improving its product offerings.
Future Path of Fair Value
We estimate Baidu's fair value at this point in time to be about $178 per share. As time passes, however, companies generate cash flow and pay out cash to shareholders in the form of dividends. The chart below compares the firm's current share price with the path of Baidu's expected equity value per share over the next three years, assuming our long-term projections prove accurate. The range between the resulting downside fair value and upside fair value in Year 3 represents our best estimate of the value of the firm's shares three years hence. This range of potential outcomes is also subject to change over time, should our views on the firm's future cash flow potential change. The expected fair value of $249 per share in Year 3 represents our existing fair value per share of $178 increased at an annual rate of the firm's cost of equity less its dividend yield. The upside and downside ranges are derived in the same way, but from the upper and lower bounds of our fair value estimate range.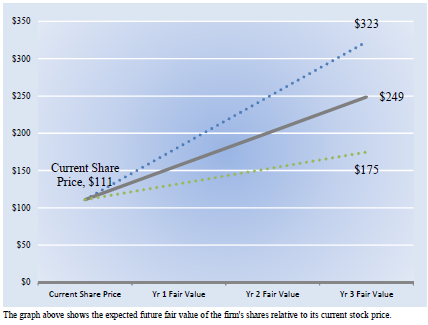 Pro Forma Financial Statements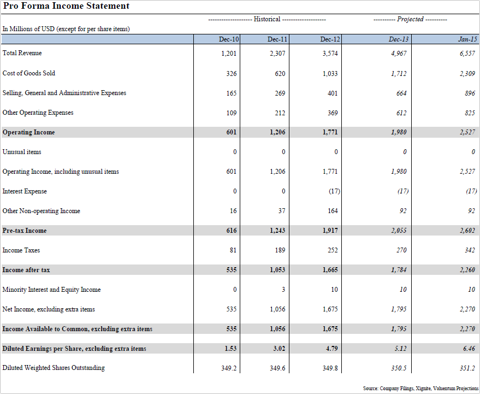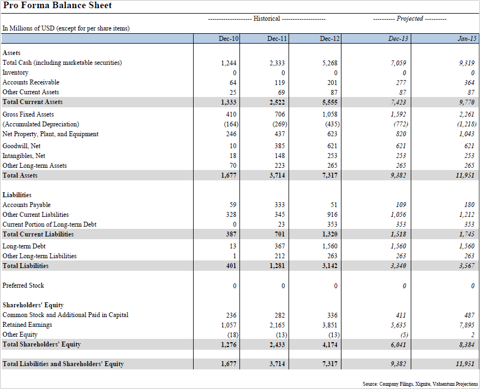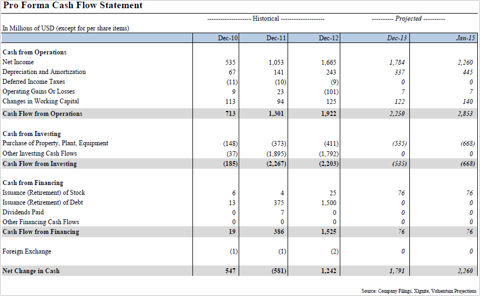 Disclosure: I have no positions in any stocks mentioned, and no plans to initiate any positions within the next 72 hours. I wrote this article myself, and it expresses my own opinions. I am not receiving compensation for it (other than from Seeking Alpha). I have no business relationship with any company whose stock is mentioned in this article.
Additional disclosure: BIDU and GOOG are included in our Best Ideas portfolio.