China Xiniya Fashion (NYSE:XNY) shares appear attractively priced at 4.3X my estimate of 2013 earnings and 29% of tangible book value (mostly cash). In order to better understand the company I recently traveled at my own expense to the beautiful island city of Xiamen in Fujian Province to meet with XINIYA and visit several of its retail outlets. This article will share my firsthand observations. It is not intended as an overview of the complete company, its financial performance, or its corporate governance. Interested investors should read the company's Presentation, Annual Report, and become familiar with Chinese menswear brands listed in Hong Kong and China (for example, financial reporting on HK-listed companies like Lilang is available in English through the HKEX website).
The Stores
Our first stop was a shopping mall in an upscale residential area of Xiamen's Haicang district. XINIYA's shop was well-situated at the entrance to the menswear section on the fourth floor.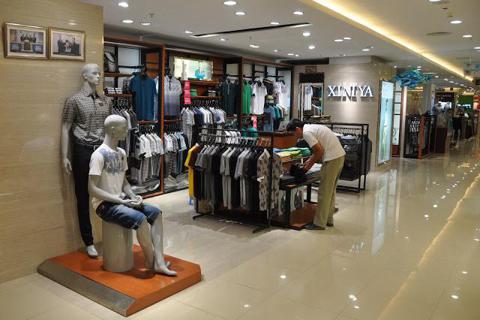 Our second visit was an attractive location near the entrance to a shopping concourse at the Xiamen Railway station: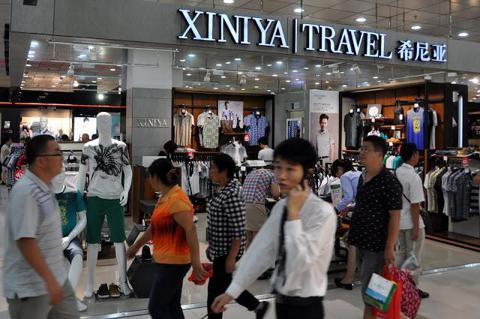 And our third visit was to the shopping concourse in an upscale residential development on Xiamen Island: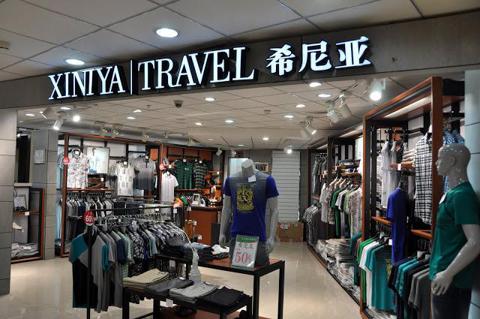 While the outlets resemble pictures available on the internet, these visits provided some insight into the company's business model. Each outlet is owned and operated by an "authorized retailer", akin to a franchisee. The retailer is an independent business responsible for lease arrangements and retail staffing. Each retailer purchases inventory for their own store, choosing from the 1000 or so items offered by XINIYA each season. XINIYA is responsible for all aspects of clothing design and supports the retailers through advertising and other measures to maintain a high quality brand image. XINIYA provides signs and fixtures to ensure a uniform and attractive appearance at every location.
XINIYA's head office in Xiamen contains a prototype store where the company develops optimal display ideas for windows, store layout, product and color presentation (e.g. blue and white clothing in one column, green and yellow clothing in another column, etc). These optimal display ideas are documented in a Store Guidance Booklet sent to all retailers.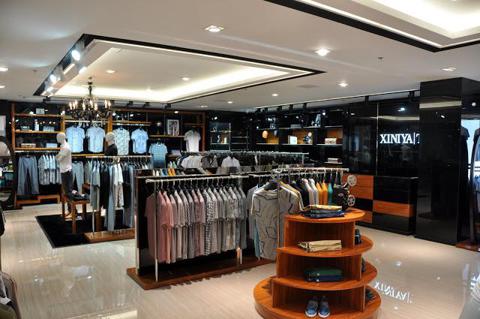 The advantages of this business model to XINIYA are:
Asset-light. The franchisees are responsible for their own fixed assets and inventory.

Local Expertise. Franchisees will select inventory optimal for the style preferences, climate, and economic development of their own cities

Growth. XINIYA's first outlet opened in 2006 and the network has expanded to over 1600 locations

Management Efficiency. XINIYA's executives manage the brand and aren't burdened by the administrative demands of managing 1600 leases and thousands of employees.
The disadvantages of this business model are:
Absence of Flagship Stores. China's highest traffic and most prestigious retail locations command large upfront payments and very high rents. Independent franchises don't normally have the capital required for those sites. Such stores may not generate an attractive return on investment from store operations, but can play a role in cultivating an image for the brand (similar to shops on 5th Avenue in New York City)

Inconsistent Retail Marketing. Every XINIYA outlet has different inventory and offers different promotions (e.g. a particular shopping center will advertise a simultaneous discounting campaign by all of its stores so the XINIYA outlet there could be selling a shirt for a different price than an outlet across town).

Lower Margins. Stores are profitable and XINIYA's competitors that directly operate a portion of their retail network earn higher overall margins (a mixture of wholesale plus retail).
Having just three retail outlets in the city of Xiamen suggests that the company still has considerable scope for expansion. Some competing menswear retailers like Septwolves and Lilang currently have over 3000 national outlets. Ongoing urbanization will greatly increase the number of affluent customers in XINIYA's target Tier 2 and Tier 3 markets as shown in the 10 year growth outlook provided by this McKinsey & Company article.
The Headquarters
After seeing the stores we visited XINIYA's head office where the design department was preparing the 2014 Spring/Summer collection that will be displayed at the September Sales Fair.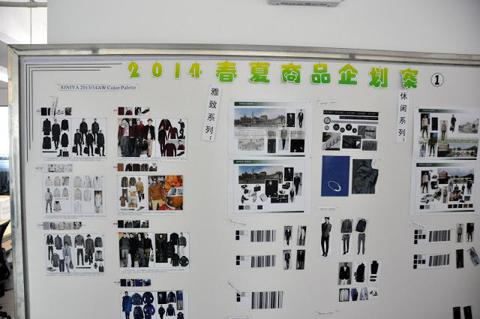 A small internal workshop was producing a sample of each design for a preview of the collection with regional distributors in late July: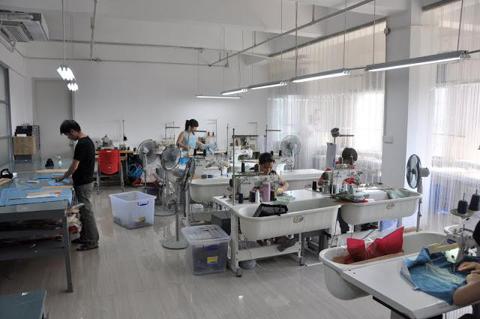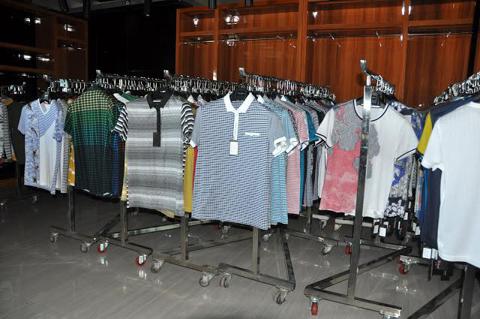 After receiving initial feedback from distributors, the company will offer about 1000 different items at the Sales Fair in September. Firm orders with deposits will be in hand in October and Xiniya will commission production from its OEMs with shipments beginning in January.
Xiniya emphasizes high quality in materials and production. A Research Department continually evaluates new fabric and design samples for characteristics such as colorfastness, sweat resistance, shrinkage, and resistance to tears and abrasions (pictures of testing equipment):
Marketing campaigns emphasize product quality as a distinguishing feature of the XINIYA brand (excerpt from the company's online TMALL store):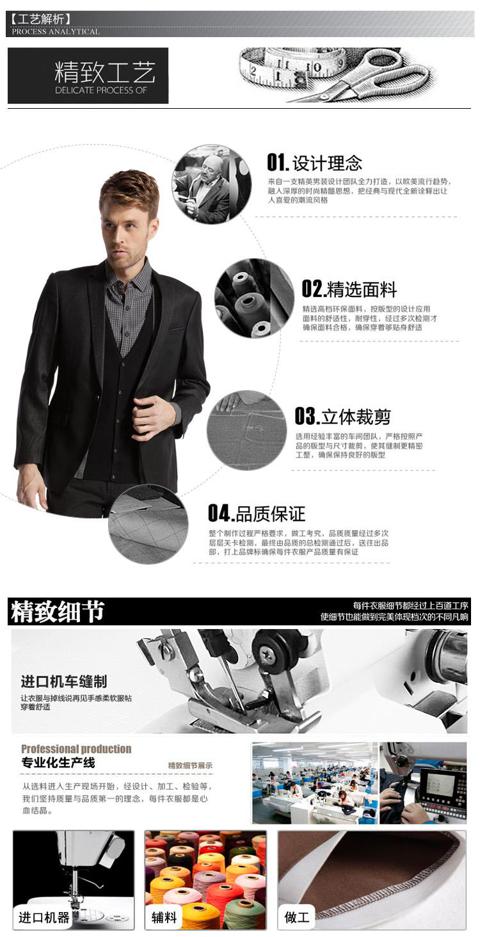 List prices for XINIYA clothes position them as premium products (e.g. 400 RMB or $65 for a polo shirt). Popular men's fashion in China covers a somewhat different range than in the US. Business clothing is more casual (far fewer suits and more "business casual" such as items sold by XINIYA). And Leisure clothing is more dressy (more money spent on brand names like XINIYA and less spent on sportswear items like team jerseys and fancy sneakers). XINIYA's brand is positioned as a little bit conservative (business-like), reliable, high quality, and providing good value.
All of XINIYA's production is currently outsourced to OEMs in nearby coastal provinces (Fujian, Zhejiang, and Jiangsu). XINIYA requires a fast turnaround time from receiving orders in October to delivery beginning in January and high quality materials (fabric and also buttons, zippers etc that may only be available from a limited number of provincial suppliers, for example Jiangsu province OEMs and their related material suppliers specialize in jackets, casual suits, and outer wear; Zhejiang province OEMs and their related material suppliers specialize in sweaters and leather goods; Fujian province OEMs and their related material suppliers specialize in pants, t-shirts, and jackets). Lower priced sportswear brands in China have been shifting production to other countries such as Cambodia, Vietnam, Myanmar, and Bangladesh, but for the time being the premium items are all still made in China.
The advantages of XINIYA's current production model are:
Asset-Light. XINIYA does not own any factories or production equipment

Low financial risk. The company does not place orders for production until it has firm orders and deposits from distributors. XINIYA does not bear any risk of unsold inventory.
The disadvantages of XINIYA's current production model are:
Diminished control over design. In outsourcing production, XINIYA's successful products become easier to copy.

Diminished control over production. Outsourcing makes it harder to provide very fast turnaround in case a particular item proves to be especially popular. Some competitors typically receive re-order volumes of 5-10% during each season. Such orders are harder for XINIYA to fill because it does not have its own production line.

Lower margins. OEMs are profitable. XINIYA's competitors that directly produce a portion of their merchandise earn higher overall margins (a mixture of wholesale plus manufacturing).
Perspective on XINIYA Shares
The combination of a franchised retail network and outsourced production has minimized XINIYA's financial risk. Once orders have been received at the semi-annual sales fair, gross profits for the next two seasons can be predicted pretty closely, promotional expense is discretionary, and overhead is low and consistent. Excess inventory, unfavorable weather, too many competitors, and a weaker economy have made 2013 a difficult year for leaders in China's menswear industry (article link), but it's easy to estimate that XINIYA will still generate net income of at least $15mm ($0.27/share) for the year (actual 1H13 earnings were $6.8mm and the second half of the year is normally stronger).
Differences in operating model explain the major differences in financial statements of XINIYA relative to major listed competitors. Companies that own production facilities and/or directly operate stores can earn higher margins:

Applying a peer average P/E multiple of 7X to my estimate of XINIYA's 2013 earnings would value the company's operating business at about $105mm or $1.84/ADS. However the company's $182mm cash balance ($3.19/ADS) currently provides XINIYA management with opportunities to significantly enhance the long-term value of the operating business:
Invest in new flagship locations during this period of industry weakness when available lease terms have become more favorable.

Construction of a production and logistics facility in Fujian province.

Potential acquisitions such as an exclusive marketing agreement for a foreign brand. XINIYA could assist the foreign company in optimizing its product selection for the Chinese market and then introduce the brand to XINIYA's existing national distribution network.

Reinvestment in the current business through share repurchase at the current low valuation.
Most analyst and media commentary about Chinese equities tries to forecast cyclical changes, but the 20-30 year record of the most successful Hong Kong businesses shows that they were able to use cyclical downturns to their advantage. It's up to XINIYA to show us what it can do to transform its current cash hoard into higher future profits.
Further Disclosures: XNY is a small cap stock with a current market capitalization of $65mm and average daily turnover of about 41000 shares. I have never had any relationship with XINIYA aside from being a shareholder.
Disclosure: I am long XNY. I wrote this article myself, and it expresses my own opinions. I am not receiving compensation for it (other than from Seeking Alpha). I have no business relationship with any company whose stock is mentioned in this article.