Conservative Fair Value Estimate: $8
Strategy: Buy 2% allocation now $5.30, prepare to increase allocation should stock fall below $4.50
North American Galvanizing & Coatings (NGA) is a company that focuses on galvanizing and coating products to make them corrosion resistant. From Yahoo's summary they aim to serve
"...highway and transportation, power transmission and distribution, wireless and telecommunications, utilities, petrochemical processing, industrial grating, infrastructure, wastewater treatment, water storage and transportation, pulp and paper, pipe and tube, food processing, agricultural, recreation, and bridge and pedestrian handrail, as well as original equipment manufactured products, including general fabrication."
Or generally speaking, they provide corrosion-resistant services to products being applied in low stress environments. The importance of this is that it will be less cyclical and less linked to commodity end markets like oil/gas, and is instead more linked to population growth, development, and replacement cycles.
Some of our colleagues here at Seeking Alpha and on the street have issue with the fact that zinc prices are volatile making earnings volatile. This is only half true, because companies of this nature - tend to price their services and goods on a monthly basis (as well as make purchases for inventory on a monthly basis). The actual commodity risk for margin contraction is at times of extremely volatile zinc pricing on the downside only.
Financially, this is an extremely well managed company. The largest sticking point here is the fact that inventory has ballooned 50% to a whopping $7.5 million in the latest quarter (sarcasm!). Against a backdrop of $70+ million in sales and this figure is really a non-issue. In fact, if I were to make a poker-hand read on the raw materials build up, I'd assume it was an attempt to buy it on the cheap and stock up for the ballooning orders ahead from various stimulus projects around the country. Good move fellas!
Evidence: http://www.kitcometals.com/charts/zinc_historical_large.html#1year
Moving on to the financials and we see the following:
Market Cap: $88mil (diluted)
Enterprise Value: $79mil
Debt: 0
Book Value: $51mil
Depreciation/Amortization: $8million
Capex: $3.5 million
CF ROIC: 20%
It's hard to fathom that such a boring business is making an ROIC of 20%, but I'd attribute that to their no-nonsense type management and a strong focus on ancillary products/services that are scalable with existing operations. Net income will be a tricky number to predict in the short run, but I think their #'s from 2nd quarter should be easily replicable in the future, which was at a time when municipalities and corporations were probably the most uncertain.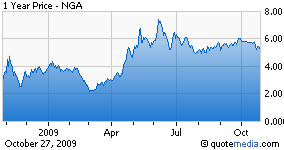 The sole analyst covering the stock (as per Yahoo) claims that NGA should be able to bring in just above 50 cents/share in earnings. I think that's quite plausible and will total about $8 million at minimum on average going forward. Add back depreciation and that number comes out to $12million. Subtract Capex and it totals $8.5million. That's an EV/FCF ratio of about 9x. If I assume that the company will continue to spend $3.5 million and earn a 20% CFROIC, FCF can grow to $12 million. Should the infrastructure replacement cycle really pick up, who knows where net income and free cash flow will explode too, but a figure of $15-18 million is not too hard to fathom.
Look at some other more direct infrastructure replacement/spending plays, and they are already priced for this sort of growth at EV/FCF ratios above 15x or higher!
Disclosure: Long NGA