When it comes to this market, I like to call things as I see them. If a company is being criticized wrongly, I will stick up for the name. On the flip side, if criticism is needed, I will definitely speak up. While at times I may be taking the unpopular side of the argument, I feel that telling it like it is should be the best way to approach things. Today, I must come out and defend Apple (NASDAQ:AAPL). The tech giant has been vilified the past few days regarding its new phone lineup, and I don't think that's justified. When it comes to Apple, there is too much whining in this market, and it really needs to stop. Here's why:
The iPhone 5C: Cheaper phone versus reduced margins:
Overall, the general view is that Apple blew it. The iPhone 5C, announced a few days ago, is too expensive in the eyes of many. Many believe that Apple is just replacing the 5 with the 5C in order to boost margins, because the 5C will be cheaper to produce. So a company is replacing an older product with a newer one that is cheaper to make. That's a bad thing?
For several quarters now, many have complained about Apple's falling gross margins. You can see in the chart below that they have dropped. However, and I've pointed this out many times, Apple investors were spoiled when gross margins broke above the 38%-42% range thanks to the iPhone 4S and some product mix shifts. Everyone assumed that Apple could maintain sky high margins, not realizing that when the percentage of sales from the iPhone came down, so would gross margins. That has happened.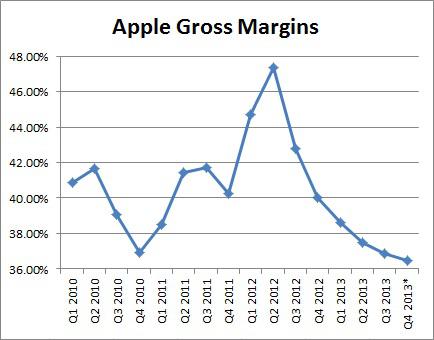 *Q4 number is midpoint of given guidance.
For a couple of quarters now, I cautioned investors that we might see a new Apple in terms of gross margins, that you might need to lower the range to 36% to 40%. Technology is a competitive industry, and margins will take a hit when Apple needs to launch something new, like the iPad mini, that will be lower margin. I didn't hear too many complaints when Google's (NASDAQ:GOOG) margins fell after the Motorola Mobility acquisition. How about Microsoft's (NASDAQ:MSFT) sales of the Xbox, which is low margin compared to operating systems and the office suite? Apple will always be held to a higher standard, which is very unfair at times.
So back to the iPhone 5C. A lot of complaints are out there because Apple did not address the low-end side of the market, especially in emerging markets. Well, Apple has always been a premium brand. Do you see a new iPad going for $99 right now? To put it another way, should Mercedes launch a $15,000 car to take advantage of the low-end? The same people that are complaining about Apple ignoring the low end will be the same people complaining if margins go lower. So when Apple reports Q4 results, you'd hear numerous complaints if their gross margin guidance for Q1 was around 35%. So you want Apple to make a premium level product, with a low level price, and maintain a high margin on it? Good luck. A very good quote, taken from Philip Elmer-Dewitt's article "Nine Ways of looking at Apple's $549 iPhone 5C" is featured below.
"Lower prices thru lower quality product also lowers perceived value. As an aspirational brand in China, Apple is perceived as the Louis Vuitton of tech. Look at where Apple Stores are located in Shanghai. They're on the most exclusive and expensive shopping streets in Shanghai, Huaihai Road and East Nanjing Street. In Pudong, you have a store that mimics the 5th Avenue NY store, with its iconic location. So, on the one hand, Apple has pressure to reach more of the market by lowering prices, but on the other, Apple must balance that by not lowering value, as that would hurt the brand image that it has worked so hard to achieve. It's a delicate balancing act." -- Reader Ken Cheng.
I don't think I could have said it better myself. While I am at it, can someone please tell me how many dollar stores are on Rodeo Drive? If you want a cheaper iPhone, buy an older version. If you want the newest version, you're going to have to pay for it. In this sense, I applaud Apple's decision here.
Other quotes from the article:
There are some other quotes from the "Nine Ways" article above that I'd like to reflect on. Here's a good one:
"Apple still wants to be part of the emerging markets, but they want to go at 40 mph where investors were looking for 70 mph." -- Piper Jaffray's Gene Munster.
So Apple decided to take the slow approach. Good for them. From what I've heard, many see the 5C as Apple saying it will never release a cheaper iPhone. To me, the thinking is, they just haven't gotten to that point in time yet. Did they release a $99 iPad mini at first? Nope. Let's give Apple some time to figure out the market, and go back to what I showed above. It's a balancing act in more than one way. Do you want a premium product next to a cheap one? Also, the tradeoff of gross margins. Revenue growth or lower margins? The 5C is a way to bridge the gap in my opinion, so that when they do go to a cheaper phone, there is not as much of a margin impact. Here's another good quote from the article:
"This move is about establishing the iPhone as a two-sibling family, like how the MacBooks have both the Airs and the Pros. Think of the 5C as the Air, and the 5S as the Pro. Or iMac and Mac Pro. The iPhone is growing up as a product family." -- Daring Fireball's John Gruber.
Again, this goes back to what I said above. It's not that Apple will never release a cheaper version, they just have not gotten to that point yet. By the way, Apple's MacBook line has done pretty well, so let's give them the benefit of the doubt. I think Apple knows how to develop a product family. Finally, one last quote to think about.
"[Apple] may lose market share, but the game in smartphones for Apple is to capture a significant share of more affluent smartphone users; those who will purchase more content for their phones. App spending per user is one of two significant factors developers look at when determining which platform to support; the other being overall number of users. I think Apple understands it cannot win in the war for overall number of users, so its focusing its efforts on building a base of affluent and engaged users." -- Reader RadarTheCat.
That's a very good point, and something many may miss when it comes to these devices. Where have I heard something like this before? Let's go back to what Apple said on its most recent conference call:
We continue to be very pleased with the growth and the strength of the Apple ecosystem. With the broadest geographic reach and depth of content in the industry, our iTunes Stores generated record billings of $4.3 billion in the June quarter culminating in our best months and best week ever for App Store billings at the very end of the quarter. The quarter's iTunes billings translated to quarterly revenue of $2.4 billion, up 29% from the year ago quarter with strong growth in revenue in both content and apps. The continued strong iTunes sales combined with other software and service revenue resulted in total quarterly revenue of $4 billion from iTunes software and services. We added some great new video content to iTunes and Apple TV.
Gee, iTunes billings translated to quarterly revenues of $2.4 billion, up 29% from the year ago. If you look at the numbers, that means that iTunes, bundled in the software/services category, was the fastest growing revenue segment for Apple in Q3. By the way, if you take out the sales "growth" in the iPad line from the iPad mini, iTunes/software/services was also the fastest growing in Q2.
No China Mobile (NYSE:CHL) deal, but other positive news:
I recently mentioned a potential China Mobile deal as a huge catalyst for Apple. With China Mobile having an estimated 740 million subs, a deal with Apple could provide for Apple's next leg of growth. Expectations for a deal became rather high after the Wall Street Journal reported that China Mobile was to receive the iPhone 5C.
Now I did caution in the catalyst article that China Mobile might not start selling the phones for a while anyway. Regulators were still looking at the TD-LTE band for the new phones, and approval was given on Wednesday. That was the big news out of China on Wednesday, not the news many were looking for. Don't forget though that Apple does sell the iPhone to two other China carriers, and the new iPhone will go on sale in China next week. The usual multi-month lag time has been eliminated for now. That's a big step for Apple as well, and should not be dismissed.
Apple did add a new major carrier this week when it agreed to a deal with Japan's DoCoMo. This was a rumor that started to come out late last week, so it was not unexpected news. I covered the potential DoCoMo news in my latest Apple article. DoCoMo has roughly 60 million subs, of which 1/4 use 4G phones. They are also more affluent subs, so they can afford a higher priced phone, and also those add-ons I referred to above.
Again, this is another case of everyone wanting everything upfront. One report comes out about China Mobile getting iPhones, and everyone thinks a deal is imminent. I even said in my catalyst article that while a deal could be announced soon, it could be a few months before the phones went on sale. At that point, we were still waiting for a regulatory decision, and we just got it. The China Mobile news is a large enough event on its own that I think it deserves its own separate announcement. You didn't see Apple launching new iPads the other day, did you? Looking back, it seems like expecting two new iPhones, a DoCoMo deal, and a China Mobile deal was misguided. I still do expect a China Mobile deal to be announced, and it might come in the next couple of months. Like the cheaper phone argument above, this is just a matter of timing, not something that will never happen.
Analysts saying one thing, but doing another:
A lot of analysts issued negative reports after Apple's big launch on Tuesday, but don't forget to read between the lines. I'll start with Credit Suisse, which cut its rating to Neutral, with a $525 price target. That price target represented 6.14% upside from Tuesday's close, 12.24% upside from Wednesday's close, and 11.07% upside from Thursday's close. If Apple gets to a point where there is say 15% upside or more, do you think the analyst will raise their Neutral to a Buy? I'm guessing not, and the more likely scenario is that Apple will be downgraded just to be negative. The average price target on the street is still around $540, with a majority of analysts having buy recommendations. I always love it when an analyst's rating and price target tell two different things.
Also, while you've seen a bunch of negative analyst reports, rating changes, and other items, Apple's average estimates have gone higher since Monday! Here are the changes since then, and you can check Apple's average estimates here.
2013 fiscal Q4 (ending September 2013) revenue forecast increased from $35.92 billion to $35.97 billion. Same quarter EPS average upped from $7.61 to $7.64.
2013 full year (ending September 2013) revenue forecast increased by Q4 amount above. EPS forecast only increased by 2 cents. The penny difference is most likely due to just 47 analysts providing quarterly numbers, while 54 provide yearly.
2014 full year (ending September 2014) revenue forecast increased from $180.51 billion to $180.52 billion. Not much of a change, but I think the $180.51 billion was the lowest I've ever seen it. EPS forecast increased from $42.32 to $42.53. This is probably due to gross margins from the 5C.
So despite all of the negativity, analyst estimates have actually risen since the announcement. Add in the fact that the average analyst has a buy rating and a price target 14% above where shares are now, and there you go. Some of the downgrades may have led to Apple's fall the past few days, and that can be a nice opportunity for investors.
Foreign versus domestic cash:
There's also been a bit of criticism regarding Apple and its cash usage. For a few years, Apple investors wanted a dividend. They got it over a year ago, and after the first raise this year, the annual yield was more than 3%. Even at 2.58% as of Thursday's close, Apple still has a very good yield. At the same time, there were a lot of complaints when Apple did not raise the dividend even more. 15% was not good enough.
What Apple did do is announce a $50 billion increase to its "buyback". I put that in quotations, because as I've stated in the past, the first $10 billion was just to stop the share count from rising further, not to decrease it. This $50 billion is a true buyback, because it will significantly decrease Apple's share count. In total, Apple more than doubled its capital return plan from $45 billion to $100 billion.
Apparently, the biggest buyback in corporate history was not good enough. Those that argued for a larger dividend raise got an extra $55 billion added to the capital return plan, and they still complained! Don't forget, this is all expected to be done by the end of 2015. It's not like this is a ten year plan. On average, Apple is still expected to buy back more than $4 billion worth of shares per quarter, for each quarter over the next two and a half years! Microsoft has bought back almost $11 billion in the past two years, and Apple will do that in less than three quarters at the average pace. It's still not enough, some say.
While I do agree that an expanded buyback for shareholders could benefit Apple's stock, it all depends on the cost. Interest rates have gone up significantly since Apple had that wonderful $17 billion debt raise. If Apple raises debt again, the added debt to the balance sheet, along with higher rates, isn't as appealing. Having extra debt on the balance sheet and paying even higher rates isn't worth it in my opinion just to increase a buyback plan that's already the largest ever.
The final point I want to make is in regards to Apple's cash pile, and specifically, the breakdown of its funds. Part of the criticism behind Apple's cash return plan is that Apple has so much money parked overseas, and US investors want it. If Apple brings the money back, they'll have to pay billions in taxes, and they obviously don't want to do that. Foreign money can't be used for dividends and buybacks without the above mentioned process, so that's why you saw Apple issue $17 billion of debt for its buyback. Apple gets criticized for its foreign holdings, but what about other names? The following table shows a comparison of cash piles. Dollar values in millions.

*Apple's number includes cash, short and long-term investments. The other names are just cash and short-term investments.
**Numbers are rounded, so foreign and domestic held numbers could be slightly off the actual amount.
When compared to Cisco Systems (NASDAQ:CSCO) and Microsoft, Apple has the largest percentage of US based cash resources. I'm sure a complaint will come here because Google has more than Apple. Well, Google doesn't have a buyback or a dividend. When Google returns $28 billion in a year, roughly the amount Apple has over the past four fiscal quarters, please let me know. Apple's domestic percentage has come down a bit in recent years as it starts to return capital to shareholders. I'm not here today to start a debate about the US tax code, but to show how again, Apple is held to a different standard. By the way, in Apple's fiscal Q3 (calendar Q2), the diluted share count dropped from more than 947 million to a little over 924 million. In the same time period, Google's diluted share count rose almost 2.3%. Enough with the cash complaints already. You should be happy with a $12.20 annual payment and the largest buyback in corporate history.
Final thoughts:
There's been a lot of whining regarding Apple's launch of the iPhone 5C and its pricing. Many are upset that Apple, a company based on premium products, did not come out with a bargain based phone for the low end consumer. History should tell us to not be surprised. Did we see the iPad mini priced at $99 or even $249? Investors also were concerned that a deal was not made with China Mobile.
Seriously though, it's not the end of the world for Apple. Just because Apple did not do what people wanted them to do doesn't mean it won't happen. It took a year or more of complaining before the dividend was finally restored. Apple went to a cheaper version of the iPad last year, and they might go to an even cheaper version this year. It's probably the same thing with the iPhone, so we'll see what happens next year. As for China Mobile, a deal is coming, and they just got a key approval.
So when I see all of this whining, it is rather annoying. Mercedes doesn't go from a $60,000 car to a $15,000 one overnight, and neither should Apple. This is a process, and it will take time. Apple will get into emerging markets over time, and they will launch cheaper products eventually. But if they did it all at once, everyone would be complaining about margins. So please, let Apple do what it does best, and that is producing high quality products. For those that read this article, please don't say this a biased piece coming from an Apple fan boy or junkie. This article came to you from someone whose immediate family has never owned an Apple product. I'm not this huge pro-Apple supporter. I am someone who is opposed to unnecessary and ridiculous whining and criticism.
Apple decided to protect its brand this week, and I applaud that. Investors should too, and a $40 drop in the stock provides an interesting opportunity. Not only do you get a nice pullback, which seemed due after a rally from $385 to $513, but you get to pick up an additional 20 basis points or so in the dividend yield.
Disclosure: I have no positions in any stocks mentioned, but may initiate a long position in AAPL over the next 72 hours. I wrote this article myself, and it expresses my own opinions. I am not receiving compensation for it (other than from Seeking Alpha). I have no business relationship with any company whose stock is mentioned in this article.
Additional disclosure: Investors are always reminded that before making any investment, you should do your own proper due diligence on any name directly or indirectly mentioned in this article. Investors should also consider seeking advice from a broker or financial adviser before making any investment decisions. Any material in this article should be considered general information, and not relied on as a formal investment recommendation.