The crash of PM (precious metals) prices September 12 prompts re-thinking the case for having them as a significant part of a portfolio. PM price action, more than in other industries overrides the basics of revenue / debt, growth, cash flow and productivity. Indeed, three outstanding miners whose metrics would shine in any sector, First Majestic (NYSE:AG), Eldorado (NYSE:EGO) and Endeavour (NYSE:EXK) lost 7.45%, 7.67% and 9.05% respectively in the latest plunge.
Gold bullion plunged overnight and for the day dropped $37 to $1328. Silver, despite its myriad tech-industrial uses lost $1.21, ending at $21.97. Thoughts of gold pushing through resistance near $1450 (the initial estimate that accompanied the short sell call April 10) vanished as it fell beneath ostensible support at $1350. Silver's attempt to solidify above $24 after Labor Day seems a distant memory. Is it time to get out, to exit PM holdings that still are green, trim the rest and wait for a decent rise to exit entirely?
By PMs I mean bullion-related holdings like Central Fund of Canada (NYSEARCA:CEF), Swiss Gold Trust (NYSE:SGOL) and Sprott Physical Gold (NYSEARCA:PHYS) and Silver (NYSEARCA:PSLV) as well as mining companies that produce the commodity.
Here are basics about a despised and baffling sector that is small in size but great in interest to retail investors, funds and Central Banks.
1). The sector is very volatile, the miners most of all: their price action amplifies movement in bullion prices, sometimes greatly. For example, compare Thursday's 3.06% drop in GLD and 5.47% fall in silver to the best-in-class miners mentioned in the opening paragraph. For PM miners, intra-day volatility of 3% or greater often occurs. An example: September 11, debt-free junior miner, Fortuna Silver (NYSE:FSM) moved 6% intraday while silver bullion's range was just .8%. If you can't stand volatility stay away from the miners or limit your investment to a top fund like Tocqueville (MUTF:TGLDX) and don't check it too often: let the experienced John Hathaway work for you.
2). Price action rarely correlates with profitability or the basics of supply and demand whether the demand is from Central Banks, retail buyers of gold and silver coins and bars or, in the case of silver, from industry: makers of cars, stoves, circuit boxes, computers, cell phones, bandages, solar panels and more. Silver's tech uses have increased greatly the past decade but YTD and especially since mid-April the prices have been crushed. The PM bottom was June 26 and the slow recovery of July increased August 6 only to slump and become jagged three weeks later. Thursday the hammer hit again. That's where things stand.
3). The volatility of PM miners reflects trends in the sector, resource nationalism vs mining friendly jurisdictions (different in every country and often in different states or provinces within a nation, like Mexico) and the fiscal policy of major economies. To be in the sector you must strike a balance between monitoring all these factors and not getting too quick on the trigger. Three weeks of gains can be erased in three days only to reverse the next week in a new uptrend. Therefore, you must identify the best companies, learn their price history, understand fiscal policy, politics and geopolitics and have a sense of when you want to take profit. For some people that may be too much. Above all you must know yourself and the degree of volatility and irrationality your portfolio can stand. Basic rules: avoid locking in a loss unless circumstances absolutely compel you to do so and don't hesitate to cash some gains even on companies with little or no debt, great mines and growing revenues.
What makes a PM miner sound is similar to other businesses: High revenue to debt ratio, strong cash flow and revenue growth. As for politics, politicians world wide buy their constituencies by deficit spending which requires taxes, preferably on foreign companies, but not so much that they leave. For example, Mexico currently is considering a 7.5% royalty tax (in addition to a 30% income tax) on mining companies. It is the world's largest producer of silver and mining executives, many of them Mexicans, from a host of companies are fighting the bill which would cut government income by reducing production. This fact is hard for some politicians to grasp. The issue does not always have negative impact: Katanga and Indonesia have shown themselves very flexible with miners.
You can gain exposure to the sector by several mining ETFs like the Gold (NYSEARCA:GDX) or Silver Miners (NYSEARCA:SIL) or the junior gold (NYSEARCA:GDXJ) or silver miners (NYSEARCA:SILJ). SIL gives you global diversification while SILJ is concentrated in Canada, the US and Australia. I discussed their relative merits here. There also is the Gold Explorers ETF (GLDX). With the September 12 drop, all these are getting into a good buying range for those who like to trade. The fundamentals of slowing supply and increasing demand are very strong but that also was true before Thursday's plunge. PMs are seen as competitive measures of value to fiat currencies. The fiat regime is unsound but very powerful. Silver's role as a tech-industrial commodity does not protect it from smack downs.
For those who still wish to invest, I note the best companies in the sector, the main criteria being zero or low debt / revenues, multiple producing mines and experienced geologists and miners on the board. I have written focus articles on EGO and AG, and discussed most of the others in several columns the past six weeks.
In addition to AG, EGO and EXK, the other top companies by the above criteria are debt free McEwen Mining (NYSE:MUX), FSM and Yamana Gold (NYSE:AUY), Silver Standard Resources (NASDAQ:SSRI) and New Gold (NYSEMKT:NGD). Because of a 2Q 2013 collapse in prices that was not organic in origin, many miners have reduced capex and production so revenue growth in some cases gives a skewed view of company strength. But the best of the best companies are growing revenues even in this most difficult period: EXK +57.7%, EGO +14% and NGD +11.7% revenue growth and AG, with revenues 12 x debt growing at 2.5%. This augurs well for future performance.
I have not detailed Yamana so here is a brief look. AUY has $2.31 billion revenues that are 2.8 x debts with debts nearly covered by cash flow. It has 8 mines in Mexico and South America that produce gold, silver and copper. Its Chapada mine north of Brasilia has 3.7 million proven and probable oz. gold, 2.3 million oz. measured and inferred gold, 3 million oz. measured and inferred silver and 2.2 million lbs. copper. SSRI has revenues 4:3 debts and a vast pre-production site at Pitarilla in Durango, northern Mexico. But multiple producing sites give a margin of balance and help insure supply.
As for demand, here is a chart showing record sales of gold and silver Canadian Maple Leafs this year.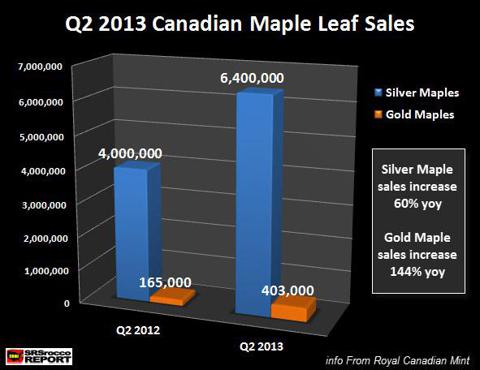 Similar buying of American silver Eagles have resulted as bullion prices have dropped. The strong hands that move Mr. Market are unimpressed with this otherwise significant trend.
Various narratives are offered for every irrational crash of PM prices: apparent deals on Syria are said to have diminished the appeal of PMs as a safe haven. Others say the collapse of the Rupee is crushing the ability of Indians to buy. These stories have a sophistic quality like the endless tarot reading on QE: the economy is better so tapering will occur or the economy is better because of QE and tapering must not occur, etc. Facts or factoids always are found to explain massive collapses in spot bullion, and the whiplash affects on PM miners, regardless of the situation. It puts me in mind of a core theme from one of the defining novels of the past century: "It is not necessary to know whether something is true. It is important only to accept that it is necessary." It seems to be necessary that PMs suffer periodic, huge and irrational crashes in prices which, adjusted for inflation, remain far below the levels of 1980.
Only by knowing this situation can you judge the degree to which you wish or can invest in PM bullion issues and mining companies. One's tolerance for volatility, willingness to monitor events and the level of your net assets all are key considerations.
At present there are bubbles in bonds, equities and real estate resulting from QE upon which the markets and economies clearly depend. Fiscal policy and geopolitics have a lot to do with how the markets behave these next four months and beyond. Depending on how these matters play out, we may get through merely with another 3-4% correction rather than a major 10-20% drop. As I discussed here and here, 2013 already has given us a 5.75% drop from May 21 - June 24 and a 4.67% decline from August 5 - 27. My view is that it still is prudent to overweight one's usual cash position and to underweight bonds but not exit completely. There are too many variables to make extreme decisions on allocation.
As for PMs, the best companies are named above for those who can endure volatility like Thursday's. It is a shame that great companies may find much of their use as trading vehicles but that is how it is. Portfolio weighting of PMs depends on your temperament and income stream. Don't put yourself in a position where you need to cash out a greatly depreciated asset.
That said, the recent plunge is in the process of creating attractive entry points for the best companies. Silver remains a pressing need for industry. As for gold, the fiat experiment continues toward new global monetary arrangements whose precise nature is impossible to predict. As in many things, the times are defined by uncertainty and the manipulation of narratives. It is not pleasant but one must deal with it.
Disclosure: I am long AG, EXK. I wrote this article myself, and it expresses my own opinions. I am not receiving compensation for it (other than from Seeking Alpha). I have no business relationship with any company whose stock is mentioned in this article.