GSV Capital (NASDAQ:GSVC) recently announced the pricing of a $60 million convertible offering of 5.25% notes at a conversion price of $16.26 per share. GSVC expects to use approximately $9.5 million of the net proceeds of this offering to acquire government securities and intends to use the rest for general corporate purposes, which include investing in portfolio companies in accordance with its investment objective and strategies, and to pay operating and other expenses.
Considering the average holding amongst GSVC's portfolio is at a cost of $5 million this leaves me wondering about new investments: how many, when, and what?
Taking a closer look at the prospectus
GSVC fills the funding void between IPO and venture capital by investing in companies with market caps of $100 million to $1 billion. Shares are bought on secondary markets from employees and early VCs as well as primary shares directly from the company.
My starting point for research is SharesPost.com - a company in which GSVC has dedicated 1% of its portfolio. The beauty of buying shares off of SharesPost.com is that GSVC ultimately benefits from any commissions it may pay to acquire shares. Many of the current portfolio company's shares can be found on SharesPost.com so it isn't too much of a stretch of the imagination to assume that management would once again make a new investment from this private marketplace.
The six investment themes GSVC focuses on are Social Media, Mobile Computing and Apps, Cloud Computing, Software as a Service, Green Technology, and Education Technology.
Education 31.8%
Cloud 25.1%
Social/Mobile 22.1%
Green Tech 11%
Internet Commerce 6.6%
| Name | Value (millions) | Investment Theme |
| --- | --- | --- |
| Twitter | $43.5 | Social/Mobile |
| Palantir | $23.0 | Cloud |
| Facebook | $15.8 | Social/Mobile |
| Dropbox | $15.1 | Cloud |
| Control4 | $14.7 | Green Tech |
| Violin Memory | $14.4 | Cloud |
| Chegg | $14.1 | Education |
| Solexel | $11.0 | Green Tech |
| 2U | $10.6 | Education |
| Avenues | $10.4 | Education |
| Coursera | $10.0 | Education |
| Kno | $9.9 | Education |
The top 12 holdings make up 73% of the portfolio weight (as of 9/11/13 with the Firsthand Technology Value Fund (SVVC) valuation for Twitter). I'm expecting an exit from Facebook (NASDAQ:FB), SilverSprings Networks (NYSE:SSNI) and Control4 (NASDAQ:CTRL) soon as well as expected IPOs from Twitter, Dropbox, Violin Memory and Chegg. Since GSVC is already overweight on Education and it appears that most exiting companies are not Education I have decided to leave this investment theme out of my speculation for the next companies to enter the GSVC portfolio.
Let's take a look at some possible future investments for GSVC from SharesPost.com
Uber
Investment theme: Mobile Computing and Apps, Internet Commerce
Valuation: $3.76 billion
Uber is innovating at the intersection of mobile technology, car transportation and logistics. The Uber experience captures the limo experience and transforms it into an on demand service. Rides can be requested at any time using the iPhone, Android and Blackberry apps. With recent funding from Google (NASDAQ:GOOG), Goldman Sachs (NYSE:GS) and Jeffrey Bezos [of Amazon (NASDAQ:AMZN) fame as well as fellow investor in Twitter and ZocDoc - another GSVC holdings]. Uber is looking to expand further even though it already operates in 40 cities across 18 countries with the most recent addition of South Africa.
At its core, the company is an on-demand private driver of luxury vehicles for hire. With your credit card registered on the service, the car picks you up and the trip is tracked from the moment you get in until you get off. For those who think there is no market for luxury travel in emerging markets the company has developed options that counter with a mix of price points including UberX (low cost Ubers), UberTaxi (same principle as a cab without having to hail it), UberBlack (black sedans), UberSUV (roomier cars) and UberLux (luxury cars).
There is already competition in the space of taxi-by-app but I must admit that I am impressed with Uber's marketing. The company offered a one day promotion to deliver free ice cream on rides in over 33 cities during one of the hottest days in July this year. Last year in Paris there was a one day promotional offering of a Starbuck coffee for its morning rides. Uber also recently made a deal with the NFL to give its players each a $200 credit (in the wake of a Sports Illustrated article condemning athletes drinking and driving). When new competition enters a market Uber is already in it just offers free rides to maintain market share. On the offensive it has rolled out its own ride-sharing services in any market its competitors have entered.
Uber has been mentioned several times in GSVC's blog stating "Uber has been one of our favorite apps (from a personal standpoint), it is high on our priority list (from an investment standpoint), and continues to impress us on both levels." Coursera was also mentioned several times in the GSVC blog before making them a portfolio company.
Square
Investment theme: Mobile Computing and Apps, Internet Commerce
Valuation: $3.25 billion
Square is a service that enables anyone to accept credit cards anywhere with its easy to use, free credit card reader that plugs into a phone or iPad. Its Register app for iPad helps companies replace their cash registers and its Pay with Square app makes it possible for consumers to pay at Square merchants without pulling their wallets (or phones) out of their pockets. Square has investments from Visa (NYSE:V), Starbucks (NASDAQ:SBUX) and Citigroup (NYSE:C).
Square helps breakup the quasi-opoly held by Visa, Mastercard (NYSE:MC) and American Express (AMEX) by giving smaller merchants access to the payment networks but still charges an average fee of 2.75% per transaction. Square has also recently established its own online marketplace, which also allows for market item embedding making it easier than ever to share online items you may have for sale.
Square had an estimated 2012 revenue of $170 million, up almost 300% from the year prior.
Pinterest
Investment theme: Social Media
Valuation: $2.5 billion
Pinterest is a social networking site with a "virtual pinboard" interface connecting people all over the world based on shared tastes and interests. The online scrapbooking site has 70 million users, 80% of which are women. However, only 20% of U.S. Internet-using women are on Pinterest.
With GSVC exiting positions in Facebook and Twitter sooner rather than later I believe Pinterest.com fills in the portfolio social media gap quite well. There are about 500,000 business accounts currently on Pinterest and that number is only expected to grow. Interestingly enough the average amount spent per order by a Pinterest shopper is $140-$180 and the most popular company on Pinterest is Nordstrom (NYSE:JWN).
The company has recently been named as the fastest growing social platform, overtaking Twitter, as the numbers of active users grew 88% for Q2 2013 year-over-year.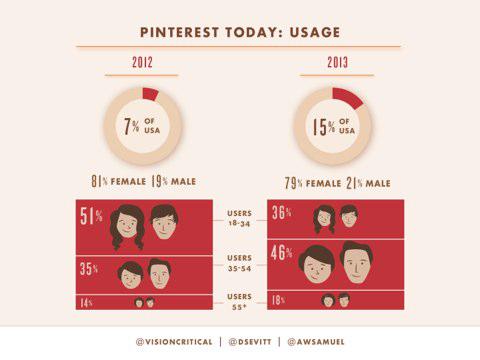 SoundCloud
Investment theme: Cloud Computing, Social Media
Valuation: $200 million
SoundCloud is the world's leading social sound platform where anyone can create sounds and share them everywhere. Recording and uploading sounds to SoundCloud lets people easily share them privately with their friends or publicly to blogs, sites and social networks. Soundcloud is to music what Youtube is to video.
MySpace.com originally found its popularity with bands and musicians trying to promote their work. Facebook has since come and obliterated MySpace but has left musicians hungry for more. There is a workaround for Facebook in which bands still use the site in substitution of a website but Facebook still has a long way to go to appease musicians. SoundCloud offers easy access for downloads, following and sharing as well as a niffty feature that gives users the ability to comment on particular sections of an audio file. The company is shifting from a file sharing service to a social experience. Superstars like Beyonce, 50 Cent and even President Obama and New York Mayor Michael Bloomberg are all registered users.
SoundCloud's power is in how it connects musicians with each other and their fans. SoundCloud files easily integrate into Twitter, Facebook and Pinterest so it is not so much competition as it is ancillary (and a possible buyout target). SoundCloud's newsfeed is somewhat like a combination between Pinterest and Spotify (another GSVC holding) allowing users to keep informed on the latest bedroom recordings from their friends as well as the newest Lady Gaga single (if you follow her).
SoundCloud operates similarly to Dropbox as it is "freemium" to a certain point, which after you pay for more storage, with unlimited costing $130 a year. The company has 40 million registered users and 200 million unique listeners a month. Twelve hours of audio is uploaded to SoundCloud every minute but the company has yet to turn a profit. The key to SoundCloud's success will be integration amongst other larger platforms - such as a quick export link from Apple's Garageband software.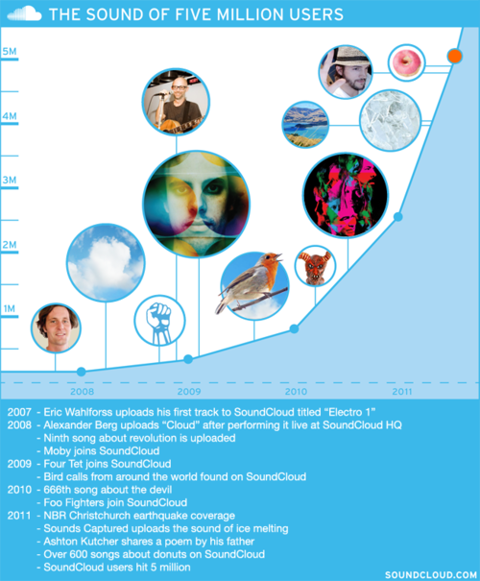 SpaceX
Investment theme: Green Technology
Valuation: $2.2 billion
Space Exploration Technologies Corporation (SpaceX) designs, manufactures and launches the world's most advanced rockets and spacecraft. Long term, SpaceX is working to build vehicles that are fully and rapidly reusable, a key element to reducing the cost of spaceflight. With founder Elon Musk [of Tesla (NASDAQ:TSLA) fame] as CEO I can only imagine the market hysteria of a SpaceX IPO.
On May 25, 2012, SpaceX made history as the world's first privately held company to send a cargo payload, carried on the Dragon spacecraft, to the International Space Station. SpaceX has the possibility to revolutionize space travel and transport as we know it. However, Mr. Musk recently stated that he intends to hold off on any IPO until it can regularly transport humans to Mars and back - which is currently in the works as a long-term project.
2012 Revenue for SpaceX was $454 million, which is estimated to grow at a rate of 60%. With such high R&D costs I can't imagine it being profitable.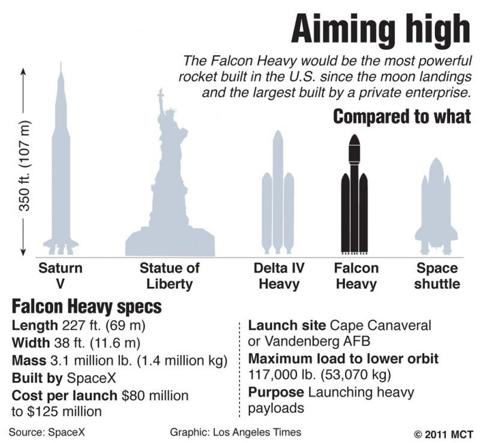 Disclosure: I am long GSVC. I wrote this article myself, and it expresses my own opinions. I am not receiving compensation for it (other than from Seeking Alpha). I have no business relationship with any company whose stock is mentioned in this article.