TravelCenters of America (NYSEMKT:TA)

DESCRIPTION
TA operates and franchises travel centers primarily along the US interstate highways. The primary customer base consists of professional truckers and regular motorists. TA owns and operates 188 travel centers and is involved in 45 others that are franchise owned and/or operated.
THE STORY



TA represents a solid reward/risk opportunity on both a fundamental and a technical level. From a fundamental standpoint the core reasoning for this trade is the closing of the spread between the tangible book value and the market valuation. The current market price of $7.77 per share represents an approximate 58% discount to tangible book value ($18.36) and the potential for a return of 135%.
TA uses fuel volume/margin and non-fuel revenues as their primary metrics for performance. For the quarter ending 06/2009 TA saw a decline of 10.7% in fuel sales volume, a 2.5% decline in fuel margins, and an 8.4% decline in non-fuel revenues. This decline should have been anticipated due to overall economic conditions. As the economy strengthens and more truckers and motorists are back on the road more often TA should see a return to growth in these metrics.
In terms of short term liquidity I don't believe TA will experience any shortfalls. TA enjoyed free cash flow of approximately $87mm in the trailing twelve month period with EBITDA of $38mm over the same period. The firm currently has approximately $180mm ($10.80 per share) in cash on their balance sheet.
There are two primary risks. The first is the obvious… if the economy does not recover as expected then the return of motorists/truckers to the road won't materialize. The second and more immediate risk deals with competition. As of July 2009 Flying J, a competitor of TA's, announced a preliminary agreement to sell its interests through bankruptcy to another competitor, Pilot Travel Centers. Management expects the combination of these two firms would "significantly alter the competitive landscape in the travel center industry". I don't have any color as to how negative of an impact this would have on TA but I do believe it is probably already priced into the market's valuation.
EXPECTATION

I expect the market to bring TA's valuation into harmony with tangible book value ($18.36). What we essentially have is a company trading at less than cash and less than 50% of tangible book value. In my opinion TA was rightfully sold off when the economy was showing Armageddon. However as the economy returns to growth, even if spurred by inflation, TA should return to profitability which in turn should bring the market's opinion of it back to at least tangible book value.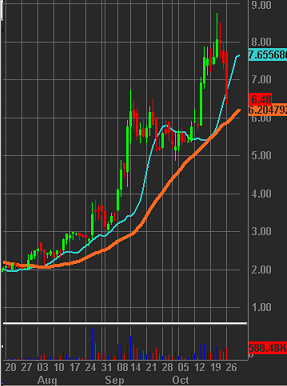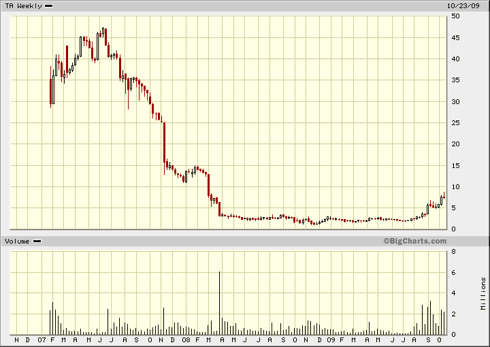 TECHNICAL ANALYSIS
The chart on top is a three month daily and the chart on the bottom is a three year weekly. On the left we're showing a strong pullback on 10/26/09 which represents a better entry point that previously recommended. I wouldn't be surprised to see TA head back down to the $5.00 - $6.00 range and consolidate a bit prior to breaking higher. In terms of reward/risk this represents a very solid entry point. When viewing the longer-term chart we see that TA was trading upwards of $45.00 back in early 2007, quite recently after going public. The company has since been consistently hammered and reached a low of approximately $2 and more recently climbed to a 1.5 year peak of $8.75. As the economic recovery continues to prove itself this name should, at a minimum, head back to tangible book.