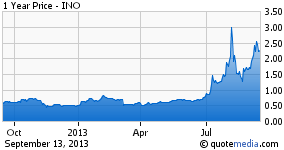 With the global vaccine market expected to hit $52 billion by 2016, certain biotech innovators pushing the edge in this field are garnering a further in depth look. One particular company in this sector which could potentially revolutionize vaccine technology at the foundational level is Inovio Pharmaceuticals Inc. (NYSEMKT:INO). Specializing in DNA based vaccines and therapeutics, Inovio's platform works by stimulating a patient's own immune system to produce greater quantities of cancer and disease fighting T-cells. With a recent deal inked out with Roche this week, around $50M in cash and equivalents and a cutting edge patented technology platform, there appears to be an overwhelmingly bullish outlook on the company's future prospects.
Clinical Efficacy
Unlike biologic vaccines, Inovio's vaccines are comprised of computer-generated strands of synthetic DNA mixed with water. This works to give Inovio's product candidates a huge edge, as these synthetic therapies don't run the risk of producing the viruses which they aim to treat and can also be easily manufactured and stored at room temperature. Likewise, being that these vaccines are synthetic and not biologic has enabled Inovio to build a large IP and patent portfolio for its products. Currently the company's pipeline hosts over 400 patents and shows no sign of slowing its IP expansion. Specifically what Inovio has been patenting so aggressively thus far are its coded DNA sequences which are the foundational mechanism of action for its vaccines and therapies. Through these synthesized DNA transcription codes, Inovio's vaccines work to activate targeted immunological responses triggering the patient's own body to fight their disease more effectively. Along with the numerous published studies demonstrating the efficacy of the company's technology, recent pre-clinical data revealed that the company's hTERT DNA cancer vaccine generated a T-Cell immune system response 18-fold higher than the next best peer technology found in Merck's (NYSE:MRK) DNA Plus Adenovirus Vector.
Market Opportunity
With a pipeline targeting diseases such as Cervical Dysplasia, Cancer, HIV, Influenza, Hepatitis C and Malaria, the multi-billion dollar market size which Inovio's pipeline is working to enter is clearly quite large. Below is a breakdown of the market potential for solely the company's candidates which are already in ongoing clinical trials:
| | |
| --- | --- |
| Product: | Market: |
| VGX-3100 (Cervical Dysplasia/HPV) | $1.6B |
| PENNVAX® (HIV) | $17B |
| VGX-3400X(Influenza) | $6B |
| Total Market = | $24.6B |
Recent Roche Partnership
This past Tuesday Inovio announced that it had finalized a new partnership with Roche (OTCQX:RHHBY) for two of its immunotherapies targeting prostate cancer and hepatitis B. This partnership spoke volumes not only due to the fact that Roche is considered one of the top 10 largest pharma company's globally, but also because the deal was for two of Inovio's pre-clinical candidates which haven't even begun Phase I trials yet. Being that partnerships with big pharma companies typically take place after substantial Phase I or II clinical trial data has been documented, it is clear that Roche see's enough promise in Inovio's therapies currently that it was ready to commit to a deal without any further proof needed. The Roche deal provides Inovio with an immediate $10M upfront payment and milestone payments of up to potentially $412.5M. This brings Inovio's current cash and equivalents position close to $50M in total presently. A recent past bearish article on Inovio makes the argument that the company would likely face further dilutions in the near term, yet considering that the company is currently sitting with more cash than it ever has previously, further near term dilutions are not necessary for the company to continue its current operations. It should be noted that this bearish article did come out just one day prior to Inovio announcing its partnership with Roche however so this author was likely not anticipating this deal.
Conclusion
Currently Inovio's therapy platform is showing to have a best in class T-Cell immune system response against cancer and infectious diseases. This fact coupled with an extremely large patent portfolio and more cash than the company has ever had before puts it in a strong position to continue its path towards becoming a major player in the biotech space. While there is always the possibility that development stage biotech's can choose to offer more shares in the future, Inovio is currently sitting in a very strong financial position and has recently just received an additional $10M from its Roche partnership with another $412.5M in future milestone payments pending. Taking into account all of the aforementioned positive attributes which the company brings to the table, I see Inovio as being a solid long term investment in the cancer and infectious disease therapy space and apparently it's CEO/largest shareholder Dr. J Joseph Kim agrees.
Disclosure: I have no positions in any stocks mentioned, and no plans to initiate any positions within the next 72 hours. I wrote this article myself, and it expresses my own opinions. I am not receiving compensation for it (other than from Seeking Alpha). I have no business relationship with any company whose stock is mentioned in this article.