Rogers Communications (NYSE:RCI), one of the largest telecommunication companies in Canada, operates under three basic units; wireless, cable and media. I am bullish on the company as it has the largest share of the growing wireless market. RCI is trading at depressed valuations, and it also offers potential for 13% price appreciation. Moreover, cost saving initiatives and promotional packages paint an encouraging outlook for the company.
Owing to its largest share in the wireless market, RCI had the highest risk of losing a market share to Verizon Communications (NYSE:VZ), but the latter has changed its plans to expand its operations in Canada, after finalizing the largest deal of the decade with Vodafone to buy back its 45% share of VZ Wireless. But the threat is not over yet since favorable government regulations are still in place, which might attract other incumbents to take advantage of the lower wireless penetration rate. Canadian Interior Minister James Moore told reporters after the VZ announcement that the company was not coming to Canada. "To those who are looking at our policies, we are not changing dates, we are not changing our policies, we're moving forward," he said. So, I think the next few days will be crucial, as September 17, 2013 is the deadline to submit deposit fees to participate in the spectrum auction in January 2014. Also without participating in the spectrum auction, it would be extremely difficult for any new company to compete with the three telecommunication giants, even if they manage to acquire small wireless companies.
Discounted Cash Flow Evaluation
I have used free cash flow estimates until 2016 and a 7.38% WACC (using cost of equity of 9.20% and after-tax cost of debt of 4.0%). Furthermore, I have used a terminal year growth rate of 1.0%.
| | | | | |
| --- | --- | --- | --- | --- |
| | 2014 | 2015 | 2016 | Terminal Value of FCF |
| Estimated Free Cash Flow | $1,975 | $2,170 | $2,315 | $36,648 |
| Present Value | $1,839 | $1,882 | $1,870 | $29,597 |
Total Value to firm = $1,839+$1,882+$1,870+$29,597 = $35,188 million
Total Debt = $10,547 million
Total Value to firm - Total Debt = Total Equity value
$35,188 - $10,547 = $24,641 million
Share Outstanding = 514.7 million
Target Price = Total Equity Value/Share Outstanding
$47.87 = $24,641/514.7
The company is currently trading at the bottom end of its 52-week range. The recent pull back occurred when VZ announced that it was looking at growth opportunities in Canada. So now we can expect the stock price to return to its normal value. My target price is $47.87, which equals price appreciation of 13.6%. Also, RCI generates around $500 million in free cash flows to maintain its healthy dividend yield of 4.0%. This means that a potential total return of around 17.6%.
Financial performance of 2Q'13
The company managed to improve its wireless operating revenues by 3% YoY with the help of cost savings, attractive promotional packages and strong equipment sales. Total postpaid subscribers have reached 7.97 million, with an increase of 3.5% YoY. The company also managed to activate and upgrade 678,000 smartphones, out of which 37% were new to wireless. However, some of the negative takeaways were the decline in postpaid ARPU, which experienced a decline of $1.10 from 2Q'12, along with the slightly higher churn of 1.17%. This decline in ARPU is a worrying sign because it will also undermine the contribution of postpaid subscribers' growth to revenues.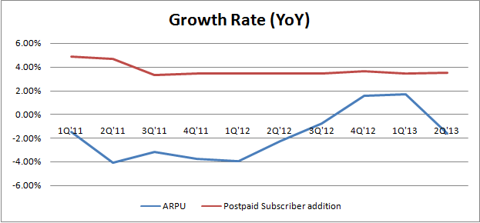 Source: Company Data
Operating revenues for cable was up by 3% YoY due to the strong performance of the internet segment, which experienced staggering YoY growth of 17%. Media also managed to perform well because of the Rogers Sports network, as its operating revenues were up by 7% YoY. RCI has also announced network sharing arrangements with Manitoba Telecom (OTCPK:MOBAF) and Videotron, which will enable the company to expand its LTE footprint to Manitoba, Quebec and Ottawa.
Risks
The competition between the top three major players, RCI, TELUS Corporation (NYSE:TU) and BCE, Inc. (NYSE:BCE), might increase, which may cause a decline in the industry's existing pricing structure, and RCI might not be able to maintain its competitive product offering. Any additional spending by consumers on telecommunication products and services is dependent on the economic cycle. Lastly, government regulations to promote competition continue to remain a major concern, especially for the three big players.
Conclusion
| | | | | | |
| --- | --- | --- | --- | --- | --- |
| Companies | ROA | ROE | Forward P/E | P/S | PEG |
| RCI | 9.27x | 48.52x | 11.39x | 1.68x | 3.19x |
| BCE | 6.94x | 19.11x | 13.62x | 1.63x | 3.15x |
| TU | 6.98x | 17.66x | 13.82x | 1.82x | 1.80x |
Source: Yahoo Finance
As you can see from the table given above, RCI offers superior returns on invested capital. The company has been effectively converting its investments into profits. Furthermore, the company is trading at cheaper valuations among its peers. I believe that RCI is well placed to take advantage of lower smartphone penetration, and strengthen its postpaid subscriber base. It also enjoys the largest spectrum of 145MHz, which means it has the potential to leverage its spectrum to provide high speed premium quality services to its customers.
Disclosure: I have no positions in any stocks mentioned, and no plans to initiate any positions within the next 72 hours. I wrote this article myself, and it expresses my own opinions. I am not receiving compensation for it (other than from Seeking Alpha). I have no business relationship with any company whose stock is mentioned in this article.