In this article, I will feature one biotech company that has seen intensive insider buying during the last 30 days. Intensive insider buying can be defined by the following three criteria:
The stock is purchased by three or more insiders within one month.

The stock is sold by no insiders in the month of intensive purchasing.

At least two purchasers increase their holdings by more than 10%.
OvaScience (NASDAQ:OVAS) is a life sciences company focused on the discovery, development and commercialization of new treatments for infertility. The company's patented technology is based on the discovery of egg precursor cells (EggPCSM), which are found in the ovaries. By applying proprietary technology to identify and purify EggPCs, OvaScience is developing potential next-generation in vitro fertilization (IVF) technologies. The company currently has two product candidates in development: OvaTure, which seeks to create mature fertilizable eggs from a woman's own EggPCs without the need for hormone injections, and Augment, which aims to improve egg quality and increase the success of IVF.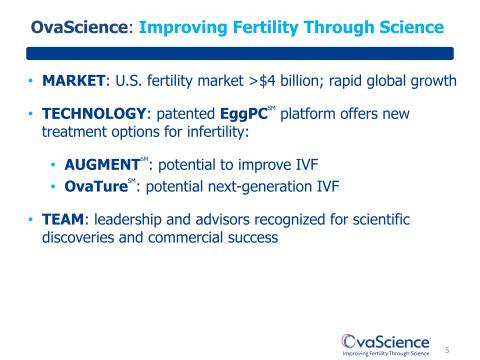 Insider buying during the last 30 days
Insider buying by calendar month
Here is a table of OvaScience's insider-trading activity by calendar month.
| | | |
| --- | --- | --- |
| Month | Insider buying / shares | Insider selling / shares |
| September 2013 | 17,200 | 0 |
| August 2013 | 0 | 0 |
| July 2013 | 0 | 0 |
| June 2013 | 0 | 0 |
| May 2013 | 0 | 0 |
| April 2013 | 0 | 0 |
| March 2013 | 480,555 | 0 |
| February 2013 | 0 | 0 |
| January 2013 | 0 | 0 |
There have been 497,755 shares purchased and there have been zero shares sold by insiders this year.
Financials
OvaScience reported the second-quarter financial results on August 13, with the following highlights:
| | |
| --- | --- |
| Revenue | $0 |
| Net loss | $6.0 million |
| Cash | $54.3 million |
Upcoming milestones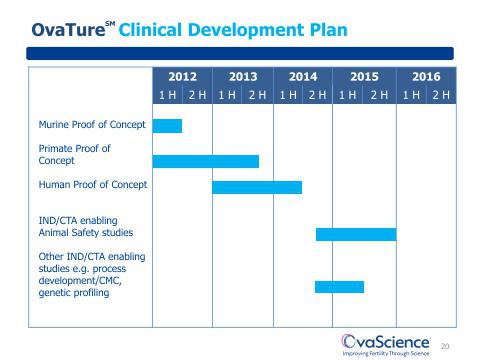 On September 10, OvaScience suspended enrollment of Augment in the U.S. while moving forward with its plans for enrollment outside of the U.S. On September 6, 2013, OvaScience received an "untitled" letter from the Food and Drug Administration (FDA) questioning the status of Augment as a 361 HCT/P and advising the company to file an Investigational New Drug (NYSE:IND) application. OvaScience anticipates having further discussions with the FDA to present details on Augment and its qualifications as a 361 HCT/P, and to determine the appropriate path forward. OvaScience continues to believe that Augment qualifies as a 361 HCT/P.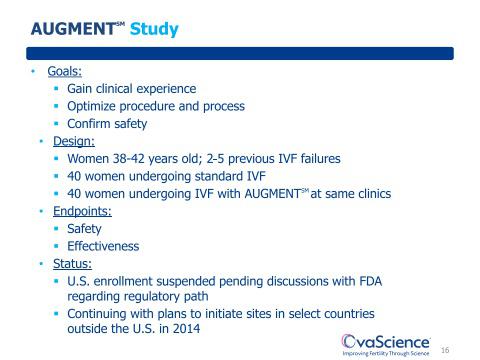 OvaScience plans to initiate sites for an Augment study in select countries outside of the U.S. in 2014.
Competition
There are a number of pharmaceutical companies, biotechnology companies, universities and research organizations actively engaged in research and development of products for the treatment of infertility. Some of these products, similar to Augment and OvaTure, are designed to address the shortcomings of IVF.
OvaScience is not aware of any company or organization developing a specific product that would compete directly with Augment.
OvaScience is aware of two companies that are currently developing products intended to identify high-quality embryos for use in IVF. Novocellus is developing an embryo viability test, using culture media, to aid in the selection of embryos used in IVF. Auxogyn is developing software that analyzes embryo development against cell division timing parameters to help identify the highest-quality embryo within a group of embryos. If successfully developed, these products could improve outcomes and alleviate some of the other shortcomings of traditional IVF, thereby decreasing the need for OvaScience's product candidates.
OvaScience is aware of one company, Ovacyte, which is seeking to develop a method for culturing epithelial cells from a woman's ovaries. Based on public disclosures by Ovacyte, OvaScience does not believe that Ovacyte has begun development of its technology. If successfully developed, however, this method has the potential to compete with OvaScience's OvaTure.
Conclusion
There have been five different insiders buying OvaScience and there have not been any insiders selling OvaScience during the last 30 days. Three of these five insiders increased their holdings by more than 10%.
There are four analyst buy ratings, zero neutral ratings and zero sell ratings with an average target price of $17.10. The insiders started buying the shares after the recent setback with the FDA. I have a cautiously bullish bias for the stock currently based on the intensive insider buying.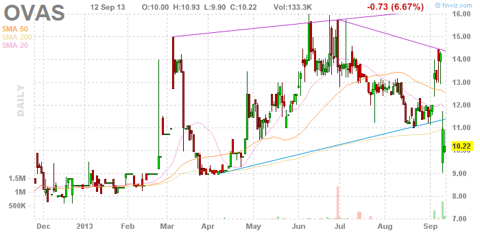 Disclosure: I have no positions in any stocks mentioned, but may initiate a long position in OVAS over the next 72 hours. I wrote this article myself, and it expresses my own opinions. I am not receiving compensation for it (other than from Seeking Alpha). I have no business relationship with any company whose stock is mentioned in this article.