Ross (NASDAQ:ROST) is one of the biggest off-price retailers in the country. Off-price retailing occurs when fashion designers produce more product than they can sell through typical full price retailers. As a result, they discount their product and sell it to companies like Ross that pass on the savings to customers by charging a lesser retail price. Ross and rival TJX Companies (NYSE:TJX), owner of TJMaxx and Marshall's, do not offer the most cutting edge fashion, but they do offer cost effective fashion. They make up for their lower margins with higher turnover. Ross continues to grow, to take market share, and to improve its profitability, which is why I like this stock.
Competitive Landscape
There has been a change in retail apparel shopping over the last decade. First, a lot more of it is done online. One of eBay's biggest categories is apparel. Traditional companies, such as Kohl's and Macy's, have built multi-billion dollar online businesses that sell apparel that sit alongside their existing retail business. Ross has not followed this trend. Ross (and TJX) have been successful following a model similar to Wal-Mart: offer lower prices with lower gross margins and generate more inventory turnover than competitors. Ross and TJX do not operate in the anchor store format such as the more traditional stores as well. As a result of all these model choices, both companies sit as the most profitable in the industry and have grown substantially over the years. Their product offering is wider than competitors and is offered at a lower price. This is a compelling value proposition. Below is a graph that shows comp sales rates over the years, cumulative sales growth, and total sales.


On the end of the retail spectrum that is Ross and TJX, you have ROIC metrics that exceed 40.0%, which is spectacular for any business. On the other end of the spectrum, you have anchor stores such as Sears (NASDAQ:SHLD) and JCPenney (NYSE:JCP) that have ROICs that are well into negative territory. You can see in the graph below who is making the money. Nordstrom (NYSE:JWN) is a unique case. It owns Nordstrom Rack, which is a similar format to Ross and TJX, but also has one of the most premium formats in its flagship Nordstrom store. Although similar to Nordstrom Rack, Ross and TJX are comparable but not necessarily comparable to Nordstrom as a whole. Nordstrom Rack might not be able to expand as much as Ross and TJX for fear of diminishing the Nordstrom brand. As a result, TJX and Ross enjoy one of the best positions in the industries from a competitive standpoint.

To further break down the details of the competitive landscape, you can see that Ross and TJX have the two best SG&A expense (% of sales) out of the list of competitors. They generate so much in sales relative to their operating expenses that SG&A is efficiently absorbed by sales, far better than their peers. Notice that the inventory turnover and asset turnover ratios are very large relative to peers but the GM% is very small, reflecting the off-price model. This model is quite successful because it has allowed significant operating margins and significant asset turnover ratios, the two primary components in return on equity.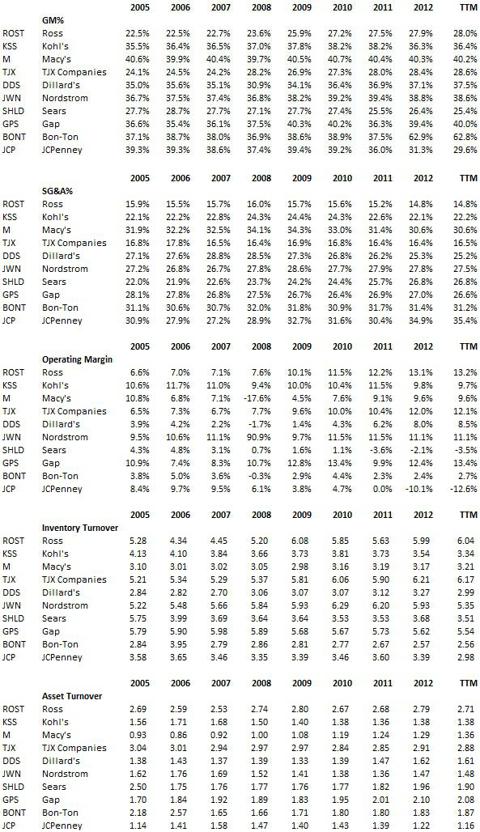 Another competitive trend that is worth mentioning is how couponing affected JCPenney. There are many people that believe that off-price retailers have had a nice run in this down economy and that consumers, now operating in a better economic climate, will opt to go back to full-price department stores. This might not be the case and JCPenney might provide a clue. I believe that consumers are conditioned now to not pay full price. Getting rid of coupons was the downfall of JCPenney leading to double-digit negative store comps, which was quite amazing. Not paying full price is a trend that I believe has taken hold and the JCPenney instance is a big insight into how consumers are conditioned nowadays. This plays very well for Ross and TJX.
Growth Prospects
Peter Lynch made money when small companies became big companies. At a $15.0B market cap, Ross is not exactly at the small company stage; however there is still running room for the company to grow. Consider the following chart, which shows the current store count of Ross and its competitors. Ross expects to open a full 88 new stores this year, which is material relative to its current 1227 stores. TJX has two major brands, Marshall's and TJMaxx, which explains why its store count is much higher. A big opportunity seems to be the decline of two big competitors: Sears and JCPenney. Ross (and TJX) provide similar clothing at a lesser price point. As these two stores struggle, I expect companies like Ross to continue posting strong comp rates. The best thing that would happen for Ross is if one or both of these competitors went out of business. In my opinion, the probability of this happening over the next 10 years is not negligible.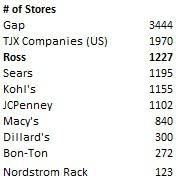 The two primary drivers of growth in net income are sales growth and profitability growth, particularly from operating leverage. Sales growth is driven by opening new stores and taking market share. Both of these drivers still appear to be healthy. The company is opening new stores at a rapid clip and comp rates are above the average, indicating the company is taking market share. The fact that comp rates have exceeded industry averages each year for many years now, especially as the company has grown much bigger, means that the format is dominant. Therefore, there should be no reason why the company should cease expanding by opening new stores where it sees fit; wherever it goes, the company will likely generate strong business. Further, one dollar invested is worth more like 8 dollars in economic value (p/b is 7.83). The company is not even close along the curve where its new investments do not generate significant economic value above and beyond the amount invested.
As for profitability growth, the company is getting bigger. Profitability growth is accelerated when there are high comp rates and not just growth in the store count. The reason is that each store has its own fixed costs. Higher comp rates mean higher sales per store; higher sales per store means a better ability to absorb store fixed costs (in addition to the corporate costs, which are also fixed). Therefore, you will see improvement, not only in the SG&A expense, but also in the gross margin. If the company grew only by adding stores alone, there would likely not be a significant improvement in the gross margin as much as the SG&A expense. In this case, there is improvement in both. As the company continues to add stores and generate high comp rates, I expect margins to further improve. Please see the chart below that shows how the COGS (% of Sales) and the SG&A Expense (% of Sales) has declined in recent years.
Valuation
Yahoo reports a beta of .54 and Google Finance a beta of .74. If you take the higher of the two, your cost of capital will be about 7.50% (3.0%+.74x6%). I use a historical market risk premium of 6%, which is at the high end of estimates. Recent years have seen a significantly lower market risk premium. The 10-year risk-free rate is about 3.00%.
The company trades currently at a p/e of 18.36 and a p/b of 7.83. Now these might seem high but they must be evaluated in the context of the ROE and cost of capital. The cost of capital is low because the company does not have much debt; it generates such high returns without having any significant leverage. The p/e of a company with a 7.50% cost of capital growing at a nominal 2% per year (the cost of capital is nominal for consistency) is 18.54, using the Gordon Growth Model. If you have a cost of capital of 10%, then this justified p/e ratio becomes 12.75, which is much lower. The discount rate makes a big difference. So at first glance, the p/e of 18.36 looks high; after evaluating the situation, it becomes clear that there is very little growth built into the price when using this discount rate and comparing it to the justified p/e.
So the question becomes: will there be growth in earnings? The competitive dynamics, as described above, illustrate a dominant company. The company has many avenues for growth: strong comp rates, new stores, and improving margins. Probably the biggest risk is margin compression, which is a minimal risk at this point. As elaborated, the company will likely continue to enjoy an improving profit margin because of operating leverage as the company continues to grow sales and add stores. Unlike food or petroleum-based products, the cost of textile products as an input has been relatively stable.
To further protect against downside risk, the company has authorized about $820 million in buybacks until 2015. There was $1.1 billion authorized until 2015, of which $277 million was used in the first half of this year to buy back shares. This $820 million is about 5.5% of the current outstanding market cap of the company.
Conclusion
Ross is a very strong company with good growth prospects and a decent valuation. You are not getting a deep value stock here but are getting a stock that will likely post solid returns over the next few years. Sometimes it is best to invest in a great business at a decent price instead of a not-so-great business at a very good price. The latter is far less predictable. Ross appears to be a great business at a decent price.
Disclosure: I have no positions in any stocks mentioned, and no plans to initiate any positions within the next 72 hours. I wrote this article myself, and it expresses my own opinions. I am not receiving compensation for it (other than from Seeking Alpha). I have no business relationship with any company whose stock is mentioned in this article.