What makes the best investment for a Roth IRA? In my opinion, opening and funding a Roth IRA account for someone my age (under 30) is an absolute no-brainer. Unlike a 401K where you invest pre-tax money, you are investing post-tax money. However, when you withdraw from a 401K you will get taxed. With a Roth IRA, your money grows tax-free, giving you a significant tax break at retirement. Therefore it pays if you start as early as you can and grow your money with dividends over time in this retirement account.
Another huge advantage the Roth IRA has over a 401K is that you can select from a wide range of investments. I hate the fact that employers typically only allow their employees to invest in mutual funds in a 401K. Many of these funds come with outrageous fees and underperform the market! I would much rather invest in a basket of dividend-paying stocks of my own selection. At the very least, I would prefer a couple of low cost, diversified ETFs.
I've narrowed down a couple of stocks investors might want to consider for a Roth IRA. What I'm looking for is companies that have a long history of both paying dividends and increasing dividends year after year; you can then enroll these stocks in a DRIP to get all the benefits of compound interest and dollar cost averaging. Over time your money will grow faster than you ever thought possible.
You don't care what these stocks do in the short term - what you want is long-term growth and consistent payment of dividends.
One stock that really stood out to me is a company called Realty Income (NYSE:O), which goes by the nickname "The Monthly Dividend Company."
First off, by no means am I suggesting that a person should put all their money in a Roth IRA in just this one stock. Everyone has their own set of circumstances and preferences and I would definitely recommend diversifying your Roth IRA with other stocks or ETFs.
Why I Like Realty Income
Realty Income Corporation is a publicly traded real estate investment trust which invests in the real estate markets of the United States. They refer to themselves as "The Monthly Dividend Company" because of their 44 year history of "providing dependable monthly income" to shareholders. The company was founded in 1969 but only became a publicly traded company in 1994.
Realty Income's dividend is supported leases of over 3,600 properties across the US. These properties are occupied by retail and other commercial businesses that have signed lease agreements for terms of 10 to 20 years.
Market Cap: $12.9 Billion
Current Share Price: $39.32
52 week High/Low: $55.48/$37.33
As you'll see from the chart history, Realty Income has been around for a while, providing a nice return for investors.
You'll see that the stock got hit hard during the recession of 2008. Many companies went bust during the recession. However, they not only survived but bounced back strong. This shows me that the stock has long-term staying power. Even during one of the nastiest real estate crashes in history, the company continued to pay dividends to shareholders. Not only that, but they actually continued to increase their dividend payouts during this time!
Here is another great chart from the Realty Income website: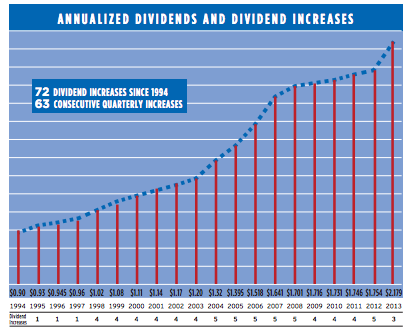 Here are some other facts about the dividend paid by Realty Income:
- 517 dividends paid since inception.
- 72 dividend increases
- 63 consecutive quarterly increases
- Dividend growth of 142.1 percent since 1994.
- Average annual dividend return of 7.4 percent
- If you purchased 1,000 shares in 2003 for $20,000, you have realized: A 109.6% increase in your investment value, from $20,000 to $41,920. And an 82% increase in your annual dividend income, from $1,200 to $2,179.
The company has a number of really cool charts on their homepage which I encourage investors to check out. This one chart really stood out to me below as the company has outperformed every major stock indices since 1994:
The Power of Compound Interest and Dividends
I'm going to take it a step further and give you a hypothetical return scenario if you started purchasing shares in 1994. The company has provided shareholders with a 17.3 percent compounded average total return since 1994. This includes all dividends re-invested, which is an absolute must in a Roth IRA portfolio.
If history repeats itself and Realty Income can provide an average total return of 17.3 percent per year, and you start with an initial investment of $5,000 today and add just $100 to your investment each month, here's how much money you stand to make in 20 years:
Credit: SharkInvestor.com
You'll see above that your initial $5,000 investment, with just $1,200 added each year, turns into $237,346 in a little less than 20 years. You have made $209,546 in profits and achieved a total return of 854 percent.
Not bad, right?
You must also take into account inflation, as the $237,346 will be worth less than what it is today. For example, in 2013 $237,346 has the same buyer power $150,579 in 1994. So your money will be worth less in 20 years, but you will still have made a pretty decent amount of money and most likely will have outpaced inflation and then some.
Monthly vs. Quarterly Dividends
The company's current annualized dividend amounts to $2.179 per share, giving the stock a current yield of $5.2 percent.
Getting your dividends each month instead of quarterly is a preference for some investors, especially those nearing retirement who need the income. This makes Realty Income even more attractive, in my opinion.
A $10,000 investment in shares of Realty Income today would net you about $45.25 a month in income. Not too shabby.
What if you followed the plan in 1994, starting out with $5,000 and adding just $100 a month for 20 years? Well, that $237,346 investment in shares would currently give you about $1,067 a month in income! (5,900 shares at $40 a share, paying $.181 a share monthly).
Dividend Increases Likely to Continue?
On September 10, Realty Income announced the 73rd dividend increase in the company's history. The monthly dividend was raised to $0.1818542 per share, a 0.2% increase from the payout made last month of $0.1815417. While this was nothing to get too excited about, it is definitely not a bad sign, either.
Since Realty Income has a solid history of increasing the dividend every year, I see no reason to believe that this will not continue. The 74th dividend increase should come sooner rather than later.
In conclusion, I believe Realty Income is a REIT that investors should consider for long-term results. Real estate isn't going anywhere, and I can see this company 20 years from now still paying out monthly dividends.
My next article on Realty Income will go more in-depth, taking a look at their income statement, balance sheet and other financials. This is also just the first stock I am highlighting out of a number of stocks I believe are good picks for a Roth IRA account. Please follow me here on Seeking Alpha to get updates when future articles are released.
Disclosure: I have no positions in any stocks mentioned, and no plans to initiate any positions within the next 72 hours. I wrote this article myself, and it expresses my own opinions. I am not receiving compensation for it (other than from Seeking Alpha). I have no business relationship with any company whose stock is mentioned in this article.