In the jewelry store space, Zale Corp (NYSE:ZLC) is a surprisingly attractive growth play, while Blue Nile (NASDAQ:NILE) is a compelling short.
The names considered here are:
Blue Nile - Online retailer of mid-level diamonds and other jewelry
Signet Jewelers (NYSE:SIG) - U.S. / U.K. jewelry and watch retailer with solid growth metrics
Zale Corp - U.S. retailer with significant turnaround transition in play
Tiffany & Co. (NYSE:TIF) - Luxury bellwether with an international customer base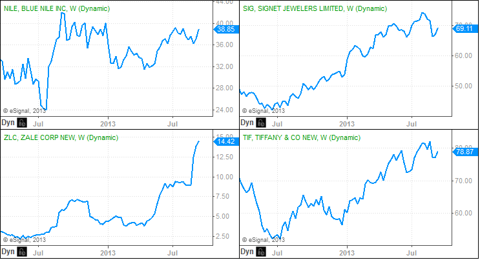 Blue Nile is the most vulnerable of the four, due to heavy competition (specifically from Amazon.com) and contracting profit margins. While NILE has been successful in growing revenue, the company has not been able to convert revenue to profit growth.
NILE currently sports the lowest gross profit margins of the group (18.8% versus a range of 40% to 57% for competitors), and these margins have been declining over recent quarters.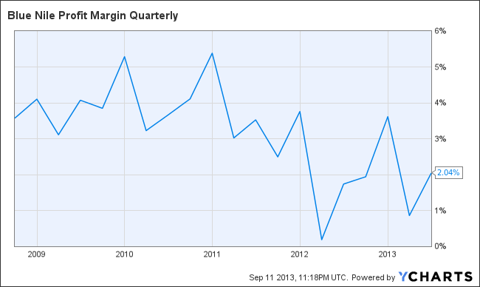 There are a number of serious concerns surrounding Blue Nile's ability to remain competitive:
NILE places a heavy emphasis on not having the costs of brick and mortar stores. But we have already seen B&M stores aggressively undercut online only retailers.
Amazon.com represents a fierce competitor in that Amazon is willing to compete on price alone (and historically has been willing to sustain losses to capture market share).
A large part of NILE's competitive advantage could evaporate if online state sales tax measures are passed.
NILE has difficulty moving high-end merchandise ($25K plus rings etc.), which are the items that represent the highest profit margins for competitors.
Alexa traffic rankings indicate that NILE web traffic recently hit some of the lowest levels seen in years.
Given the company's premium growth valuation (36 times 2014 EPS expectations) and potential for investor disappointment, NILE could fall significantly while still maintaining a growth multiple. A 40% price decline would leave the stock near $23 where it found support last year, and would still represent a respectable PE ratio of 20 times 2014 expectations.
If analysts were to revise projected EPS lower based on shrinking profit margins and increasing competition, NILE could fall much farther as valuation multiples collapse in line with shrinking estimates.
Zale Corp, on the other hand could represent significant blue-sky opportunity as the company's turnaround progresses. Zale Corp recently reported its first full-year profit following five straight years of losses.
During the recession, Zale Corp struggled with high inventory levels and a heavy debt load. Falling revenue and high costs of maintaining retail locations compounded with debt servicing costs to nearly put the company out of business. The stock traded below $1.00 per share in 2009, and has languished with a single-digit stock price since the financial crisis began in 2008.
In early 2010, Theo Killion took over the CEO position following a disappointing Christmas season. The new CEO negotiated a $150 million capital infusion from private equity firm Golden Gate Capital, which has been instrumental turning the company around.
For the July quarter, Zale Corp boasted comp-store sales growth of 5.6% and a gross margin at 53.1%. Zale Corp is aggressively cutting expenses by closing non-performing stores, while growing sales aggressively at existing locations.
While the advance in ZLC's stock price has been tremendous (a 200% run since mid-May), there is still significant blue-sky opportunity for additional gains. The stock is rallying following years of terrible sentiment, and it is still unclear just how quickly the company could grow earnings.
Analysts are currently forecasting annual EPS of $0.73 in two years. This leaves ZLC trading at 20 times July 2015 expectations, a healthy growth multiple but by no means an excessive valuation. Analysts have been revising earnings targets higher (increasing next year's estimates by 24% over the past 60 days), a trend that could very well continue as Zale Corp continues to cut costs, grow comp-store sales, and reduce its debt-to-equity ratio.
It is difficult to determine exactly how high earnings estimates could climb, given how early it is in the recovery stage for Zale Corp. Considering the dramatic turnaround in profitability, it would not be surprising to see analysts continuing to adjust expectations higher as Zale Corp executes on its recovery process.
With potential for continued acceleration of earnings expectations, ZLC could represent a moonshot growth opportunity (although we would like to see some consolidation or a pullback before allocating capital).
Both Signet Jewelers and Tiffany appear to be relatively fairly valued with no material trade opportunity on the horizon. Tiffany could become interesting as a growth candidate, with the key question being how well the company can generate growth in China.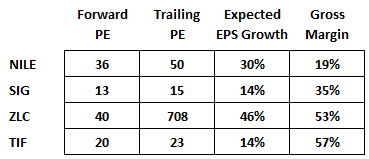 The next two reporting periods (with Q4 covering the key holiday period) should help to clarify Tiffany's long-term growth prospects.
We've got ZLC on our radar as a long-term turnaround / growth play, and NILE as a vulnerable short candidate.
Disclosure: I have no positions in any stocks mentioned, and no plans to initiate any positions within the next 72 hours. I wrote this article myself, and it expresses my own opinions. I am not receiving compensation for it. I have no business relationship with any company whose stock is mentioned in this article.