After 9 years as a privately-held enterprise, Boise Cascade Company (BCC) re-emerged as a public building materials company prospering off of a recovering U.S. housing market. Boise Cascade quickly soared 62% in the weeks following its IPO. Yet in the months following this rise, the company struggled to support its gains. This negative sentiment was only compounded by a hefty sale from the company's largest shareholder. Despite concerns of overvaluation, a look at the company will show that it continues to be fairly priced in the present.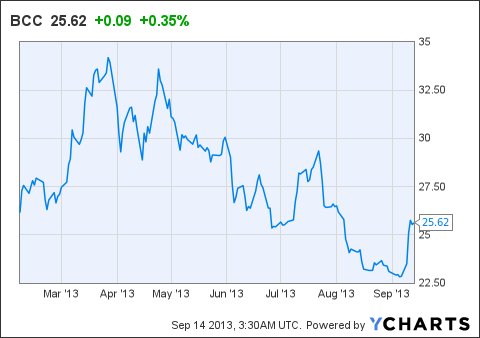 Background
Boise Cascade manufactures engineered wood products, plywood, lumber and particleboard. The company primarily operates out of its two business divisions of Wood Products and Building Materials Distribution. The company stands as one of the largest producers of engineered wood products and plywood in North America with annual revenues in excess of $2.75 billion. The company is headquartered in Boise, Idaho.
The Insider Sale
On July 22, 2013, Boise Cascade announced a secondary offering of 10,000,000 shares by its majority owner Boise Cascade Holdings L.L.C (BC Holdings). Boise Cascade was to not receive any of the proceeds from the stock sale. Prior to the secondary offering, BC Holdings owned 68.7% of the outstanding common stock in Boise Cascade. Following the secondary offering, BC Holdings owned 40.2% of the shares outstanding.
The large insider sale resulted in a transaction valued at $258.8 million. According to the Form 4 found here, Boise Cascade also repurchased an additional $100 million worth of stock from BC Holdings. Effectively, this additional 3.86 million share buyback reduced the number of shares down to 39.36 million shares outstanding. Despite the stock buyback, the company's shares have continued to decline as seen in the graph below.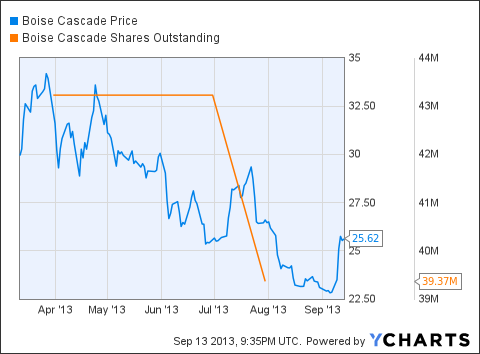 A Question of Overvaluation
The rather large insider transaction by the parent company presents a question of overvaluation when it comes to Boise Cascade. Not only does BC Holdings surrender its majority ownership, but it's sale comes not long after the company's IPO. Only a few months prior, the company held an initial public offering in early February 2013. With an IPO price of $21, the latest secondary sale effectively captured a 23% premium over the initial market pricing.
In the latest earnings conference call found here, analyst Daniel Downes also implicitly questioned the current valuation. He noted a discrepancy between the company's latest acquisitions and its current share price. According to him, the acquisitions of Chester Wood Products and Moncure Plywood resulted in a multiple representing 5.3x EBITDA. On the other hand, the company was roughly trading in July at 11.5x EBITDA based on consensus estimates for 2013. This suggested that the private market was placing a significantly lower valuation on comparable businesses than that of the public market.
A Case For Undervaluation
Despite these concerns, there is a case to be made that the company's stock continues to trade at a lower valuation than it should. A look at industry peers found in Weyerhaeuser (WY) and Deltic Timber (DEL) suggests that Boise Cascade may be trading at a lower multiple than its public peers. As seen in the graph below, Boise Cascade trades at an enterprise multiple of 8.5 compared to Weyerhaeuser's 19.77 and Deltic's 16.89. The strong correlation between the three confirms their industry likeness.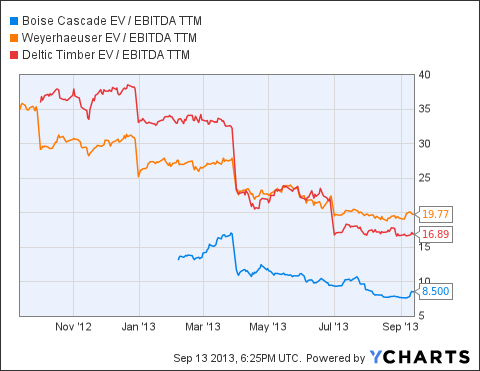 BCC EV / EBITDA TTM data by YCharts
Two additional insider transactions could also suggest that the company may be trading at a discount in relation to its industry. On September 6, CFO Wayne Rancourt and Director Richard Fleming both directly purchased shares on the open market. Rancourt purchased 4,000 shares at $23.00 while Fleming purchased 5,000 shares at $22.90. Prior to these transactions, the company had no recorded insider purchases.
Operational Performance
A look at the company's operations shows that Boise Cascade is also coming out of a somewhat disheartening quarter. Commodity prices began a steep descent in Q2 2013. This can be seen in the graph below. While the company was able to take advantage of higher market prices compared to the prior year, the steep decline resulted in prices falling 25% by the quarter's end. This was likely to have eroded investor confidence over this period.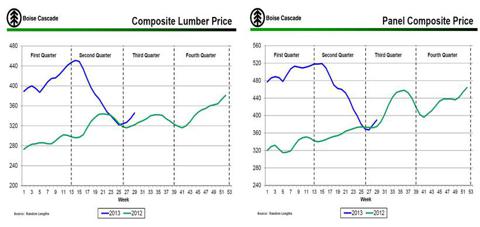 Nevertheless, the company's direction is largely driven by U.S. housing starts. In the last quarter, total U.S. housing starts increased approximately 17% compared with Q2 2012. Additionally, single-family starts increased approximately 14%. Management continues to see a positive trend as the long-term forecast still points to an underlying housing demand of about 1.4 to 1.5 million starts per year. This long-term growth potential remains promising as the current consensus estimate for 2013 U.S. housing starts stood at 1 million total starts.
A look at the sales performance shows that Boise Cascade still did fairly well. On a year-over-year basis, the company's last quarter saw a 16% gain in net sales. Sales increased from $732.9 million to $852.3 million. The company also saw a 9% increase in EBITDA as the company earned $30.7 million compared to $28.2 million in Q2 2012.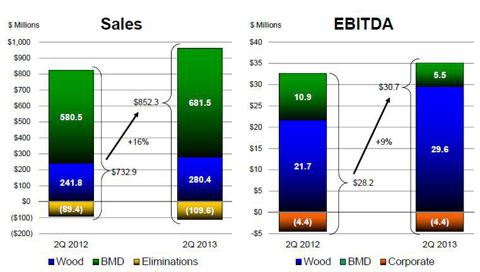 Last of the all, Boise Cascade found it opportunistic to acquire two plywood plants in North and South Carolina for $102 million. According to the company, these facilities would complement the existing plywood and engineered wood manufacturing businesses. These acquisitions are expected help Boise Cascade in servicing customers in the East and South Eastern United States. In 2012, the plants generated approximately $19 million in EBITDA.
Financial Overview
As of September 13, Boise Cascade now trades with a $1.01 billion market capitalization. The company trades at a relatively low price-to-sales ratio of 0.33, but a rather high price-to-book ratio of 2.39. Based on analyst earnings estimates of $1.93 for 2014, the company trades with a moderate forward price-to-earnings ratio of 13.28 and a PEG ratio of 2.03. The high PEG ratio suggests that much of the company's potential is already factored into the stock.
At the end of June 2013, Boise Cascade carried total current assets of $845.4 million with $232.7 million in cash and cash equivalents. Contrasted with total current liabilities of $272.8 million, this gives the company a very healthy current ratio of 3.1. Altogether, the company holds total assets of $1.2 billion and total liabilities of $732.7 million.
Conclusion
From a fundamental standpoint, Boise Cascade remains in very good shape. While the company may be sensitive to the conditions of the U.S. economy, it remains adequately financed to endure tough markets. The company continues to grow as witnessed by its most recent acquisitions. Additionally, several insiders have begun to establish positions in the company they manage.
The recent insider sale by BC Holdings may have been an opportunistic liquidation event on the part of the parent company. The sale may have been advantageous given its premium over the IPO price. Indeed, it is also clear that the private market is placing lower valuations on related businesses than the public market is.
While Boise Cascade continues to trade below its peers, it also remains difficult to believe that the company is an undervalued opportunity at this point in time. The lumber market's most recent volatility should put investors on the side of caution. The lack of a dividend is also disappointing considering the relatively slow growth Boise Cascade is likely exhibit going forward. In its current price range, Boise Cascade appears to support a fair valuation in light of its ongoing business prospects.
Disclosure: I have no positions in any stocks mentioned, and no plans to initiate any positions within the next 72 hours. I wrote this article myself, and it expresses my own opinions. I am not receiving compensation for it (other than from Seeking Alpha). I have no business relationship with any company whose stock is mentioned in this article.