Here is an excellent article by MTF Investing entitled "Understanding The Supply And Demand Of Dry Bulk Carriers". In it, the author did an excellent job for investors outlining why shipping rates have been surging, why he believes the shipping index has bottomed out, and the specifics behind the supply and demand for both. He then sums us his article nicely with this conclusion:
Up until now, it looks like the supply outstripped the demand, and the daily rate for dry bulk shippers was below the breakeven point. Now that demand has surged, Clarkson Securities Ltd predicts that fourth quarter daily rates [for Capesize] will average $28,000. This will carry the price higher and return the sector to profitability.
Now I will continue where this author left off. The two largest ship sizes for dry shippers are the Capesize and Panamax, both of which surged significantly in rates in the last two weeks. Bears will be quick to point out that the surge in rates just means rates went from terrible to just plain bad as many dry shippers spiral down to bankruptcy and extinction because they can't operate profitability.
That all changed as of lucky Friday the 13th.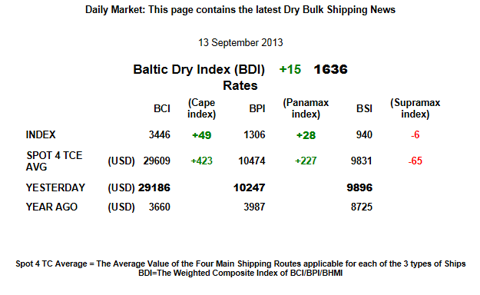 The Capesize and Panamax rates have overall left shippers in the red for years. The break-even point for Capesize rates is estimated at between $14,500 and $15,450 per day. Capesize rates two weeks ago on August 31 were $15,239 per day, a figure celebrated by bulls as quite a recovery from the deep in the red days such as a year ago and early in 2013. Now at $29,609 per day, Capesize rates are now at roughly double break-even levels! Not only could Capesize ships no longer bleed massive red ink, but now they can operate at large, healthy profit margins. Double break-even should mean 50% profit margins.
Next I would expect bears to say, "But what about the Panamax? Capesize operating profitability is fine, but that's not the only ship in the fleets." Once again, look at the data above. The average Panamax daily spot price almost quietly rose to roughly the break-even point itself, which is $10,500 including financing costs. You'd never know it based on the stock prices on Friday though of my favorites builders that have many Capesize and Panamax vessels in their fleets. Genco Shipping & Trading Limited (NYSE:GNK) was down 5.53%, Starbulk Carriers (NASDAQ:SBLK) was down 5.22% , DryShips (NASDAQ:DRYS) was down 0.34%, Navios Maritime Holdings (NYSE:NM) was down 1.69%, and Diana Shipping (NYSE:DSX) was down 2.41%. I don't think many investors were paying close enough attention to how significant the milestone Friday after two weeks of rate rally with both large ship types being profitable again. For me, it's game on. Time to invest in shippers again.
Another key importance with dry shippers operating in the black with the two biggest vessel types in their fleet, and presumably their entire operations operating in the black is book value, especially a growing book value, becomes fundamentally meaningful again in the stock prices. All of the above dry shippers trade below their book values. As long as rates keep these shippers in the black or, even better, continue to go higher, I expect their stock prices to rise significantly. Investors and speculators should pay close attention to shipping rates.
Disclosure: I am long GNK, SBLK, NM. I wrote this article myself, and it expresses my own opinions. I am not receiving compensation for it (other than from Seeking Alpha). I have no business relationship with any company whose stock is mentioned in this article.