In last week's report, we saw a relatively quiet week with registered COMEX gold inventories continuing to drop while eligible gold inventories rose. This week was another quiet week at COMEX gold warehouses, but that didn't stop us from seeing a new all-time low in COMEX registered gold inventories as they dropped close to 665,000 total gold ounces.
This is something that should be very relevant to investors who own physical gold and the gold ETF's (GLD, PHYS, and CEF) because any abnormal inventory declines may signify extraordinary events behind the scenes that would ultimately affect the gold price.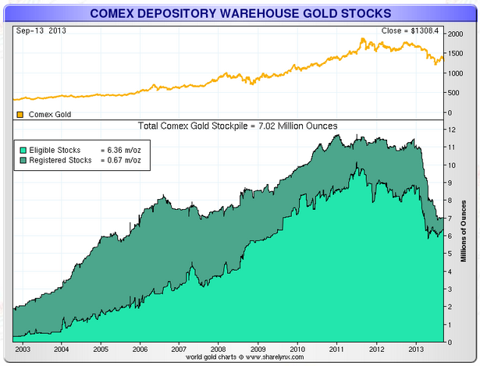 Source: http://www.sharelynx.com
As you can see on the chart above, after the large decline in both registered and eligible gold stocks since the end of 2012, the last few weeks have shown some stabilization in gold inventories. We will take a closer look at these numbers but let us first explain the COMEX a little more for investors who are unfamiliar with it.
Introduction to COMEX Warehousing
COMEX is an exchange that offers metal warehousing and storage options for its clients. The list of their silver warehouses can be found here and their gold warehouses can be found here. In the case of silver and gold, the metal is stored at these official warehouses on behalf of banks and their clients and can be used to settle futures contracts, transferred between clients, or withdrawn from the warehouse. This offers large holders of precious metals a convenient way to store their metal with minimal storage fees - very convenient indeed if you hold large amounts of gold or silver and you don't want to store them in your basement.
Silver and gold stored in these warehouses can fall into two categories: Eligible and Registered.
Eligible metals are those that conform to the exchange's requirements of size (1000 ounce bars for silver and 100 ounce bars for gold), purity, and refined by an exchange approved refiner. Eligible metals are stored at COMEX warehouses on behalf of banks or private parties, but are not available for delivery for a futures contract.
Registered metals are similar to eligible metals except that these metals are also available for delivery to settle a futures contract. COMEX issues a daily report on gold, silver, copper, platinum, and palladium stocks, which lists all the metal that is currently stored in COMEX warehouses and how much eligible and registered metal is present.
This information allows investors insight into how much metal is currently backing COMEX futures contracts, what large gold and silver owners are doing with their metals, and how many clients are requesting delivery of their metals. There is a lot more to glean from this information but for the purpose of this article we will focus on the gold drawdown.
This Week's Changes: Large Decline in Registered Gold as it is Transferred to Eligible Gold
Let us now take a deeper look at the gold draw-downs being seen in the COMEX warehouses.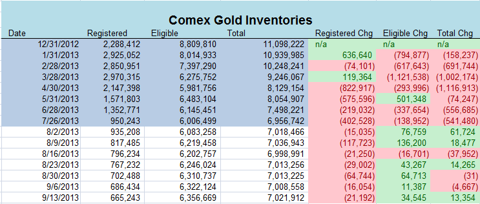 As investors can see in the table above, there has been a consistent decline in COMEX gold inventories since December. Last week we saw eligible stocks of COMEX gold increase slightly for a fourth straight week by a total of 34,545 ounces (around one tonne of gold). This led to a 13,354 total increase in COMEX gold inventories after subtracting the decline in registered gold inventories.
Let us now take a look at registered gold stocks.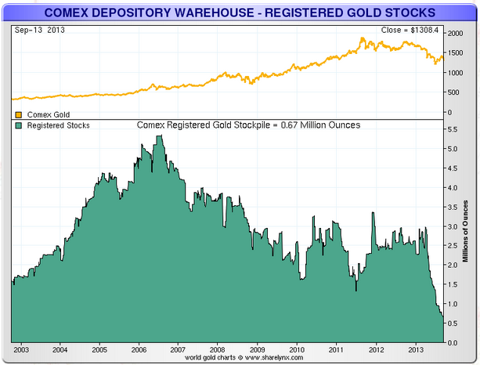 In contrast to eligible gold stocks, registered gold inventories continued to decline by 21,192 ounces for the week.
Finally, let us take a look at possibly the most important number when it comes to COMEX gold inventories - the registered gold cover ratio. We've discussed this in-depth in a previous article so please refer to that article for details, but in a nutshell it is the amount of investor owning a claim to each registered gold ounce (i.e. owner per registered gold ounce).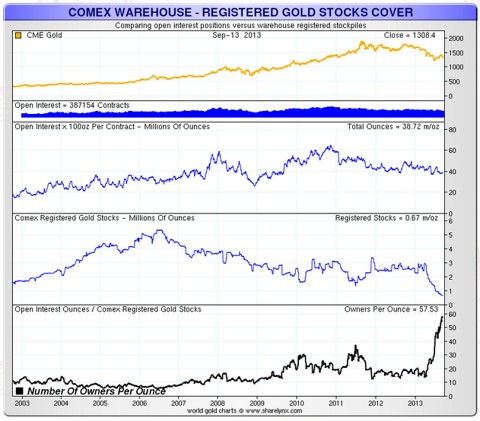 As investors can see, this ratio has been going parabolic ever since March of this year, reaching a new high of 57 owners per every registered gold ounce. That means the cover ratio of COMEX registered gold is only 1.7% - if only 1.7% of outstanding COMEX gold contracts stand for delivery then registered gold stocks (the only gold available for delivery) would be exhausted.
This should be stunning for anybody tracking the physical gold market!
What does this Mean for Gold Investors
While COMEX total gold has stabilized in the last few weeks, registered gold inventories are showing no signs of slowing their exit from the COMEX. We argue that this is the most important measure of the physical gold liquidity at the COMEX since it is the ONLY gold available for delivery. Additionally, when an investor looks at it in owners-per-ounce terms, we've hit new highs at over 57 owners per every registered gold ounce or a 1.7% cover ratio.
Take a moment to think about that. With registered gold stocks around 665,000 ounces and a gold price hovering at $1330 per ounce, total registered gold is worth around $885 million dollars.
Out of the top 200 hedge funds registered with the SEC, every single one of them has over $1 billion dollars of assets under management (AUM), with the smallest hedge fund having over $3 billion in AUM. That means that every one of the top-200 hedge funds has enough assets to buy every single registered gold ounce at the COMEX and have plenty of assets left over.
What if one, or a group of hedge funds, decides to take delivery of gold and test to see if the shorts can acquire the physical gold to back up their contracts? At $1 billion dollars, or about 25% of AUM for the smallest of the 200 hedge funds, they wouldn't only exhaust registered gold but they would also force those on the short-side to acquire gold from eligible gold holders (who don't seem very enthusiastic about selling their gold) or find it on a very tight physical market. Any sniff of entities acquiring contracts to stand for delivery would send gold shorts into a panic - a 1.7% cover, the lowest ever, is a very dangerous place to be for those shorting gold.
Yes position limits could prevent a large one-time delivery of all the gold stocks, but there really would be nothing stopping this from happening over time. In addition, registered gold stock levels are so low that this may become a very feasible strategy - there could be a lot of money made if contract longs could force shorts to buy physical gold on the open market. Could this be why we are seeing registered COMEX gold stocks plummeting? Is an entity slowly acquiring and standing for delivery?
Obviously, this is just speculation but the inventories are so low that this becomes a viable strategy. Throw in the strong fundamentals of the gold market (all-in production costs around $1300 per gold ounce, declining mine output, increasing dollar supply, increasing physical gold demand, etc) and you have a strategy that has a terrific risk-to-reward ratio.
We believe this means the situation is still very bullish for gold investors in COMEX terms. Add the recent drop in gold prices over the last two weeks, and this may encourage physical demand to pick up further. Therefore the situation is still very bullish for investors in physical gold and the gold ETF's (GLD, CEF, and PHYS). Investors interested in leveraging this situation into higher potential profits may also consider buying gold miners such as Newmont (NEM), Goldcorp (GG), Randgold (GOLD), the Market Vectors Gold Miners ETF (GDX), or any of the other gold miners. Miners have had a decent pullback, so shares offer more value than they did a few weeks ago. Though we always caution investors should remember that gold miners are not necessarily an investment in gold - make sure you do your research before you invest in the miners.
Keep a close eye on COMEX gold and the increasing owners-per-ounce ratio because we are hitting all-time highs and the hedge fund sharks may start to smell blood in the water.
Disclosure: I am long SGOL, GG, GOLD, SIVR. I wrote this article myself, and it expresses my own opinions. I am not receiving compensation for it (other than from Seeking Alpha). I have no business relationship with any company whose stock is mentioned in this article.