Weather can have a material impact on oil and gas operations, which is particularly relevant in high-activity, rapidly growing oil and gas shale fields such as the Wattenberg. Recent flooding in Colorado has tragically killed people and destroyed parts of towns. It has also affected drilling operations and production in the Niobrara shale, particularly on the Western side of the Wattenberg field.
There are a few large companies with significant exposure to the Wattenberg field, particularly Encana (NYSE:ECA), Anadarko (NYSE:APC) and Noble Energy (NYSE:NBL). Anadarko shut in 300 wells, according to news reports, and Encana shut in an undisclosed number of wells. Both companies have temporarily closed their field offices. Noble claims that their operations are unaffected, but while production might be unaffected, drilling and completion operations of all big operators in the area are likely affected due to local transportation issues.
Other smaller operators are likely affected as well. Companies like Synergy (SYRG) and PDC Energy (NASDAQ:PDCE) have acreage scattered across the Wattenberg field, and in some cases own non-operated working interest in wells with operators like Encana and Anadarko, which are shutting down wells. These smaller operators also likely have their drilling and completions operation affected by logistical issues related to flooding, even if their well locations are not themselves flooded.
And operators like EOG (NYSE:EOG), Bonanza Creek (NYSE:BCEI) and Carizzo (NASDAQ:CRZO) in the NE Extension of the Wattenberg field are likely not shutting off production but may also have logistical issues getting their people and equipment to well sites. However, these issues may not have the same impact on production growth due to the distance from the flooding.
Before showing maps of the flood impact and of these companies operations, from an investment perspective it is worth considering that the most richly valued companies in the Wattenberg are highly valued because of their rapid production growth. If that growth slows even slightly, even for one quarter, it could negatively affect their market values and the perception of the play, which is currently extremely optimistic.
Companies like Synergy and PDCE trade for over 10x their 2013 EBITDA (and more than 20x trailing EBITDA), which are significantly higher than market multiples. They are pricing in rapid growth, and their stocks have run significantly, as the market has priced in a very high value for Wattenberg and Wattenberg Extension acreage. If growth were to slow down for either of these operators, which seems possible considering their overlap with Encana and Anadarko land, investors could shift money to other investments and the prices of their stocks could fall.
One stock that investors could begin to shift to, which is not focused on the Wattenberg but is achieving ultra-high rates of growth and rates of return in line with or higher than Wattenberg and Wattenberg Extension drilling is Gastar Exploration (NYSEMKT:GST). Gastar trades for ~6.5x 2013 Ebitda, a significant discount to SYRG's and PDCE's valuation. With EBITDA tripling in 2013 and potentially doubling in 2014, Gastar may get the attention of investors previously focused on better known resource plays like the Niobrara. As Gastar's institutional ownership increases, it could trade up to a multiple as high as SYRG's, which would imply a stock price more than double its current price.
Now for some acreage and flooding maps to see the potential direct impact. Here is an overview map of the Wattenberg Field: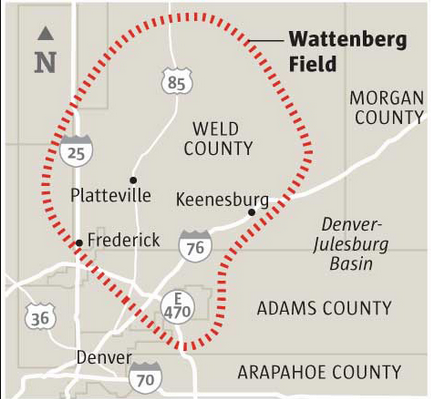 And here is a map of recent flooding from the Weld County Office of Emergency Management: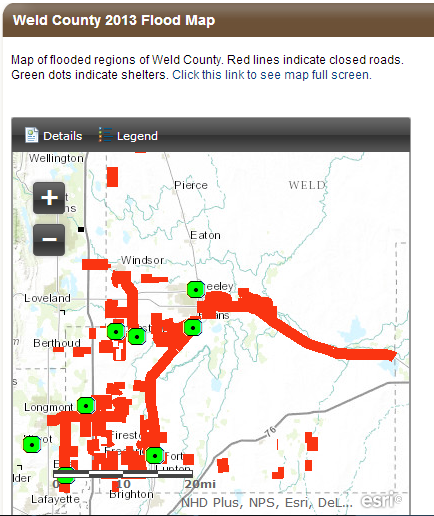 Here is a map of Synergy's acreage in the Wattenberg (note the overlap on the west with the flooded areas), which also shows areas Encana and Anadarko are active in (which are right next to SYRG land) - this is relevant because Encana does not provide a map on their presentation of their Wattenberg acreage: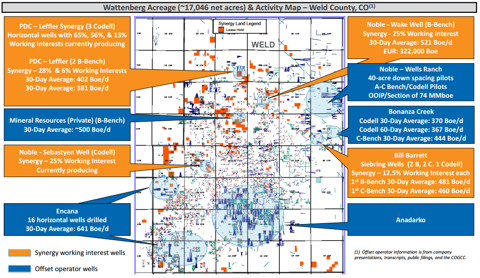 And here is PDC's Wattenberg map (note overlap with flooded areas, particularly in the South West):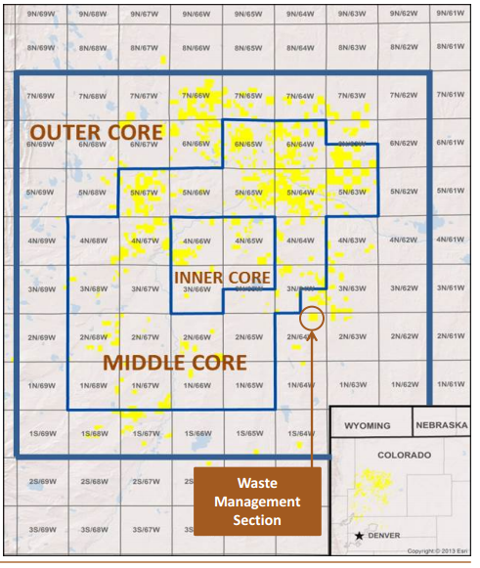 Here is Anadarko's Wattenberg Map: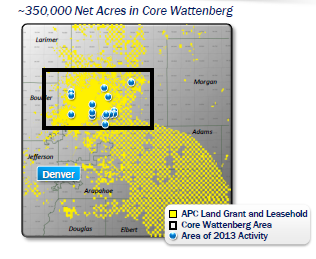 And here is a map of Noble's Wattenberg acreage (likely affected areas are in the SW portion of this map):
So in summary, some companies with exposure to the Wattenberg field are already acknowledging production issues and others may have production and drilling issues due to the flooding going on in Colorado at the moment. One alternative investment to Niobrara focused small caps is Gastar Exploration, which is growing faster and trades at a lower multiple to Niobrara focused small caps like SYRG and PDCE. And investors in larger companies with exposure like Anadarko and Encana should evaluate that exposure to see if it will impact production guidance and cash flows (likely it will have a low impact due to those companies size and scale; this is probably why they are willing to admit publicly that they have shut field offices for now).
Disclosure: I am long GST. I wrote this article myself, and it expresses my own opinions. I am not receiving compensation for it (other than from Seeking Alpha). I have no business relationship with any company whose stock is mentioned in this article.