Stock picking, frankly, is not easy. Even the best trained finance professionals, such as star hedge fund managers, get it more wrong than right. And while gun slinging is a lot of fun (there's always the attraction of hitting the bull's eye and having exciting conversations at parties), investors should always set aside a big percentage of their savings for stable and boring. And while many will question the suitability of boring investments that can "easily" be bested by other, apparently more attractive stocks, I like to fall back on stocks that have proven themselves over and over again, through extended periods of time... such as the five Dividend Aristocrats on my list today - insurance biggie Aflac (NYSE:AFL), pharmaceutical and consumer goods major Johnson & Johnson (NYSE:JNJ), medical device maker Medtronic (NYSE:MDT), global consumer goods giant Procter & Gamble (NYSE:PG) and old faithful Wal-Mart (NYSE:WMT) - that have raised dividends every year for the past 25 years and consistently delivered market beating total annualized returns. These are shares I would not hesitate to recommend to anyone seeking to build a solid retirement portfolio over the long run.
With the sustained bull market we've been over the past few years, many of these stocks are now near or at all-time highs… so some will question the logic of buying these five dividend aristocrats at current valuations. But if I could go back 20 years, I'd happily scoop-up each one of these even if they were at all time highs back then. So the play here is about buying solid companies for the long run; it's not about buying and selling stocks that can give you a higher return over the next few years, and it's not about timing the market.
That said, I am not blinded by history. I've looked at each of these companies as they stand today and still see tremendous businesses with strong moats, strong branding, solid cash flow, solid balance sheets, great liquidity, a great development pipeline with new products and customer opportunities, and expanding revenues and earnings. In many ways, these companies are poised for their second coming as the world opens up and billions more need to be served… with insurance, Band-Aid, stents, toothpaste and low-cost retail, by these best-in-class companies with the experience, expertise, deep pockets and infrastructure to develop and deliver goods and services worldwide.
Aflac: Aflac is #1 on the S&P 500 Dividend Aristocrats index for its spectacular total returns. And it continues to post solid growth (see chart below). In 2012, Aflac revenues were up 14.4% to $25.4 billion through higher premium income that was partly offset by investment losses. So Aflac is still solidly adding customers and its revenue growth isn't driven by investment earnings (which can be fairly volatile from year to year) but by premium-paying customers. Aflac also has sizable international exposure with more growth in Japan than in the U.S. but it clearly has products that resonate with its customers' needs.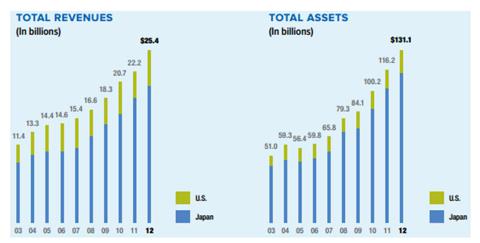 Aflac has increased dividends for each of the past 30 years. Its 2012 dividend was 8.9% higher than in 2011 and its 1-year total return (with dividends reinvested) was a very solid 26.4%.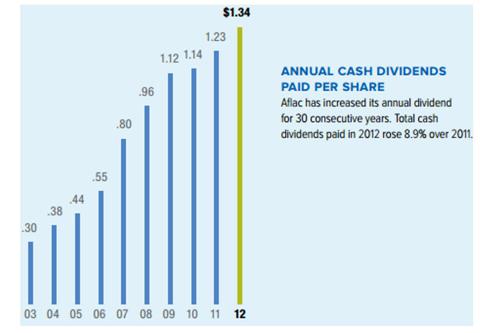 In its most recent quarter (ended June 30, 2013), the company reported a slower 2.4% annual gain in revenues and a whopping 84.5% increase in diluted earnings per share. Looking ahead, Aflac continues to see solid growth opportunity in its core U.S. and Japan markets.
Johnson & Johnson: JNJ serves the world with consumer health care, diagnostic and prescription products, and medical devices, many of which are ranked #1 or #2 globally. JNJ has grown dividends for each of the past 51 years. However, shares have lagged the S&P 500 over the past ten years with total returns of 5.5% versus a 7.1% gain for the index. But JNJ's fundamentals are intact and it continues to grow. In its most recent second quarter, revenues were up 8.5% annually with 8% domestic growth and 12% international sales growth. Excluding one time gains, core quarterly earnings were up 17.7% over the past year and the company upped its guidance for the full year. JNJ also reported solid double-digit gains in key emerging markets.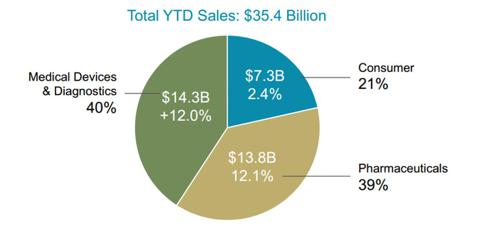 Medtronic: #5 on the Dividend Aristocrats index, Medtronic is a world leader in products and therapies for cardiovascular, diabetes and surgical applications in over 120 countries. The company recently reported 3% growth in quarterly revenue to $4.083 billion (partly boosted by a 9% increase in international sales) and a 12% increase in diluted EPS, with broad outperformance across each sector. On an annual basis, Medtronic expects revenue growth in the 3-4% range and diluted earnings growth of about 6-8%.
Procter & Gamble: Procter & Gamble is strategically focused on growing sales at a slightly faster clip than the markets it competes in, with EPS growth in the high single to low double digits. Procter & Gamble expects to grow by focusing on its 40 top product categories, 20 top innovations with the highest growth potential and 10 top developing markets. It also plans to boost EPS by accelerating cost cutting and improving productivity.
For FY 2013, Procter & Gamble reported net sales of $84.17 billion, marginally higher than the year ago, a 5.5% gain in diluted EPS and a 7% increase in dividends. The highlight, though, was a 24% gain in diluted EPS from continuing operations, suggesting solid growth in its core businesses.

Procter & Gamble also continues to steadily gain market share in the categories it competes in.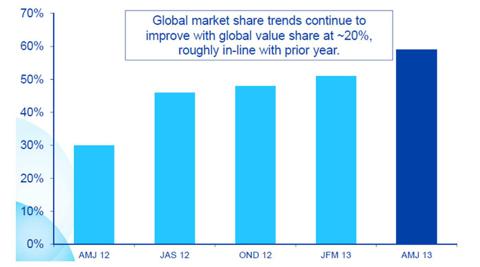 Wal-Mart: Wal-Mart is a slow but steady grower with significant upside in new store formats and organic growth. For its Q2 ended July 31, 2013, in a tough retail environment, the company reported a 2.3% increase in quarterly sales to $116.95 billion, a 5.1% gain in diluted EPS and a drop in 6-month cash flow to $11.25 billion from $11.6 billion on higher capital expenditures. Notably, Wal-Mart gained marketshare in the food, consumables and health & wellness/OTC categories. International sales grew 2.9% to $33 billion (4.4% on a constant currency basis). And over the past 12 months, Wal-Mart delivered a very solid 17.9% return on investment. Wal-Mart is also aggressively integrating its online and mobile portals with physical stores and growing its smaller format neighborhood and express store formats, getting ever closer to its cost-conscious customer base. For example, Wal-Mart plans to add 500 new neighborhood market stores over the next 18 months with 100+ openings slated for FY 2014.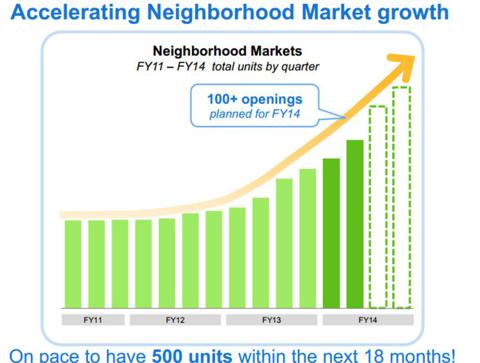 All of these five are mature companies with slow revenue and earnings growth, a great track record with dividends, good cash flow and businesses that still have good room for expansion and are likely going to be around for the foreseeable future, bigger, stronger and more geographically entrenched than they are today.
Dividend Aristocrats
All five are on the S&P 500 2013 Dividend Aristocrats Index - an exclusive up-to-date list of 54 companies that have consistently raised dividends for each of the past 25 years.
The dividend yields of these five companies range from 2.1% to 3.1%, not overly high but steady as can be. Skeptics will point to higher yields and faster growing profits elsewhere but if investors want a safe nest egg for retirement with stocks they can buy and forget (ideally with dividends reinvested for the full power of compounding), these old faithfuls will serve them well.
I like these stocks for their unrelenting dividend growth, up between 4% and 18% annually over the past 20 years. When I combine current yield and growth, these numbers get solidly up in the double digits to between 14% and 21%, and this sum is a key component of the Dividend Value approach to investing.

In addition to regularly paying dividends, what's key here is that dividends have grown consistently… because dividend growth is a strong forward indicator of management's confidence in the company's balance sheet, liquidity and earnings prospects. Dividend growth also creates demand for shares from income seeking investors and institutional investors. Companies that focus on raising dividends manage their business operations and balance sheets carefully. Dividends and buybacks also reduce unnecessary cash hoarding and the risk of wasteful expenses.
The Dividend Value Strategy focuses on dividends and dividend growth to shortlist stocks, and uses valuation ratios to further select stocks for a portfolio. While the five stocks here may not qualify on just their current yields (which are on the low side), they jump to the top of the list when dividend growth is factored in.
Market Beating Long-Term Historical Performance
Over the past 20 years, shares of all five have handily beaten the S&P 500 with 20-y annualized total returns of 10.2% to 14.5%, well above the 7.8% return of the S&P 500 index, counting dividends. To put that in perspective, a $10,000 investment would have grown to between $63,000 and $131,000 with the 5 dividend aristocrats I list but to only $41,000 with the S&P 500.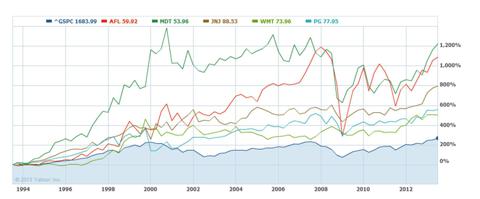 Relatively Undervalued, Strong Share Price Upside
With the exception of Procter & Gamble, each of these shares trades at a current P/E that is significantly less than its 20-y average, suggesting that shares are not overly valued from a historical perspective. However, lower current P/E ratios also reflect reduced expectations on earnings growth. For example, Aflac's current P/E of 9.6 is about 42% less than its 20-y average P/E of 16.7 while Aflac's estimated EPS growth of 8% is about 46% less than its average 20-y EPS growth of 14.9%. So Aflac's current P/E appears to be in-line with its reduced earnings potential. This broadly appears to be the case with the other five too, to varying degrees, suggesting perhaps that they are not overly valued at present.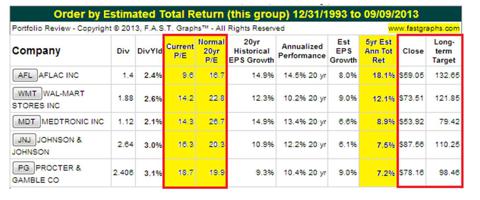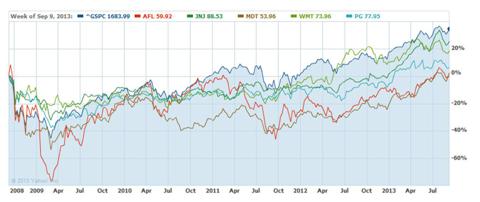 Over the past five years, shares of all five have lagged the S&P 500, which screams buying opportunity to me because I am confident these stocks will again handily outperform the index over the next 20 years.
Moreover, weakness over the past month offers fresh buying opportunity as each of these five has dipped between 1% and 4%.
Share Repurchases
Share buybacks are a tax-free mechanism to boost earnings per share and increase shareholder value by reducing outstanding shares, the denominator in an EPS calculation. While some shareholders would rather see the money spent on buybacks paid out as dividends, buybacks give management more flexibility than dividends. For example, shares are often punished severely if the dividend drops but not so much if buybacks decline because management can always attribute a reduction in buybacks to factors such as high share prices.
While Johnson & Johnson stayed away from share buybacks altogether, Aflac spent $129 million on repurchases in its most recent quarter but was dwarfed by the $1+ billion spent by Wal-Mart, Medtronic and Procter & Gamble.

Fundamentally Strong Business Models with Solid Revenues, Profits and Operating Cash Flow
All five have revenues that range from $16.6 billion at the low end to $466.1 billion at the high end - that's quite a range, yet each is a dividend aristocrat with a common commitment to raising dividends year-on-year. These five have also grown operating income sizably for each of the past 20 years, from 9.3% to 14.9% annually. They also generate massive amounts of cash, ranging from 5.5% to 58.9% of annual revenue, and from $4.9 billion to $25.6 billion depending on the size and nature of their businesses. As a result, total annualized rates of return have ranged from 9.5% to 14.9% over the past 20 years, well above the S&P 500's 7.8% return.

Solid Balance Sheet, Credit Rating
All five have debt at levels that are very manageable relative to total assets, with interest expense ranging from between 5% to 9% of operating income and interest coverage (defined here as operating income/interest expense) ranging from 11x to 22x. with minimal risk of default.
These companies also carry strong Morningstar credit ratings that range from AAA to A-, with the poorest rating of A- due to the risk attached to the company's investments.

Shares Offer Significant Price Appreciation Potential
Based on FastGraphs estimates (which are further based on consensus analyst growth estimates), all of these shares are set to rise significantly and deliver total annual returns of 7.2% to 18.1% over the next five years, well above inflation and likely above what the market will deliver after its sustained bull run. While the market and these five shares are impacted by sentiment, institutional investor interest for dividend aristocrats is very high with bulls rushing in any time they think the market's overly punished these companies. As a result, I expect these shares to significantly outperform the market going forward while offering less-than-market risk.

Excellent Management Effectiveness
While return on assets has been modest, return on equity (the metric that investors care about) has been in the double-digits for each of these five companies, while returns on invested capital have far exceeded cost of capital.

Summary
All of the five companies I listed today offer excellent value at current prices given their potential for continued dividend income growth and capital appreciation over the next five years. Their value lies in steady earnings growth, strong cash flow, industry leading positioning and sizable growth prospects. Shares also appear to be taking a breather after a sustained bull run, making this a good time to buy and accumulate on further dips. While investors can goose returns through options, make sure your shares or dividends do not get called away or assigned elsewhere because the real value here lies in holding shares for the long run.
Disclosure: I am long AFL, WMT, JNJ, MDT, PG. I wrote this article myself, and it expresses my own opinions. I am not receiving compensation for it (other than from Seeking Alpha). I have no business relationship with any company whose stock is mentioned in this article.