Altria Group Inc. (NYSE:MO) has entered the popular e-cigarette category with the launch of MarkTen in Indiana. Altria's efforts of portfolio diversification through entry into e-cigarettes will bring additional revenue. The company estimates a $1 billion e-cigarette market. There is plenty of scope for the company to grow further. Its cost reduction program is expected to conclude this year, and it will help the company to expand margins. Altria has also expanded distribution of two of its products. The company seems to be taking the initiative to grow rapidly in this competitive environment.
Entry into e-cigarettes will help to generate additional revenue
The e-cigarette is a rapidly growing category. Awareness about e-cigarettes is increasing, and the use among U.S. teens has doubled in the last year. The company also is trying to leverage upon this growing category and entered into this category in August 2013 with the launch of the MarkTen e-cigarette in Indiana. MarkTen was launched by the company's subsidiary, Nu Mark.
Company stated at Barclays Back to School Consumer Conference "MarkTen e-cigarettes offer adult smokers and vapors a familiar draw with an appealing taste and its unique FourDraw technology is designed to give adult vapors a more consistent experience puff to puff and day to day."
Retailers that account for approx. 85% of cigarette sales in Indiana have signed up to sell MarkTen. The company estimates that consumer expenditure on e-cigarettes will reach up to approx. $1 billion in 2013.
Source: Company's Barclays Back to School Consumer Conference Presentation
Lorillard Inc. (NYSE:LO), one of the Altria's competitors, has the first mover advantage, and is the leader in this category with its 'Blu e-cig' brand. The company reported $57 million e-cig sales in first quarter of 2013, approximately a 46% increase from $39 million in fourth quarter of 2012. The company has shown tremendous market share gain in the e-cigarette category since the acquisition of blu e-cig in 2012, and now the company has 40%+ leading market share with presence in around 80,000 retail outlets.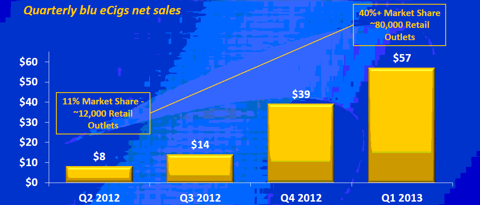 Source: Lorillard's Investor Day Presentation
At this point, it is not possible to compare Altria and Lorillard on the basis of e-cigarette sales and market share, because Lorillard is surely a leader and long-time player. Going forward, Altria also is expected to get a strong position in this market, and Lorillard is expected to strengthen its position by entry into the Canadian market.
Cost reduction program will help in margin expansion
Altria started a cost-saving program in October 2011. The company is planning to reduce $400 million cost by the end of 2013. The first cost-reduction program was initiated in 2007, and through 2011, the company achieved cost reductions of $1.5 billion. Efficient cost management will lead to margin expansion.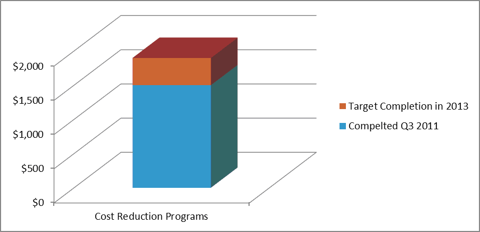 Source: Company's Barclays Back to School Consumer Conference Presentation
Expansion will give greater visibility and broader customer base:
Marlboro is a leading brand company, with market share of more than 40%. The company has expanded rollout of Marlboro NXT to 23 more states in July 2013. Marlboro NXT is a line extension of Philip Morris USA, Marlboro Black brand. Marlboro NXT can be switched to menthol by crushing capsule in filter. In September 2012, the company rolled out this product in 27 states, and now it is available across the United States.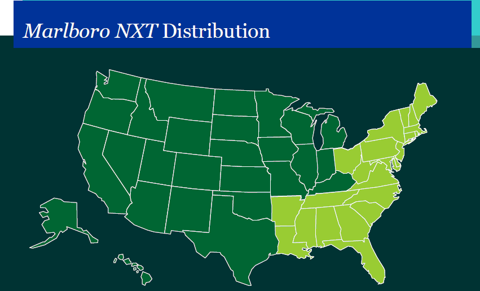 The company is also planning to expand distribution of its Verve Discs products to 1,200 stores in Virginia in September 2013. Altria has also introduced Tju tobacco chewing gum in Denmark in a joint venture with Okono A/s.
Downside risk:
FDA regulations will affect sales
The U.S. Food and Drug Administration is reviewing menthol cigarettes and invited public input so that it can make decision regarding rule making. The FDA issued an Advance Notice of Proposed Rulemaking [ANPRM], available for public comment for 60 days. The FDA will use all data to make informed decisions on regulations on menthol cigarettes. The FDA is expected soon to make decisions on the establishment of product standards, sales and distribution restriction, or even an outright ban.
Menthol cigarettes accounted for approx. 30%-40% of total cigarettes sold. The strict decision will have negative impact on all tobacco companies, especially menthol leader Lorillard, which has more than 80% sales coming from menthol cigarettes.
Conclusion:
Altria has entered and is ready to compete in the very popular e-cigarette category. Although, Lorillard is market leader today, the right plans and strategies will help to grab sufficient market share. The company is also expected to complete its second cost reduction program by the end of 2013. Expansion of the company's products and new-product launches will give access to newer markets and new customers. In short, I see growth prospects in all initiatives, so I recommend a buy.
Disclosure: I have no positions in any stocks mentioned, and no plans to initiate any positions within the next 72 hours. I wrote this article myself, and it expresses my own opinions. I am not receiving compensation for it (other than from Seeking Alpha). I have no business relationship with any company whose stock is mentioned in this article.