In a short period of time, Google's (NASDAQ:GOOG) mobile operating platform, Android, which competes with Microsoft's (NASDAQ:MSFT) Windows Mobile, Apple (NASDAQ:AAPL) iPhone OS, Symbian and Palm (PALM) OS has garnered plenty of attention and accolades. As was the case when Apple's App Store was launched some 15 months ago now, Android's Market, which is Google's version of Apple's App store, has generated a lot of attention. According to mobile analytics and advertising providers Flurry and AdMob, developers are devoting significant resources to the mobile platform, which will result in a boom in Android apps. Flurry, a San Francisco-based mobile metrics company, reported a 94 percent increase in the number of projects started by Android developers between September and October.
According to recent reports, over 3 million Android handsets have been sold so far, and the share of requests AdMob gets for advertising from Android smartphones sits at 17 percent of all smartphone traffic as of September. Currently 12 Android phones are available in the market with more than 75 million Android handsets slated to ship in 2012, according to Gartner Research. Moreover,T-Mobile (DT) and Verizon (NYSE:VZ) have stepped up their efforts to market a competitor phone to iPhone, which is still exclusively available through AT&T(NYSE:T).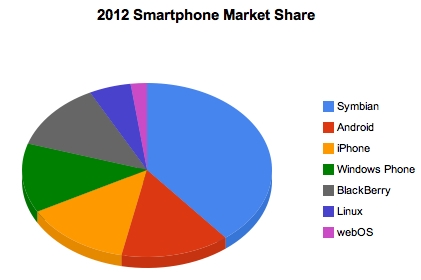 Predicted Smartphone Market Share in 2012
The increasing marketshare and presence of Android has created a unique opportunity for Google. It now has the potential to be front and center in the hands of everyone who carries a mobile phone. According to ZD Net, 60% of the world's population now owns a mobile phone. This equates to over 4 billion active mobile subscriptions worldwide. The US mobile adoption rate is 91.4% according to eMarketer, which amounts to 281 million subscribers.
To put broader context around Google's opportunity in mobile, consider this – Nielsen reported that in Q1 of 2009, the average mobile user exchanged 486 text messages, while making only 182 phone calls. In other words, voice calls are taking a back seat on mobile phones when compared to SMS and other internet-based features such as E-Mail and browsing. To further underline this point, consider that Smartphones currently make up 20% of all mobile phones in use. By 2013, this number is expected to grow to 77% (239 million smartphones) of mobile phones (based on Parks Associates Industry Research). If Google's Android OS has 20% of this market share in 2013, it gives Google, which is already the largest online advertising medium, immediate and direct access to 48 million users in the US alone. This does NOT include those users who don't own an Android phone, but will still use Google services on competing systems. Additionally, Google has plans to release a Google branded phone which will not be specific to a carrier, rather it will be sold like a computer, with the user having the choice of carrier much like an internet provider.
While overall mobile advertising is less than a $500 million market in 2009, it is expected to grow to over $1.5 billion by 2012, a small drop in Google's bucket, but other opportunities lie in mobile applications, which Google may or may not choose to monetize in some form or the other.
Another question that arises here is how far Google will go with their Chrome netbooks? Chrome will be an OS that will compete with Microsoft Windows for PC market share. I would imagine this is something we will see rolling out over the next 6-12 months. Frustrated Windows users would like nothing more than a competing OS which they can have for free.
Then there is the question of Google Voice. Without cell towers and expensive infrastructure, Google has managed to give people free phone service, albeit you still need a carrier to actually use Google Voice, but the idea is neat and it allows Google to have yet another way to reach audiences.
Earlier this month, Google released their quarterly earnings, which were nothing short of stellar. The company reported earnings of $1.64 billion, or $5.13 a share, up from $1.29 billion, or $4.06 a share, in the same period last year, a gain of 27%. Net revenue rose to $4.38 billion from $4.04 billion.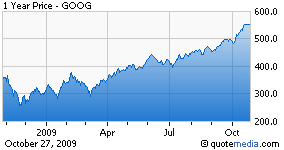 Needless to say, Google presents a threat to Apple, Blackberry (RIMM) and Microsoft with its focus on operating systems, mobile phones and applications. As such, Google as a stock remains one of my favorites. Earlier this year, when the stock was at multi-year lows, I recommended Google as part of my Top Stocks to Buy for 2009 series. Since then, Google stock is up 35%. I recommend buying Google on a pull back.