Silver investors have had to endure a long couple of years since the violent top in April 2011, but signs have been accumulating for months that the bottom is near. Silver investors have been lured into silver over this time for various reasons, including COMEX gold inventory concerns and backwardation, hyped debt ceiling coverage, Quantitative Easing, European debt market concerns, and Middle East violence. Lately, investors seem to be more interested in buying into stocks that are overbought and overvalued, but offer the greatest excitement for short-term oriented investors.
At this point in time, I favor a strategy that allows for income from a core silver position. First, a look at relevant market factors that may affect silver prices:
In the coming week, Federal Reserve Bank policy makers will offer a statement regarding monthly bond purchases that may impact markets. The expectations are for a small tapering of stimulus, as reported by Bloomberg:
Policy makers will cut monthly purchases by $10 billion at their Sept. 17-18 meeting to $75 billion, a Bloomberg News survey of 34 economists Sept. 6 showed.
Since a tapering of bond purchases is already priced into market expectations, a move by the Fed in this direction should have a minimal impact.
2013 has been an exciting year for precious metals demand from individuals as institutions have mostly been sellers. Even resolute gold bull John Paulson finally succumbed to the pressure of mounting losses and halved his GLD (NYSEARCA:GLD) position.
Individual investors stepped up and bought during the first meaningful gold correction in years, although the latest data shows that gold coin demand has dried up recently:
From Bloomberg, September 13, 2013: There are signs bullion demand is already waning after prices jumped 11 percent from a 34-month low in June. Sales of coins and bars from Australia's Perth Mint dropped 46 percent in August from July. The U.S. Mint sold 11,500 ounces of American Eagle gold coins in August, the least in six years and down from as much as 209,500 ounces in April
Silver demand has remained robust, although the very latest data from the U.S. Mint shows a softening trend as well:
Gold Eagle sales have fallen off a cliff, posting the weakest monthly total since July 2007. Silver Eagle sales, unlike gold, were robust in August, with a total of 3,625,000, but September sales are now on pace for the slowest month since July 2012 (not counting December 2012 when the Mint halted sales).
While it is too early to be concerned about the slowing pace of Silver Eagle sales, the Gold Eagle sales numbers are a cause for concern- particularly as the weakest numbers in years came during heightened Middle East tension.
The data sends a strong message that gold coin buyers respond much more to price signals than to geopolitical news. Furthermore, the pent-up demand for coins that was unleashed as gold fell to 2 and 3 year lows is unlikely to be repeated until the next psychological level is triggered: $1,000. I am not predicting $1,000/oz, but observing that pent-up coin demand may now require lower levels to once again trigger substantial buying in the Gold Eagle Market. Dynamics in Asia are likely to be different; with strong demand materializing at higher levels.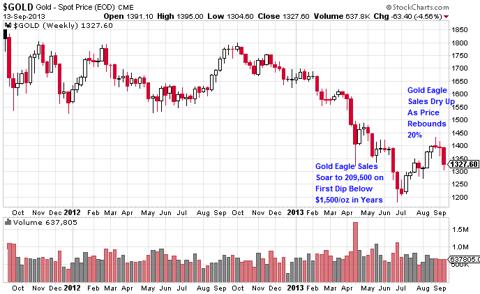 With gold investment curbs in India taking effect, China stands alone as the largest consumer of gold in the world. The Shanghai Composite Index has been moving higher in the past several weeks amid strengthening economic signs. A strong move higher in the Shanghai Index has the potential to distract the attention of the Chinese gold buyer, at least temporarily.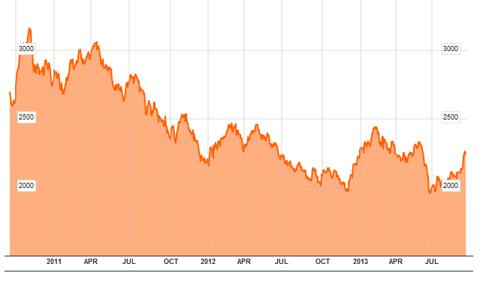 Shanghai Stock Exchange Composite Index, source: Bloomberg.
For those who recognize chart patterns and classic bottoming signs, the Market Vectors Gold Mining Index (NYSEARCA:GDX) is showing signs of a technical bottom: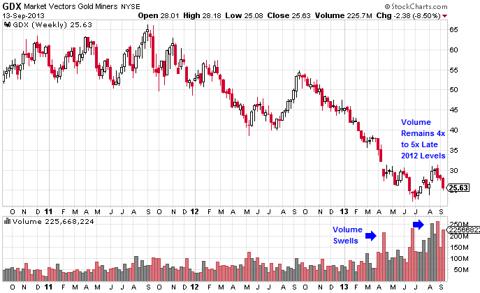 Note the similarity to the major bottom that occurred in the Nasdaq Exchange Traded Fund, (NASDAQ:QQQ) at the multi-year low: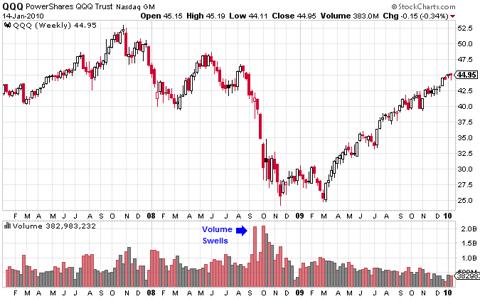 Note that turnover in the QQQ swelled to 4x the levels from April as the bottoming process began. After the surge in volume, a double bottom pattern traced out on the QQQ. The GDX volume levels remain elevated, and that is a classic precursor to a major bottom. A possible double bottom pattern is tracing out on GDX; very similar to the process that bottomed the Nasdaq 100 Index in 2009. An inverse head and shoulders bottoming pattern is even possible on GDX, with a weak right shoulder.
Legendary fund manager Stanley Druckenmiller gave a very worthwhile interview to Bloomberg last week. Druckenmiller detailed how the U.S. fiscal gap of $200 trillion is worse than that of the U.K., Japan, Greece, or Italy. Druckenmiller believes that a slight tapering of QE is no big deal, but an end to QE would have a major effect on markets. It is clear that politicians are leading us straight to the cliff, and it is my belief that the resulting volatility that could be unleashed by a destabilized bond market would lead investors to precious metals; although this may take years to play out.
In the near term, silver has found very strong support below $19/oz and may take some time to base between $19 and $26 before it is able to make a serious advance, a conclusion that is consistent with my views from a previous article: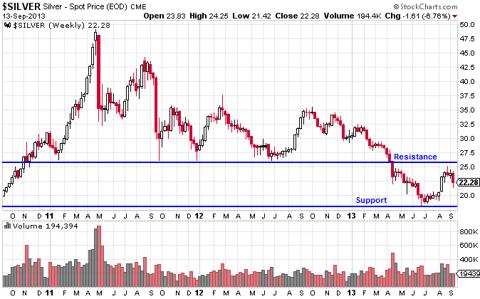 At present, fundamental data on silver appears strong. India is buying silver in 2013 at a record pace, Chinese imports remain strong, and Silver Eagle sales are at a record annual pace, despite the recent slowing trend. As I detailed in a previous article from August 8, gold can be expected to rise when stocks decline, and that is exactly what happened as stocks fell in August: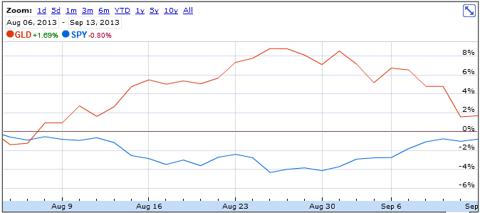 Google finance comparison chart of the S&P500 (NYSEARCA:SPY) vs. gold (GLD).
As stocks rebounded in September, gold has turned weak again. I continue to believe that big gains await precious metals investors when stocks suffer a more meaningful decline.
In the meantime, silver presents a possible opportunity to the patient investor; buy at support near $20 and sell into resistance as it approaches $26. Silver may be held back by the relative weakness in gold, but it may soon be time for silver to be treated separately, like platinum and palladium. If silver remains range bound mainly due to relative weakness in gold, silver may become spring loaded as gold builds support for the next advance.
There is one more opportunity for the silver investor other than to buy low and sell high, and one that I detailed previously and want to expand upon: to extract income from silver as we patiently wait for the next major advance.
SLV (NYSEARCA:SLV) had a closing price of 21.42 on Friday, September 13. At that time, if an investor had bought SLV at the close and simultaneously sold the 21.50 calls for the following Friday, they would bring in $430 per 10 option contracts, or what is known as a covered call position.
An investment of 1,000 shares, or $21,360, would allow for the sale of 10 covered calls that would return $430 in one week, if silver ends the next week unchanged. In that scenario, where SLV ends the following week unchanged, the investor makes nothing on SLV but retains the $430 (minus commissions) from the expired call options: almost exactly 2%.
So, in a scenario where an investor buys SLV and sells the nearest strike price calls for the following Friday, they could reap 2% weekly, even if SLV never moved higher. Of course, if SLV never moved, the calls would eventually sell for less due to the volatility component of the option falling. But, this strategy is available every week as SLV options have a weekly expiration schedule.
In a scenario where silver is range bound, as it is now, this is my favorite play. I enhance the return even further by buying long term SLV calls which require less capital than shares. As SLV approaches support, I expect to add slightly to the net long position, and as it nears resistance I plan to again sell a little more aggressively. In the event SLV surges, I have the choice to buy back the covered calls I sold at an overall profit; the only caveat being the gain is capped.
Eventually, I expect SLV to break to the upside as the global trends in debt and supply of silver converge and exert their forces on the physical market. At that time, as SLV breaks conclusively above the current resistance shown in the chart above, I will maintain a more aggressive long position that includes Sprott Physical Silver Trust (NYSEARCA:PSLV) to take advantage of an expanding premium over the net asset value, along with silver futures and will no longer sell covered calls.
For reference, here are the closing values of the nearest SLV calls that expire on September 20:

Note that closed at 21.42, and the 21.50 calls settled at 0.43-0.44.
As noted in the graph, I have a position in the SLV 22 calls; short 50 at a price of $0.16, while I am long 50 SLV leaps for Jan 2014, not shown.
Disclosure: I am long SLV. I am short SLV 22 calls for Sep 20 expiration, as detailed. I wrote this article myself, and it expresses my own opinions. I am not receiving compensation for it (other than from Seeking Alpha). I have no business relationship with any company whose stock is mentioned in this article.