The oil and gas drilling sector had its turn last year
Do you happen to recall last summer when the oil and gas drillers and service companies had their share prices hit multi-year lows? Crude oil was under intense pressure (especially WTI) and North American natural gas and liquids prices were way down to multi-year lows and fear was trumping greed in the sector big time. Of course, when that happens, there is an overreaction and share prices receive overly harsh treatment from the market and end up being significantly oversold. When this occurs, it is precisely the time to wade into that particular sector and buy quality names.... when pessimism is at a very high level. For example, companies like Precision Drilling (NYSE:PDS) and industry stalwart Halliburton (NYSE:HAL) are examples of very high quality larger companies that were beat up pretty badly. Halliburton was trading as low as ~$26 and Precision drilling just above $6. Well recently, about a year later, Halliburton closed over $50 (up nearly 100% above that low) and Precision Drilling nearly $10.50 (up nearly 70%). There are numerous other examples of this share price rebound within this sector which occurred over the last year. Any investor that could "see the future" a little and bought the shares of these companies last summer are up big time today, though at the time one would have had to hold their nose and wade as sentiment was very negative toward the sector at that time.
It's the metals and minerals drilling sector's turn this year
The same thing that happened to the oil and gas drilling sector last year has been haunting the metals and minerals drilling sector this year and I believe now may be the right time to take a look at the highest quality names in this very unloved and beat up sector for alpha generating opportunities.
As I scan the metals and minerals drilling sector for alpha opportunities with solid risk/reward profiles, a very high quality name, trading at multi-year lows, is Major Drilling (OTCPK:MJDLF). It also trades on the TSX under the ticker MDI. Incidentally, the Canadian equity market being heavily weighted to resources, has lagged world indices over the last couple of years as resource equities in general have been way out of favor. This has been particularly true for the gold and silver miners (and especially the junior sector) as a perfect storm of rising costs and falling commodity prices have done their damage on the sector pushing the share price of many miner's down near the ultra low levels experienced at the bottom of the "great recession" in 2008/2009. Another factor that has affected the large cap gold miners (which are a significant portion of Major's revenue) is that many went on an acquisition binge buying smaller cap peers and paying hefty premiums for their reserves and production. This, of course, has impacted the drilling and service companies very negatively as exploration budgets were significantly cut or even cancelled this year because of the profit squeeze.
Five-year share price performance (All Figures in CAD)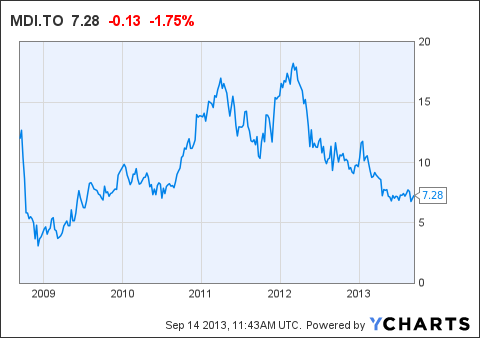 The following five-year chart shows Major Drilling's share price down nearly 50% from its pre great recession level while the gold price as represented is up over 80% (despite gold being off nearly $600 from its high). Revenues from gold miners represents ~40% of the company's revenues.
Share price performance relative to the price of gold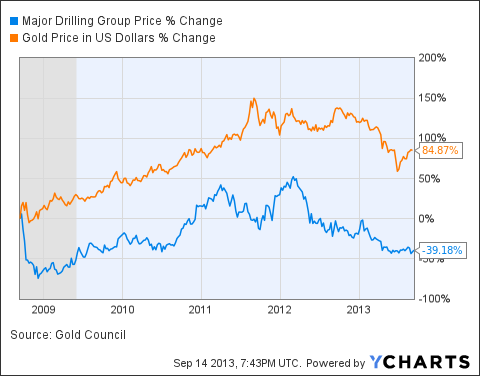 Some detail about the company
Major Drilling is a Canadian-based global metals and minerals driller operating in over 20 countries and on six continents with over 3500 employees and revenues of ~$700 million CAD (last fiscal year). It has 740 drill rigs in its fleet and the company's vision is to become the largest driller of its kind in the world. The company has transitioned to a specialized driller believing that as the world's resources are more and more depleted, there will be a need for more complex and specialized drilling that can handle obstacles such as deep holes, permafrost, helicopter portability, directional drilling, high altitude drilling, remote locations and top safety requirements. Specialized drilling has grown to account for a very high percentage (74%) of the company's drilling activities worldwide. Also, the company's customer base is high quality, comprised of ~82% senior and intermediate level miners which generated 82% of the company's revenue last quarter (while the remaining 19% came from juniors). From a commodity perspective, the company's revenue distribution in their latest quarterly results (just released) was as follows:
Gold - 40%
Copper - 21%
Nickel - 11%
Zinc - 9%
Energy - 8%
Coal - 6%
Other - 5%
Two "Major" strengths bode well for this global leader
1) An exceptionally strong balance sheet
Major Drilling has a balance sheet which is the envy of the drilling industry (and of most companies for that matter). The company has zero current debt and long-term debt of just $21 million. With cash on hand of $52 million, company is in the enviable position of having a net cash position of $31 million, which is one of the best balance sheets in the entire sector. The company's working capital is even more impressive with Current Assets of $251 million and Current Liabilities of just $54 million resulting in working capital of just under $200 million.
The company has just 79 million shares outstanding and shareholder equity of $536 million, so the book value of the company per share is ~$6.80. Incidentally, the stock is currently trading a little above its book value at $7.28. The company also pays a 2.75% dividend and can very easily afford it even with the current downturn's impact on company revenue and cash flow.
2) A very robust operating model well suited for volatile business cycles
The Company has an extremely variable cost structure whereby most of its direct costs, including field staff, go up or down with contract revenue in a highly synchronized manner and a large part of the Company's other expenses relate to variable incentive compensation based on the Company's profitability. In fact, in the last twelve months, staffing is down by 45% or 2,300 positions as a result of light speed re-alignment of operating costs to revenues.
These two very important corporate strengths differentiate Major Drilling in the global metals and minerals drilling sector and enable the company to maintain a very high degree of financial and operating flexibility. When the current downturn begins to reverse, Major Drilling will be in a leadership position and well able to respond to the opportunities that an upturn will present and also be a go to name in the sector for investors.
The investment case for Major Drilling
I believe the risk/reward for Major Drilling is very good relative to many equities in other sectors that are currently trading at their medium term or even all-time highs as well as trading at multiples of their book value. Major Drilling's share price traded over $21 (its all-time high) in 2008 and nearly reached that level again in early 2011 and again in early 2012. However, the stock is currently trading just above its book value of $6.80.
Though the mining industry and its service sectors are currently in a significant downturn, medium term there is reason for optimism and confidence in the sector. Underlying the mining industry is the issue of depleting resources. To survive, mining companies must continually replenish their resource base. There are two ways to do this: 1) acquire new assets or 2) develop the assets in their current portfolio through exploration and reserves development drilling to enlarge current reserves. We have just come through a period where option 1) was the go to strategy for reserve replenishment. This has been the case especially for gold producers, representing 40% of revenues (copper next at 21%). Informed resource investors know well that this strategy has not turned out very well and actually destroyed shareholder value as opposed to creating it. This was part of the reason why the market bid down the share prices of large cap gold miners well before commodity prices tumbled mid this year.
Given the acquisition related blow ups that have occurred, it's reasonable to assume that the focus of the large cap miners will shift to exploration and development drilling of current assets as opposed to buying reserves and resource. This fits perfectly into Major Drilling's robust operating model. In addition, as already mentioned, the company has shifted focus on specialized drilling where it derives over 70% of its revenues and also generates higher margins. Resources are growing increasingly difficult to access and Major's fleet is well suited to uncovering these hard to get at deposits.
Considering the financial strength of the company, I do not see company specific risks but rather the major risk to this bullish view of Major Drilling is continued and prolonged erosion of metal prices which will keep the miners from adequately funding their drilling programs. However, I see this as not a matter of if but when this turnaround occurs. Resources are constantly depleting and eventually, demand will outstrip supply and commodity prices will rise enough to justify and support larger drilling budgets.
Conclusion: Major Drilling is the "go to" name in a currently beaten up sector
Once the cycle turns and miners and are ready to get back to the business of growing reserves in earnest, Major's share price should begin to rise with significant beta to the index resulting in significant alpha for those that bought shares at the lower level of the trough. Major Drilling has put up some impressive numbers in the past. Peak return on equity (ROE) has been in the 25-30% range. If we assume the present downturn begins an upturn and Major Drilling (as the go to name in the industry) is able to earn an ROE of 20% once again, this company could generate EPS of $1.40 based on the current book value per share of $6.80.
In its prime, Major Drilling traded with an earnings multiple in excess of 20. Even if we apply a 15 multiple to the EPS estimate, the company is likely to attain once again toward the top of the next cycle, we arrive at a target of ~$20 for this stock. That's almost 200% its current price of $7.28. And, you collect a dividend yield of 2.75% while waiting for the capital appreciation to begin. However, even if there is only a partial reversal of this cycle, Major's share price could very easily increase to $11 to $15 (representing a 50% - 100% return) supported by the company's superior balance sheet, operating model and significant dividend.
Catalysts
The major catalysts for share price appreciation are:
Increasing base and precious metal prices
Increasing exploration and reserves development capex by the large cap precious and base metal miners (driven by improved operating cost management and or increased commodity prices)
A highly accretive acquisition of a weakened peer
The sale of the company. The probability is much higher for this catalyst at this current multi-year low share price coupled with zero net debt and a cash balance.
If you are a patient resource investor and would like to add to your portfolio a dividend paying world leader in metals and minerals drilling with zero debt, over $30 million in net cash, trading just above book value and at multi-year lows, now may be the time to do so. But, patience is the operative word here. The risk/reward with this global sector leader is very good in my opinion but one may have to wait some for the macros to support a reversal in the sector or one or more of the other company specific catalysts to occur.
Disclosure: I am long OTCPK:MJDLF. I wrote this article myself, and it expresses my own opinions. I am not receiving compensation for it (other than from Seeking Alpha). I have no business relationship with any company whose stock is mentioned in this article.