Hooker Furniture (NASDAQ:HOFT) was incorporated in 1924 and is ranked among the top ten largest publicly traded furniture producers based on shipments to U.S. retailers. The company is an importer of residential wood and metal furniture and a manufacturer and importer of upholstered furniture. Hooker operates in the medium to upper price points, selling products under the Hooker Furniture, Opus Designs, Bradington-Young and Sam Moore Furniture brands.

HOFT's products are sold through a broad distribution network that includes independent furniture stores, department stores, specialty retailers, national and regional chains and catalog merchants. The company's products are created in plants in North Carolina and Virginia, and are also imported from factories in the Pacific Rim, Mexico and Central America. Hooker Furniture currently trades for just over $14 per share, pays an annual dividend of $0.40 (a 3% yield) and has a market cap of $155 million. Average daily volume is just shy of 27k shares per day over the last three months.
Hooker Shares Go on Sale
Hooker has been severely punished after each of their two most recent quarterly earnings announcements, first in June (Q1 FY '14) and more recently in September (Q2 '14). In June, the stock fell from $17.83 to $15.12 or 15% before bouncing and returning to $17.56 in less than two weeks after missing EPS estimates of $0.22 by $0.02. Although the company missed analyst estimates, HOFT delivered a 108% increase in net income, climbing from $1 million in Q1 '13 to $2.1 million, driven by higher sales but also lower product costs and better operating profitability. Net sales also increased for the quarter, climbing 8.8% from $51.7 million to $56.3 million.
Hooker's Q2 2014 report was also impressive, with net sales of $55.3 million and net income of $1.7 million. These results represented a 10.2% increase in sales and a 14.4% increase in income compared to the same period in the previous year. Despite the improvements, HOFT shares were beat down again after missing analyst estimates again, estimates of $0.20 EPS by $0.04. Between a price drop leading up to earnings and another shortly after, the stock fell about 20%, starting from just over $17 and eventually coming to rest around $13.50. The stock now hovers just over the $14 mark.
After a second round of analyst induced punishment, HOFT is now on sale again, trading 20% below the price of $17.50 where it seemed to normalize for months leading up to and after a solid Q4 2013 report in April. This is the same price that Hooker returned to within less than two weeks after the initial miss sent the shares down 15%.

The market seems to be making its voice heard in terms of HOFT's value, with investors taking advantage of the sell-offs that have been created by what could be overly aggressive analyst targets. As a result of Hooker's small size, there is limited analyst coverage, with the count currently standing at 2. These analysts may have raised the bar a little too aggressively for the furniture maker after Hooker smashed both fiscal 2013 Q3 and Q4 EPS estimates, delivering $0.23 versus an estimated $0.16 in Q3 and $0.34 compared to an expected $0.21 in Q4, representing a 44% and 62% surprise to the upside. After the two big wins by HOFT, the analysts turned up the heat, increasing their Q1 '14 estimate by 43% compared to the same quarter in 2013 and by 122% for '14 Q2 versus '13 Q2. Given Hooker's impressive revenue growth, margin improvement and increasing income, it seems as though the only thing that can slow this company down are slight misses of incredibly aggressive earnings estimates. And even then, prudent investors seem to view these misses as welcomed buying opportunities.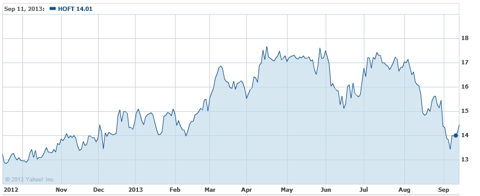 Courtesy of Yahoo! Finance
Hooker's Fair Value, Potential And Downside Risk
Due to aggressive analyst estimates in Q1 and Q2, we find ourselves with Hooker trading at another considerable discount. Before going into valuation and risk, it is worth noting that the Q1 and Q2 periods for HOFT are generally their worst quarters, given that they take place during the slower summer season. That being said, I believe that given Hookers current earnings, growth rate, margins, backlog and other catalysts, the stock is currently worth the $17.50 per share that it has seemed to migrate back towards over the past 6 to 9 months which means that it is currently underpriced by 20%.
Hooker now trades at 15.7 times earnings, considerably lower than the 19x to 21x that it has traded at over the last 6 to 9 months, and even more conservative relative to some of the company's larger and more well-known competitors like Pier 1 (18.4x), Williams-Sonoma (21x) and Ethan Allen (24.5x). While these are certainly not perfect comparisons, they seem to be some of the best available to use as a gauge, as they offer similar revenue growth and operating margins, and maybe most importantly, sell similar styles and qualities of furniture. With HOFT continuing to post very respectable revenue and earnings growth, I believe the stock will return to its multiple of 19x earnings within the next 3 to 6 months as investors take advantage of the recent decline (again). If Hooker can just meet analysts' Q3 estimates of $0.20 which I believe is a slightly conservative figure, combined with a multiple of 19, the stock would again trade around the $17.50 mark using trailing twelve months earnings. In addition to bargain buying, I believe an earnings beats above '14 Q3 estimates as well as above the even more conservative Q4 estimate (both are $0.20), will propel the stock back to $17.50, if buying pressure hasn't already pushed it to those levels by then. Hooker delivered EPS of $0.23 in Q3 '13 versus expectations of $0.16 and reported EPS of $0.34 in Q4, compared to estimates of $0.21. Both results were better than the estimates of $0.20 for Q3 and Q4 of this fiscal year, estimates that only increased 25% for Q3 year-over-year and actually decreased 5% for Q4. And remember, this compares to Q1 and Q2 '14 estimates that increased by 43% and 122% year-over-year, estimates that Hooker just barely missed despite posting substantial revenue and earnings growth. These misses put the stock on sale for 15% off but only for a couple of weeks the first time around, and now again just a couple of months later, we find ourselves in a similar situation, with a 20% discount after another slight miss of an aggressive estimate during HOFT's slow summer season. The only question that remains is how long will the sale last this time around?
From a risk perspective, Hooker seems to be a small scale example of the safety and security that you would like to see in a company as they present a strong balance sheet overall, sport a 7.03 current ratio and carry no long-term debt. HOFT has also paid a dividend of $0.40 annually since early 2007 which currently represents a 3% yield, a yield that is slightly better than the 1%-2% that most of the competitors mentioned earlier pay. Lastly, Hooker has a current book value of $12.35 which should create a very conservative floor for the stock, and I believe that given the company's earnings growth and some of the key initiatives that we will discuss soon, a better estimate of downside risk is around $13.50 which is where the stock bottomed out and has since bounced from, after the most recent earnings miss.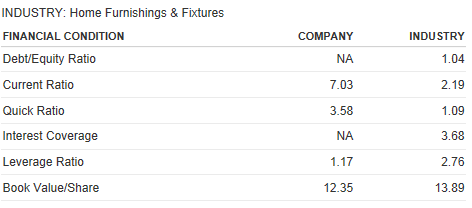 Courtesy of MSN Money
Additional Catalysts for Return to Fair Value and Further Growth
In addition to bargain buying pressure and likely earnings beats that will drive the stock higher in the next 3 to 6 months, there are several other key factors that will help improve Hooker's performance, supporting the price target of $17.50 and possibly pushing it even higher over the next 12 to 18 months.
Share buyback: During Q1 fiscal 2013, HOFT's board authorized the repurchase of up to $12.5 million of stock. While this does not obligate the company to buy back any shares, the authorization has no expiration date and in fiscal 2013, the company used around $671k to purchase 57,700 shares at an average price of $11.63 per share. The company still has another $11.8 million available for additional repurchases or 94% of the original authorization. Given HOFT's growth prospects, it's likely that the company continues its purchases, especially as the shares remain underpriced. These buybacks will help to create a floor for the price and ultimately drive it higher. Although an aggressive estimate, for those who like numbers, if HOFT were to use the remaining $11.8 million right now to buy back their stock at its current price they would reduce their number of outstanding shares from 10.75 million to around 9.925 million, which would increase trailing twelve months earnings from $0.93 per share to $1.01. At Hooker's current P/E, those earnings would add an additional $1.25 to the stock, and using what I believe is a more reasonable P/E of 19 would put the stock just over $19. Again, assuming that Hooker would buy back nearly $12 million of their stock over the next year is highly aggressive, especially having bought just shy of $700k worth last year, but it can be interesting to estimate the actual effect that a share buyback can have on a stock's price.
H Contract, senior living focus: Hooker Furniture's H Contract program has been designed and recently launched to connect with the rapidly growing senior living market which is expected to see 10,000 new seniors enter the market on a daily basis for the next 20 years. David Williams who is a 20 year healthcare furniture veteran will lead the division which will provide functional furniture for senior living facilities that meet the expectations of today's retirees. I believe this program offers incredible potential for Hooker given the size and growth of this market, offering larger contract revenue and a great hedge against the impact that rising rates and a stagnant housing market can have on their earnings.
Homeware Adaptable Home Fashions: Hooker has designed a product line that is meant to satisfy the younger and more mobile customers who live in apartments, condos and urban areas. The online-only line features modular upholstered and case goods that can be quickly assembled with no tools. Shipping is also easy, and alternative design elements, arm and leg styles and covers allow the modern consumer to make changes to their furniture as their tastes change. Think Ikea but with more style and flexibility.
P3 Retail Partnership Program: Hooker's new program aims to help retail partners realign their business models to take advantage of a shift in shopper preferences to online buying, which is being driven by "Millennial" customers. P3 is an integrated strategic and web centric retail partnership program which allows HOFT to assist retailers in setting up local e-marketing and e-commerce through an online "iStore." The P3 program also offers continuing education, service, financial and marketing support. Currently there are over 30 retailers committed to the program and the goal is to have 75 to 100 retailers using the program by the end of 2013. The first iStores went live in March 2013.
Entering strong fall/winter season, slight housing recovery and potentially declining gas prices: We're now entering what has been traditionally the strongest earnings season of the year for Hooker, Q3 and Q4. Additionally, the slight housing recovery that we have recently experienced as well as declining gas prices due to exiting the summer driving season and the easing of Middle East worries could help HOFT's performance over the next 6 months.
Conclusion
Just as we saw a couple of months ago with Hooker falling 15% after just missing an aggressive analyst estimate despite delivering substantial revenue and earnings growth, the stock quickly bounced and returned to what appears to be a fair value of $17.50 per share. We now find ourselves in a nearly identical situation, with HOFT falling 20% this time as a result of a slight miss even though considerable revenue growth and earnings were posted again. The stock fell again from just over $17 to $13.50, and has since climbed back over $14 in just a few days. I fully expect Hooker to recover fairly quickly, returning to a multiple of 19x earnings or $17.50 per share, just as it did a couple of months ago as a result of bargain hunters piling back into the stock. Additionally, as previously mentioned, HOFT's new product lines and programs should add to the company's bottom line, helping Hooker to again outpace what are much more conservative Q3 and Q4 earnings estimates, especially relative to Q1 and Q2. HOFT's stock buyback program will also help to support the price, while a solid 3% yield and strong balance sheet will also continue to attract some attention and limit downside risk. For these reasons, I have a six month price target of $17.50 on HOFT's shares with minimal downside risk.
Disclosure: I have no positions in any stocks mentioned, and no plans to initiate any positions within the next 72 hours. I wrote this article myself, and it expresses my own opinions. I am not receiving compensation for it (other than from Seeking Alpha). I have no business relationship with any company whose stock is mentioned in this article.
Additional disclosure: This article expresses the opinion of the author and is not a solicitation to buy or sell any security. Before making any investment decision you should always consult your personal financial advisor.