Last week my friend a fellow Seeking Alpha writer, Chuck Carnevale, wrote a brilliant article called Invest In Stocks With A Margin Of Safety To Reduce Risk And Enhance Returns. What I liked most about Carnevale's article was that he cleverly articulated "the most important thing" that intelligent investors need to hear (and see) - that value in relation to price, not price alone, must determine your investment decisions.
I'm grateful to consider Carnevale a friend and fellow value investor and often utilize his company's F.A.S.T Graphs website to filter out the most advantageous REIT securities. In addition to the exceptional chart/graph service, I consider Carnevale to be a "real gem" (of a writer) and his prolific "words of wisdom" are always enlightening for me and I'm sure many others. Here's how Carnevale summed up his latest article:
Personally, I do believe that Ben Graham's margin of safety motto is one of the most important investing principles to keep in the forefront of our minds. Finding stocks with great margins of safety does require some work and digging. However, I believe the rewards are more than worth the effort.
Many of you know that I'm the Editor of a monthly newsletter called The Intelligent REIT Investor. It's no surprise that I have modeled my newsletter and REIT research practice on the Graham inspired "margin of safety" principle, the essence of value investing. Because investing is as much an art as a science, intelligent investors simply need a "margin of safety" to "sleep well at night".
Seth A. Klarman summed up the "margin of safety" concept in his bestselling book, The Margin of Safety:
A margin of safety is achieved when securities are purchased at prices sufficiently below their underlying value to allow for human error, bad luck, or extreme volatility in a complex, unpredictable, and rapidly changing world.
While it is impossible to eliminate all investment risk, Ben Graham's methods greatly minimize such risk by filtering out disadvantageously positioned securities from the outset. That is the primary reason why they have proven to be successful. After all, it stakes only a few large losses to decimate overall investment performance, even if many other investments prove successful. As Graham explained:
The margin of safety is always dependent on the price paid. For any security, it will be large at one price, small at some higher price, nonexistent at some still higher price.
As you know, a market downturn is the true test of an investment philosophy. Securities that have performed well in a bull market are usually those for which investors have had the highest expectations. When these expectations are not realized, the securities, which typically have no margin of safety, can plummet. Simply said, the most beneficial time to be a value investor is when the market is falling.
Is Now a Good Time to Invest in REIT-dom?
When stock prices are generally rising, greed leads investors to speculate, to make substantial, high-risk bets based upon optimistic predictions, and to focus on return while ignoring risk. Back in mid early May, it was plain to see that REIT prices were soaring - most blue chip REITs were hitting all-time highs and in an article on May 7th I summed up the harbinger call:
But we all know that the market cannot sustain the growth and the momentum that we have all witnessed over the last few months. Yet, this love affair for REITs is awfully hard to dismiss - especially when searching the universe for other investment options with similar risk profiles.
I went on to say:
Clearly, rising interest rates pose the greatest risk for REIT investors today. It's clearly a recognized risk and one that could cause the biggest decline in REIT market valuations.

I summed up the forecast of the REIT sell-off as follows:

REITs provide an exceptionally powerful value proposition: durable dividends and strong growth. It's important to selectively take advantage of the winners and stay away from the losers. Make sure you ask yourself these questions:

(1) What's the price you are paying for your dividend?

(2) If the stock price goes down, can I protect the integrity of the dividend?

(3) Does the company deliver sound dividends, year-in and year-out?

(4) Can the REIT management team mitigate risk during the downturn?

(5) Most importantly, do I know what the REIT is worth and can I pay less for it? (aka: THE MARGIN OF SAFETY)
The reality is that my warning was simply a "lucky call" since Mr. Market knows nothing, being the product of the collective action of thousands of buyers and sellers who themselves are not always motivated by investment fundamentals. It was clear in mid-May that the REIT market was pushing prices into the stratosphere and at some point it was going to correct or as Warren Buffett would say, "leaving you swimming naked when the tide goes out."
Remember though that REIT prices have declined due to an "over-reaction" to bond tapering, not failing fundamentals. More so, whenever the financial markets fail to fully incorporate fundamental values into securities prices, an investor's margin of safety is higher. Does that mean that an intelligent REIT investor can now begin to capitalize upon "a favorable difference between price on the one hand and indicated or appraised value on the other" (Graham)?
Let's Go Shop for Some Bargains
As Graham believed the margin of safety concept is the essence of value investing because it is the metric by which hazardous speculations are segregated from bona fide investment opportunities. In other words, it could involve considerable peril if a strong company were purchased at too high a price.
When valuing REITs it's important not to use Price to Earnings (or P/E), or to compare P/E for REITs with P/E for non-REIT stocks. Funds from Operations (or FFO) is a standardized metric, though not GAAP; AFFO is not standardized, and equity analysts have different ways of constructing it and both of them (FFO and AFFO) are better than earnings for valuing REITs.
By utilizing price to FFO valuation, analysts and investors can determine the trading history of each REIT by itself and relative to the entire REIT sector. Here is a snapshot of some of the most expensive and least expensive REITs in the US Equity REIT universe (note: this list of REITs is a random sample and is not all inclusive):

Let's Start with the Most Expensive REITs
As illustrated above, six of the above REITs are deemed to be expensive based upon higher P/FFO multiples. Remember, the high values do not mean that these REITs are bad investments. More likely, these highly valued REITs are considered more speculative and therefore investing in shares today would mean that an investor is ignoring risk and his or her primary goal: principal preservation.
Avalon Bay (NYSE:AVB) has a current share price of $129.19 and a P/FFO multiple of 25.0x. The apartment REIT, like many of the other multi-family REITs, is deemed expensive and although the dividend yield has grown (current 3.31%) the shares appear to moderately expensive.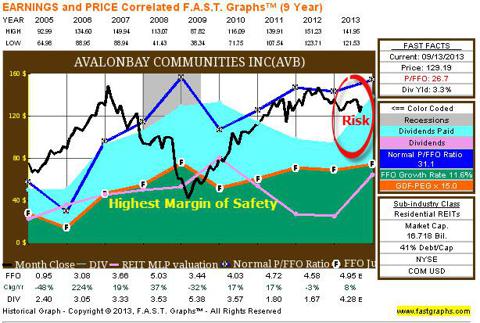 Federal Realty (NYSE:FRT) has a current share price of $100.55 and a P/FFO multiple of 22.0x. The shopping center REIT has an exceptional track record of paying increased dividends for 45 years in a row; however, as illustrated below, Federal Realty's share price is no where near a sound "safety margin" and therefore there is no assurance that I can expect much more than a 3.1% dividend yield.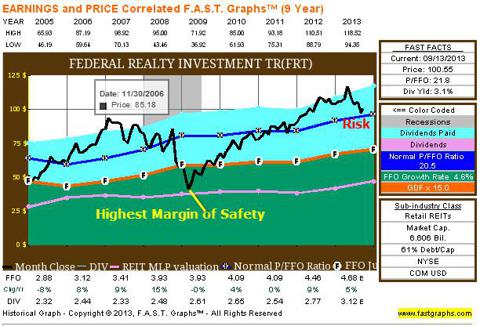 Public Storage (NYSE:PSA) has a current share price of $156.03 and a P/FFO multiple of 21.5x. The dominating self storage REIT has a market cap of around $26.8 billion and like Avalon Bay and Federal Realty, Public Storage shares are considered "nose bleed" stocks. Public Storage's current dividend yield is 3.2%.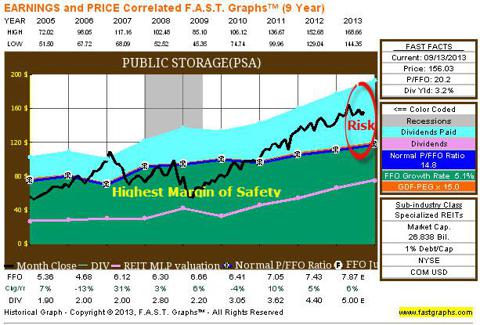 Boston Properties (NYSE:BXP) has a current share price of $104.80 and a P/FFO multiple of 21.3x. The office REIT has a market cap of $15.9 billion with a dividend yield of 2.48%. It would've been a great time to buy Boston Properties in 2009 when shares hit $43.00. I don't see much value in owning the shares today as the price has become more dangerous for a value investor.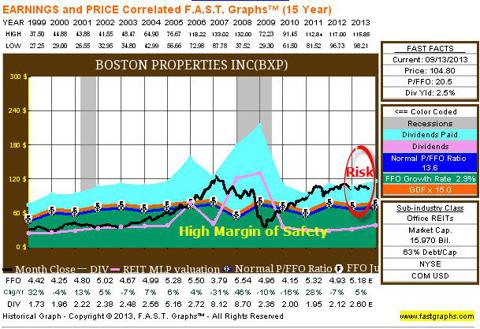 W.P. Carey (NYSE:WPC) has a current share price of $64.32 and a P/FFO multiple of 20.7x. The New York-based REIT has a long track record of paying and increasing dividends (over 15 years), however, the margin of safety has become less desirable as the share price has advanced. I consider WP Carey to be a "blue chip" REIT and although the "bond proxy" alternative has provided sound results, I will wait patiently for a more attractive entry price.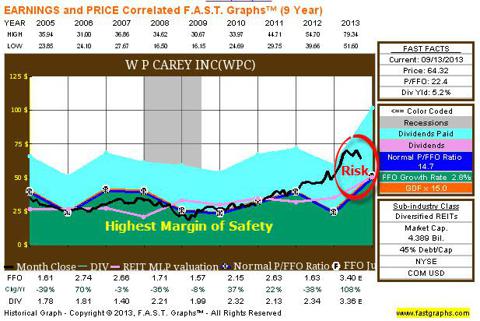 Vornado Realty (NYSE:VNO) has a current share price of $84.55 and a P/FFO multiple of 18.4x. The New York-based REIT appears to be valued at a higher (PEER) multiple because it owns and invests in high-quality Manhattan and DC real estate. Vornado's dividend yield is 3.45% and although the share price is getting closer to fair value, I consider Vornado to be relatively expensive and not justified even though I consider Manhattan an attractive market today.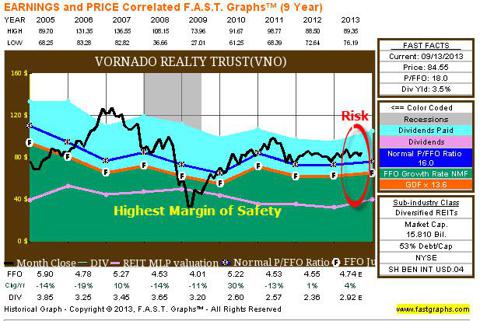 Now Let's Look at Some Less Expensive REITs
Stripped to the essence, as prominent value investor and Columbia finance Professor Joel Greenblatt framed the "margin of safety" concept in a 2011 Barron's interview:
It's about figuring out what something is worth, and then paying a lot less for it.
As a Graham disciple, I will wait patiently for the storm to subside, knowing that a sunnier and more plentiful time is bound, as a law of nature, to resume in due course. That's what I'm seeing today in REIT-dom. The recent irrational overreaction to the bond-like class - REITs - has spurred an opportunity for value investors to take advantage of the volatility. So now let's consider a few REITs that have a wider margin of safety today - the lower the risk, the greater potential for gain.
Digital Realty (NYSE:DLR) has a current share price of $54.51 and a P/FFO multiple of 11.4x. The San Francisco-based REIT is trading at a deep discount (around 30%) suggesting that it is trading at distressed levels. Ironically, Digital's fundamentals remain sound and the demand for cloud-based data storage space remains very stable (as evidenced by an increased demand for outsourcing that should climb by 18% in 2017). Also relevant, Digital recently hired veteran analyst John Stewart (who comes from Green Street Advisors) and I believe that hire will bring added transparency to Digital's struggling management team. Digital's current dividend yield is 5.72%.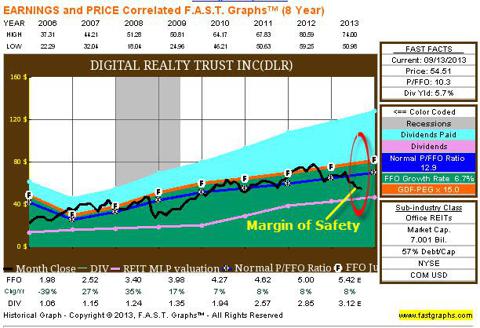 Medical Properties Trust (NYSE:MPW) has a current share price of $12.06 and a P/FFO multiple of 12.0x. The Birmingham-based REIT is also trading at a deep discount with a current dividend yield of 6.63%. Earlier this year I wrote that Medical Properties Trust was trading within a "mispriced" risk range; however, I believe the shares are now more attractive and warrant further due diligence.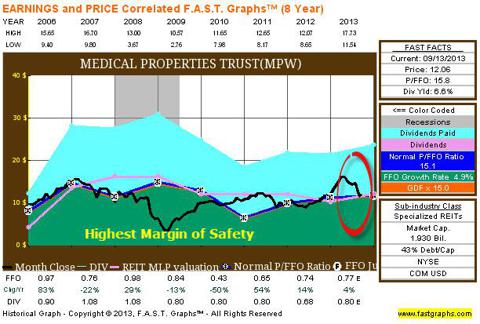 A few weeks ago I wrote an article on BioMed Realty (NYSE:BMR) and I later included the San Diego-based REIT in my SWAN (sleep well at night) portfolio. BioMed has a current share price of $18.96 and a P/FFO multiple of 12.8x. Clearly, as illustrated below, there is a "margin of safety" in the shares and I will continue to maintain a BUY rating on the shares.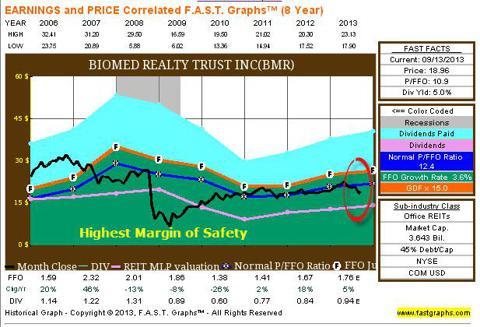 Earlier today I wrote an article on EPR Properties (NYSE:EPR). The Kansas City-based REIT has a current share price of $47.88 and a P/FFO multiple of 12.3x. Although the Triple-Net REIT does not have the deep diversification that you see with Realty Income (NYSE:O) or American Realty Capital Properties (ARCP), EPR has a unique investment model that should produce outsized dividends (current yield is 6.6%). Given the alternatives in the Triple Net sector, I'm in no rush to own EPR and, as I suggested in my recent article, I will wait on a batter entry price ($40.00) and a dividend yield of 7% or higher.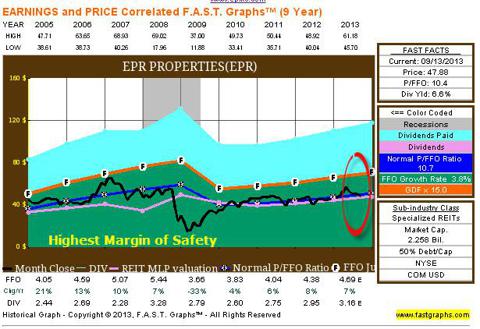 A few days ago I wrote my first article on Highwoods Properties (NYSE:HIW). As I explained then, I wasn't excited about the prospects of researching an office REIT; however, I'm glad I did. I found Highwoods to be a uniquely positioned REIT that has produced consistent earnings and above average dividends. Highwoods has a current share price of $34.95 and a P/FFO multiple of 12.5x. In addition, Highwoods has one of the highest paying dividends (4.86%) in the office sector.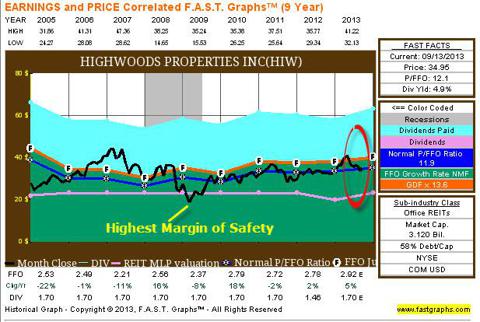 Last of all, we have Omega Healthcare Investors (NYSE:OHI). Over a month ago I wrote an article on Omega and the widely-read content generated over 220 comments. A few readers questioned my decision to include Omega in my SWAN (sleep well at night) portfolio (in my newsletter) and at the time I suggested an entry price of $29.99. Today Omega is trading at $29.25 with a P/FFO multiple of 11.5x.
Remember, Omega's debt to equity ratio is higher (1.60) versus the industry average (.92) and after careful research and interviews with Omega's management team, I decided to proceed with my SWAN rating. It's important for investors to recognize the reason that Omega is trading at a lower valuation is because of the higher leverage and risk of Medicare cuts associated with reimbursements. After analyzing Omega's fundamentals I concluded that Omega 's earnings potential is sound and the dividend sustainable (current dividend yield is 6.43%). I do not consider Omega a "bargain" today and although the shares appear fairly valued today, I will wait on the shares to fall to $25.00.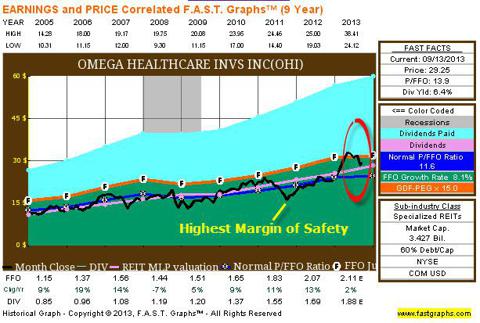 The Most Important Thing
As Howard Marks wrote in The Most Important Thing, "successful investors manage to acquire that necessary trace of wisdom that Ben Graham calls for". Accordingly, Marks wrote, "you're unlikely to succeed for long if you haven't dealt explicitly with risk".
REIT prices have moved to more attractive entry levels and as Marks explained, "outstanding investors are distinguished at least as much for their ability to control risk, as they are for generating return". I hope that this article is considered a risk management tool and I have succeeded if I have persuaded a few of you (reading) to avoid dangerous investment strategies while also adopting sound ones designed to preserve and maintain your hard-earned capital. That's how we all "sleep well at night". Good luck!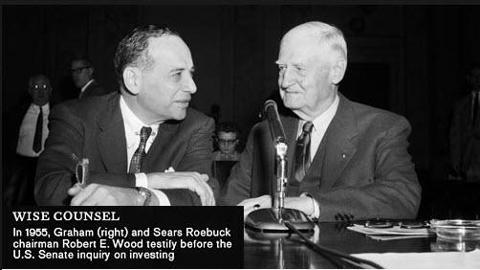 Disclaimer: This article is intended to provide information to interested parties. As I have no knowledge of individual investor circumstances, goals, and/or portfolio concentration or diversification, readers are expected to complete their own due diligence before purchasing any stocks mentioned or recommended.
Source: SNL Financial and F.A.S.T. Graphs
For more information of REIT investing, check out my newsletter here.
Disclosure: I am long O, ARCP, HTA, VTR, CSG, DLR, STAG, UMH, GPT. I wrote this article myself, and it expresses my own opinions. I am not receiving compensation for it (other than from Seeking Alpha). I have no business relationship with any company whose stock is mentioned in this article.