Last week I had a chance to chat with Advanced Micro Devices' (NASDAQ:AMD) Mr. Gabe Gravning, Director of Client Marketing, regarding AMD's position in the tablet market.

In this article I will discuss the Q&A session with AMD, and conclude with my thoughts as to the impact of the Temash APU in tablets.
Q&A Session
The first question I had was regarding the roll out of Temash based products.
Gabe pointed out that Temash and Kabini are in full production and are shipping in volume, and that a few AMD tablet design wins have been announced. Two AMD powered designs pointed out specifically are tablets from MSI (video demonstration here) and the "2-in-1" Toshiba Click. I was not able to get any specific details as to when the MSI tablet will be available or other unannounced design wins, but the Toshiba Click should be arriving in September.
Next I asked about the new A4-1350 SKU, which is expected to begin shipping in October. It is an 8W "TDP" chip, which consumes 3W in typical usage scenarios.

This chip is essentially the same as the A6-1450, but without the boost features. This allows AMD to round out the company's SKUs and offers an additional quad core SoC at lower power. Looking at the footnotes of the press release, typical SoC power consumptions are ~3W when running 3DMark 11, ~1W when browsing, ~2W during non-streaming video playback, and ~3W streaming 1080p video via YouTube.
All in all, the A4-1350 will fill a performance gap between the previous dual core Temash products and the A6-1450 by bringing a quad core SKU to a lower overall TDP.
When asked about Android, it was pointed out that Windows is the target OS for Temash. This question led to a brief discussion about AMD's AppZone. AMD has the ability to run Android apps via a collaborative effort with BlueStacks.
With Microsoft's (NASDAQ:MSFT) Windows 8 being the target platform, there is functionality built into AMD drivers for Windows to accelerate various tasks that utilize the GPU. Windows 8.1 will build on this by bringing support for new functions such as AMD's Wireless Display.
The last question I had was regarding any specifications surrounding the updated roadmap for the embedded products.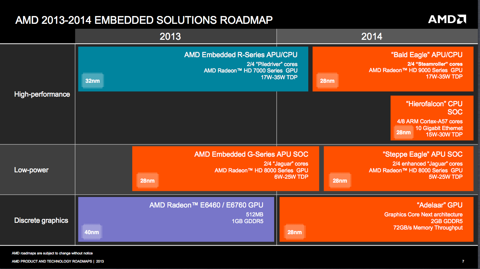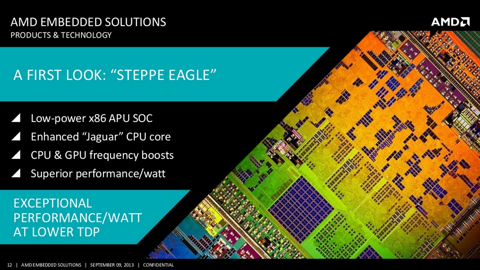 Specifically I was looking for details on the enhancements made to the Jaguar cores. AMD is typically tight-lipped regarding both unannounced products and design wins, and this time was no exception.
Mr. Gravning did not go into architectural changes, but I was told that we can expect to see an update to the client roadmap.
Conclusion
My take is that both AMD and Intel (NASDAQ:INTC) have released products that completely raise the bar for mobile x86 processors.
Specifically regarding AMD's products, I feel the A4-1350 creates a more level playing field in marketability in that AMD has a 3W "standard usage scenario" quad core mobile chip to compete with Intel's 2W "SDP" Bay Trail chips.
Based on the timing of the release of "enhanced" Jaguar cores from the Embedded Roadmap, and the focus on CPU/GPU boost and increased performance/watt, I think it is possible to see new client based low-power APUs appear somewhere in Q2 or Q3 of next year. Looking through benchmarks of Temash and Kabini based platforms, I feel AMD has the thermal headroom both to boost performance and lower overall power consumption by using more aggressive turbo frequencies and power management.
Regarding the overall impact for AMD financials, I feel at this point it is up to OEMs and Microsoft to offer consumers compelling products at attractive price points. Right now I view this is as a "chicken or egg" problem -- the Microsoft app ecosystem is not nearly as expansive as either Apple's or Google's. Maybe Temash or Bay Trail paired with strong OEM designs will sway enough consumers toward Windows tablets to make it worthwhile for app developers to work on building out the Windows ecosystem.
Windows 8.1 releases on October 18th, and is aiming to fix many of the pitfalls of Windows 8. A successful Windows 8.1 reception would be good news for both x86 chip makers.
Tablet OS market share should serve as a useful tool to gauge the success of Microsoft, and thereby AMD and Intel. According to IDC data, during Q2 Windows tablet sales saw explosive YoY growth, but overall volume is still quite low.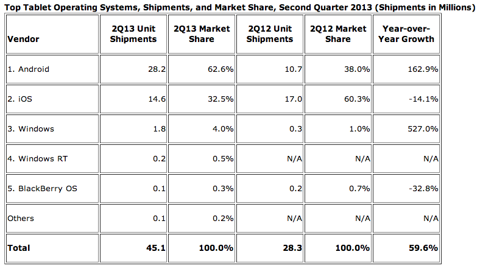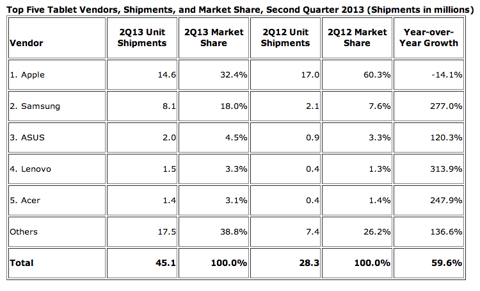 Of the 45M tablets shipped, Windows devices only totaled 1.8M -- meaning this is currently an extremely small market in which AMD can compete.
At this point AMD's success in the tablet space is largely on the OEMs and the success of Windows 8.1. Even Intel garnering tablet design wins would not necessarily be a bad situation for AMD, because as Windows gains in popularity the x86 app ecosystem should fill out, providing an overall larger market.
Disclosure: I am long AMD, INTC. I wrote this article myself, and it expresses my own opinions. I am not receiving compensation for it (other than from Seeking Alpha). I have no business relationship with any company whose stock is mentioned in this article.
Additional disclosure: I actively trade my AMD and INTC positions. I may add or liquidate shares at any time. I write covered calls against INTC, and own both long calls and shares of AMD.