A 200% gain year-to-date is astounding for a NASDAQ-traded, long-term, investment grade stock - we normally think of such enormous gains occurring only in the unregulated OTC markets. However, that is precisely what Real Goods Solar Inc. (RSOL) has done. RSOL is a regular, NASDAQ-traded, completely above-board solar stock that has gained an amazing 213% YTD - and it still has considerable upside potential. And this it has been able to achieve through no gimmick or stunt, but purely through excellent management, sound business strategies and well-differentiated products.
It has been a phenomenal year for solar stocks so far. Solar stocks last saw this sort of upbeat investment mood in 2010. After that, they got hammered in the next two years as excess capacity led to pricing pressures, hurting their top and bottom line. However, as the industry stabilized and companies improved their operations, investor interest has been rising once again. Naturally, solar stocks have performed very well this year.
The performance of small and mid-cap solar stocks has been even more outstanding. Year-to-date, JA Solar Holdings (JASO) shares have gained nearly 105%. Yingli Green Energy Holdings Co. Ltd. (YGE) shares have gained more than 144%. Hanwha SolarOne Co. Ltd. (HSOL) is up more than 221% this year. Among them all, the star performer, the first among equals has been RSOL.
However, performance is only one among the reasons I like RSOL right now. There are other positive developments happening at this Louisville, Colorado-based company in the past one year. Put them all together, and this stock is set for substantial growth in the future.
Q2 results highlight improvement
Real Goods Solar serves commercial, residential and utility customers. In 2013, the company made remarkable improvement in solar energy systems deployment. In Q213, deployment increased by a factor of 18% from previous year. In the first 6 months of 2013, the company deployed solar energy systems totaling 10.2 MWs, an increase of 20% over the same period last year.
Net revenue was down by a small margin, from $21.4 million to $20.7 million, primarily due to lower prices paid by customers as a result of competitive pricing pressures. That also affected gross margins. However, RSOL surprised everyone by bringing down costs. In the second quarter of 2013, they managed to bring down expenses to $7.9 million from $9.3 million same period last year. Considering the first 6 months of 2013, RSOL again demonstrated a similarly remarkable cost-cutting feat.
A lot of this credit goes to Kamyar Mofid, the new CEO of Real Goods Solar. Mofid made a number of business process improvements to increase productivity, especially in the residential division. He actively controlled discretionary spending, which for small companies often acts as a profit drain. Mofid also improved organizational structure and alignment, which led to substantial payroll reductions.
This year, the company managed to improve sales month by month, almost every month. In addition, the company's commercial and utility division registered robust growth in the first half of 2013. In June, the company's commercial and utility division, RGS Energy, was selected by St. Albans Solar Partners LLC to deploy a new 2.2 MW solar farm in Saint Albans, which is the largest PV system in the state of Vermont. RGS Energy will also deploy a 1.1 MW solar power system at Ironhouse Sanitary District's (ISD) water recycling facility and administration building in Oakley, California.
Acquisitions to further boost RSOL's performance
While Real Goods Solar's performance in the first half of 2013 shows that the company has the potential to grow organically, acquisitions will further boost its financial and operating performance. In fact, the company has announced two acquisitions recently, which will boost its presence nationwide.
Last month, Real Goods Solar completed the acquisition of Syndicated Solar Inc., a move that will boost the company's presence in the residential solar market. Syndicated Solar had revenue of $2.5 million in 2011 and $7.3 million in 2012. Based on existing backlog, Syndicated Solar's revenue is expected to double in 2013. RSOL will also benefit from the Syndicated Solar team, which includes Justin Pentelute, the company's founder and CEO, who has established a solid reputation in the solar industry.
The company is also boosting its commercial division with the addition of Mercury Energy Inc. Last month, Real Goods Solar signed a definitive agreement to acquire Mercury Energy. Based in Port Chester, New York, Mercury Energy has installed more than 50 megawatts of solar projects. In 2012, the company registered revenue of $35 million. In addition, Mercury Energy has approximately $10 million in cash on its balance sheet and no debt. The cash balance will be available to RSOL on completion of acquisition, which will strengthen the latter's own balance sheet.
Mofid said in a conference call last month that the acquisition of Mercury significantly expands the company's presence as a major solar solutions provider in key solar markets across the East Coast.
The two acquisitions will boost Real Goods Solar's top line in 2014. This combined with the company's efforts to reduce costs mean that RSOL is well positioned to turn profitable soon.
Set to turn profitable
In the first half of 2013, Real Goods Solar registered a net loss of $6.7 million. However, the company has been focused on bringing down its costs and accelerating organic and inorganic growth. RSOL, certainly, is all set to turn profitable in the near term.
In fact, in a recent SEC filing, the company noted that it expects to be EBITDA positive for the second half of 2013 and achieve profitability in the fourth quarter of 2013.
Strengthening balance sheet
As with any growing company, a major concern is the balance sheet. In recent months, Real Goods Solar has addressed this concern and emerged with a very strong balance sheet.
In the second quarter of 2013, the company completed a private placement equity financing. The net proceeds from the private placement were approximately $8.4 million. Mofid said at the time of completion of the private placement that the new injection of capital will allow RSOL to further improve its operational capabilities, increase its depth and market reach, and better provide superior solar solutions and services to customers.
Mofid also said in a conference call last month that the company achieved major improvements on a number of fronts with regards to cash and working capital performance during the second quarter. The company addressed major accounts receivable past due issues, as well as established major discipline in cash management.
All of these helped Real Goods Solar end the second quarter of 2013 with $6.9 million in cash on its balance sheet and no outstanding borrowings under its $5.2 million revolving line of credit with Silicon Valley Bank through September 30, 2013. In addition, the company is currently in discussions with Silicon Valley Bank to extend the credit line beyond September 30, 2013. Also, as I said earlier, once RSOL completes the acquisition of Mercury Energy, the company will have an additional $10 million in cash available for use. RSOL's stronger balance sheet means that the company is well positioned to capitalize on the anticipated growth in the solar power systems market.
Robust outlook for solar power
Real Goods Solar has been making efforts to improve its operations, which are starting to show benefits as evidenced by the company's second-quarter results. In addition, the company is also expected to benefit from the robust outlook for solar power.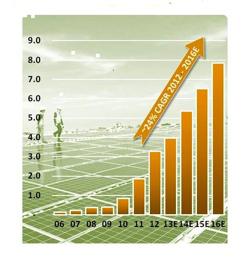 Solar Power Market Outlook
Source; SEC Filing, Real Goods Solar
In an SEC filing, RSOL, citing a report from the Solar Energy Industries Association (SEIA) and GTM Research, noted that the solar power market is expected to see compounded annual growth rate (CAGR) of 24% between 2012 and 2016. Meanwhile, the industry is expected to see investment of $800 billion to $1.2 trillion over the next decade, according to Enerdata.
RSOL notes that the key drivers for the growth in solar power will be rising electric bills and falling solar-PV module prices. RSOL, citing a McKinsey Report on solar power, noted in its SEC filing that price of solar-PV modules is expected to drop 10% annually until 2020. At the same time, utility rates are expected to rise. This will make solar affordable going forward, and will be a key growth driver for the industry and RSOL.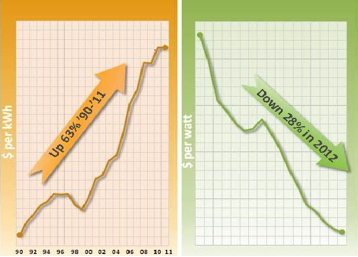 Average Electric Utility Rates in Key Falling U.S. Solar-P-V Module Prices Solar States
Source; SEC Filing, Real Goods Solar
What makes RSOL stand out among competitors?
Given the anticipated growth in the solar power market, the solar sector looks attractive overall. However, there are certain factors that make RSOL stand out from its competitors.
RSOL's revenue have been growing at a CAGR of 35% over the last five years. Given the impact the company's recent acquisitions are likely to have and the anticipated growth in the solar power market, it is very likely that RSOL will sustain this growth going forward. The company's sales growth over the past five years has been significantly higher than those of its competitors. JASO's sales over the last five years have grown 20.10%, YGE's have grown 22.90%, and HSOL's have grown 9%. Not surprisingly, RSOL has been one of the best performing stock in the small cap solar space.
Another factor that makes RSOL attractive when compared to most of its competitors is valuation. RSOL currently has an Enterprise Value/Revenue ratio of 0.80. This compares to a ratio of 1.26 for HSOL and 1.70 for YGE. Only JASO has an Enterprise Value/ Revenue ratio lower than that of RSOL at 0.69. Given RSOL's growth prospects, the stock is significantly undervalued at the moment.
One note I would make in here is that RSOL was given up for as dead when it was trading around $1. Now the market is beginning to think they will survive, but the current $70 million market cap still could grow a lot as the company continues to show they are going to be successful. I think the biggest redeeming factor is that it has such a low market cap. If the company proves to be successful it would not be unrealistic to see it priced much higher.
Risks
As always, there are some risks associated with investing in a fast growing company. As I noted before, managing cash is an issue for many fast growing companies. Real Goods Solar did face some liquidity issues last year. However, the company has addressed this now. It has already raised substantial cash through the private placement in the second quarter. Additionally, the Mercury acquisition will further boost the company's cash position.
Another risk is a slowdown in the solar market like we saw in 2011 and 2012. Excess capacity, coupled with lack of demand, led to pricing pressures. This had a major impact on almost all solar companies. However, the industry has emerged stronger. There are pricing pressures; however, companies such as Real Goods Solar are in a stronger position to deal with these issues.
Investment thesis
Real Goods Solar has posted huge gains this year. Despite this, the stock has significant upside potential. I say this because the company's efforts to improve operations and strengthen balance sheet are only just starting to show results. In addition, RSOL is still attractively valued.
The company has made two major acquisitions recently, which will boost its presence across the country. The Mercury acquisition will benefit the company's balance sheet.
When you combine all of these factors with the expected growth in the solar power market, there is every chance that RSOL shares could double in the next 12 months. I think this is an excellent time to go long on RSOL and generate substantial returns from a fast growing company.
Disclosure: I am long RSOL. I wrote this article myself, and it expresses my own opinions. I am not receiving compensation for it (other than from Seeking Alpha). I have no business relationship with any company whose stock is mentioned in this article.