The purpose of this article is going to be twofold; one, to offer an update on the last two weeks of Vascepa prescription data - and two, updating and reaffirming my stance from last week that prescription Lovaza will not be a threat on Vascepa - as long as doctors continue choosing their high triglyceride medication by efficacy, not advertising.
Amarin (NASDAQ:AMRN) had been trending upward, until last week's announcement that a U.S. appeals court had reversed an earlier established ruling on generic Lovaza, essentially clearing the way for a generic Lovaza.
Here at Seeking Alpha, there was coverage from both ends of the argument and plenty of "diverse" opinions as to how this is going to potentially affect Amarin longs going forward.
The news came on the heels of a good momentum run up for Amarin that started at the beginning of August and had continued through early September. As you can see, as the week progressed, Amarin appeared to have "stopped the bleeding" about the generic Lovaza ruling, holding around $6.60 to end the week: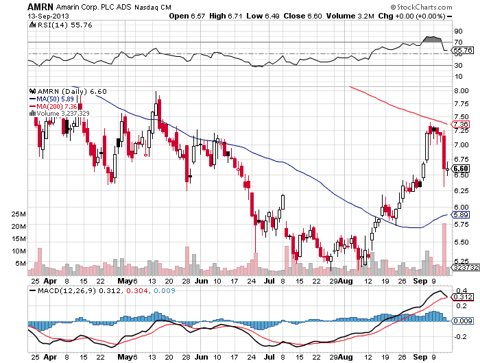 From its website, "Amarin Corporation is a biopharmaceutical company focused on the commercialization and development of therapeutics to improve cardiovascular health. Amarin's product development program leverages its extensive experience in lipid science and the potential therapeutic benefits of polyunsaturated fatty acids. Vascepa (icosapent ethyl) is Amarin's first FDA approved product and is available in the United States by prescription."
After the drug's approval, the company did not pair with any major pharmaceutical partners, brought on its own sales staff, and is taking a stab at launching Vascepa on its own. In the face of the stock losing a good portion of its value over the past six months, prescription data (provided by Symphony and IMS Health) continues to head in the right direction.
On July 3rd of this year, I announced that I was covering my Amarin short that yielded results over 30% and that in the face of Vascepa data and the valuation of the stock, Amarin was a buy opportunity. Of recent, it's looking more and more like the stock had bottomed in the mid to low $5 range, and we've seen a major trend reversal until last week's SNAFU regarding potential generic Lovaza, which I pointed out in my last article - we were expecting anyway by 2015.
After the decision, I penned an article exploring whether or not Amarin longs should be worried about a generic Lovaza coming to market. After running through many of the preliminary bullish and bearish arguments, I came to the following decision:
Well, at the end of the day, this is anything but really good news for Amarin. But, the question is going to lie in whether or not this is as big of a deal as the market is making it.

Vascepa is a drug that wants to stand on its efficacy versus Lovaza - and also the fact that it has less fishy side effects. In essence, Vascepa is really a Lovaza 2.0.

The question is going to similar to that of what Microsoft faced when they released Windows Vista and everyone promptly switched back to Windows XP. How many people are going to stay with what they know simply because it's just generally easier to do than to implement change?

The key is here is going to be how many physicians are prescribing based on efficacy versus what's generally accepted, lobbied towards, and available.

However - all of that is information that's forthcoming. As I've argued in the past, I do still think there's going to be an emotional price run up heading into October - one that, regardless of outcome, makes this current dip in Amarin a buying opportunity.
That article was published on Thursday, and it was then announced Friday that Aegis Capital came out and also called the Amarin decline "unwarranted". They maintained their buy rating on the stock, citing that they believe that Vascepa would be approved for its ANCHOR indication - essentially ruling a generic Lovaza moot, as Vascepa would take advantage of an entirely new patient population. Street Insider reported:
Aegis Capital maintained a Buy rating on Amarin Corporation (NASDAQ: AMRN) with a price target of $30.00. The stockdeclined on Thursday after it was announced that Teva (NYSE:TEVA) and Par won an appeal vs Pronova BioPharma. In the view of analyst Raghuram Selvaraju, the decline was "unwarranted."

"We believe that the Lovaza patent news yesterday is of minimal relevance for several reasons," said Selvaraju. "First, this appeals court decision does not automatically allow Teva and Par to begin marketing a Lovaza generic in the U.S. The case was yesterday remanded back to the lower district court, which in 2012 ruled in favor of Pronova. Second, we believe that Teva may have problems accessing sufficient fish oil supply to even make a generic version of Lovaza at commercial scale. Third, even if Lovaza generics eventually appear in the U.S., we believe that Amarin's Vascepa will remain viable as a commercial franchise because we remain optimistic that the drug will be approved nearterm for use in mixed dyslipidemia."
So, the hype behind the court's decision - if it hasn't already - is likely to dispel and fade away in the coming week. Amarin will likely continue its walk back up over $7 to its emotional jumping off point leading to the binary events that'll be coming at the end of this year.
Vascepa Data
Here is the most current Vascepa data, as of 9/6/13:

The previous week shows us a couple of things:
1. A cyclical dip in total prescriptions, that'll likely continue to trend upwards in coming weeks. (similar to the dips at the beginning of June and July, which you can see on the line graph).
2. Refills have passed the new script metric (2574 vs. 2565), indicating that there is now a pretty significant base of physicians and patients that are seemingly happy with the results of Vascepa.
I strongly believe here that Amarin is going to carry its momentum upwards into the second half of this year. I'm contending that Amarin is still a buy as it will continue to rise based solely on emotion leading up to the end of year catalysts coming down the pipe.
In addition, I'm reiterating my sentiment that the recent pullback from above $7 is a buying opportunity, based on more analyst support of the Lovaza ruling being meaningless and likely emotional runup of Amarin towards it's coming binary events.
Best of luck to all investors.
Disclosure: I have no positions in any stocks mentioned, and no plans to initiate any positions within the next 72 hours. I wrote this article myself, and it expresses my own opinions. I am not receiving compensation for it (other than from Seeking Alpha). I have no business relationship with any company whose stock is mentioned in this article.