Until a few years ago, Zynga (NASDAQ:ZNGA) was a very promising company with high growth prospects. However, for some time now, the company has been facing risky challenges such as falling audience metrics, lower bookings and decreasing revenues. As a result, Zynga started to decrease the company's cost base. One month ago, the company also hired a new CEO to fix these issues. Despite these initiatives, the company's future is still dark, even if the company has a huge cash pile. In this paper, I'm going to focus on three metrics, which say very clearly: Zynga is a value trap.
Audience Metrics
From Q1 2012, these three metrics are falling quarter over quarter at an impressive rate. Daily Active Users (DAUs) tumbled from 72 million to 39 million, having decrease by 45% in just 5 quarters. Monthly Active Users (MAUs) and Monthly Unique Users (MUUs) followed the same trend.
It is alarming because it shows that Zynga's business model is currently at risk. The company cannot maintain its audience metrics, which constitutes a problem right now. It is mainly due to the fact that Zynga has to release more hit games to attract casual gamers. While Zynga was the leader in social gaming, other companies such as King, which released the well-known Candy Crush, are taking a huge part of the social gaming pie. Currently, Zynga's biggest issue is to maintain attractiveness of its core games, such as FarmVille.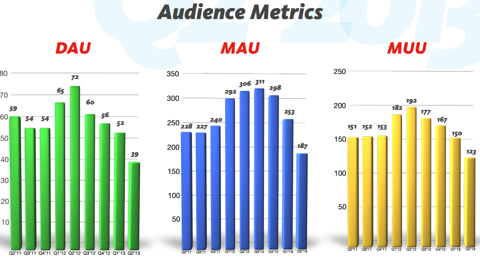 Bookings
First, what is "bookings"? Zynga describes bookings as: a non-GAAP financial measure that is equal to revenue recognized during the period plus the change in deferred revenue during the period.

Bookings for the current year (2013) will be lower than the previous year, which means the trend of the last four years will be broken up. It is another alarming sign of Zynga's problems. On a quarterly basis, bookings have decreased from $329 million in Q1 2012, to $188 million in Q2 2013, having decrease by 43%.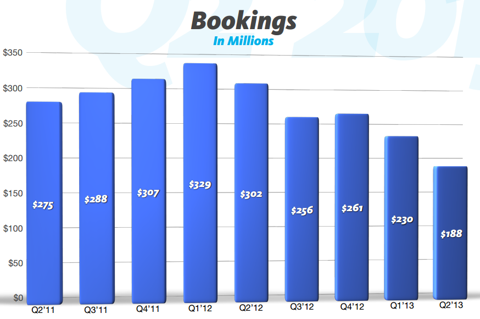 Revenues
Zynga's revenues depend heavily on hit games such as FarmVille or CityVille, which tend to generate a significant amount of revenues quarter over quarter. Nevertheless, it is very difficult for the company to release such a game every one or two quarters. As you can see in the graphic below, revenues from 'big games' tend to decline quickly after two or three quarters because players get bored. In fact, Zynga is facing increasing competition in its core market, which impacts negatively its sales. Actually, users are moving to new attractive games made by competitors. As a result, the company has lower margins and higher capital expenditures.
In its 2012 annual report, Zynga stated:
We expect that our revenue and bookings will decline in the first quarter of 2013. In addition, we believe that our operating margin will continue to experience downward pressure as a result of increasing competition and the need for increased operating expenditures for many aspects of our business.
On a quarterly basis, Zynga's revenues tumbled from $321 million in Q1 2012, to $231 million in Q2 2013, having decrease by 30%.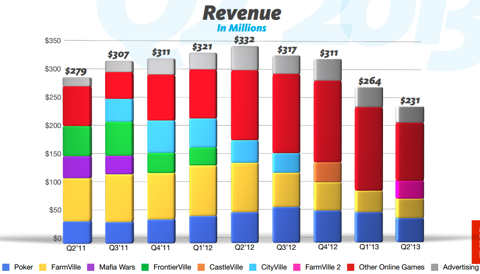 Outlook
Zynga forecasts revenues to be in the range of $175 to $200 million and bookings to be in the range of $125 million to $150 million. The company doesn't provide any guidance regarding its DAU, MAU and MUU.
Conclusion
Zynga is facing increasing challenges regarding its future because the social gaming market is starting to become more competitive. In my opinion, the company needs to diversify its business. The real money gambling was a big opportunity and I don't understand why the CEO says Zynga won't enter this new market in the future. But, the company is currently focusing on decreasing its cost base to improve its margins and profitability. Moreover, Zynga still has a huge cash pile of approximately $1.1 billion, which constitutes a safety buffer.
Disclosure: I have no positions in any stocks mentioned, and no plans to initiate any positions within the next 72 hours. I wrote this article myself, and it expresses my own opinions. I am not receiving compensation for it (other than from Seeking Alpha). I have no business relationship with any company whose stock is mentioned in this article.