A recent article by Valuentum titled "Seadrill Doesn't Quite Make The Cut" drew the ire of many Seeking Alpha readers familiar with and interested in Seadrill (NYSE:SDRL). The Valuentum team made a point that Seadrill's cash flow, according to their terminology, was weak. Valuentum went on to state that Seadrill's dividend was "not safe over the long haul," especially in the event of a credit crisis, given the company's high and growing debt load.
The purpose of this article is to provide more context to Seadrill, look at the entire business, and provide a more holistic look at Seadrill's dividend. While this is a response to Valuentum, it is not meant to be a "gotcha" article.
For those unfamiliar, Seadrill is an offshore drilling contractor providing services to the oil and gas industry. It owns and operates rigs such as jack-ups, floaters and tender rigs for shallow, mid, deepwater and ultra deepwater operations. With a market cap of $22 billion Seadrill has a big fleet of 59 drilling ships. The company is 24.5% owned by parties connected to the President and chairman of the board, John Fredricksen. Seadrill is incorporated in Bermuda.
A Holistic Look At Seadrill's Debt, Free Cash Flow And Dividend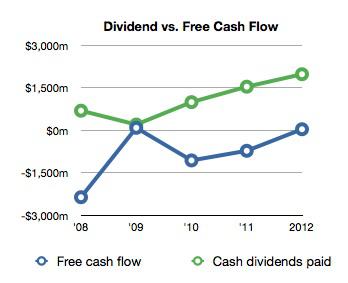 Chart by author, data by Morningstar.
When looking at the sustainability of a company's dividend, the most important metric will be Free Cash Flow. Free Cash Flow (NYSE:FCF) is Operational Cash Flow less capital spent on company projects (in this case, ship construction). Seadrill's dividend has exceeded FCF for a long time. This means that the company must find another way to pay the dividend.
As we will see, however, the reason for this is not because Seadrill is an unprofitable company. Seadrill is quite profitable. Free Cash Flow has been low because of large capital expenditures. Over the last couple years Seadrill has been building new ships and using friendly capital market environments to do it. This year the company ordered four new ultra deepwater drill ships (at less than $600 million per rig) and two jackups (at $230 million per rig).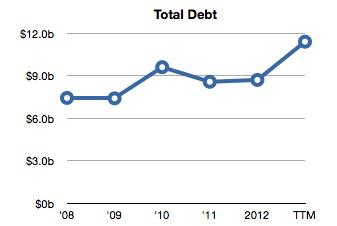 There is a secular shift of global oil activity into greater underwater depths. Underwater drilling operators must take advantage of this trend to grow earnings. Seadrill is working to do this, but its capex efforts have had to be financed. Here we see why paying high-dividends can sometimes be a double-edge sword. In paying a large dividend, Seadrill had no choice but to turn to debt to build ships in the wake of this secular trend.
Capital Response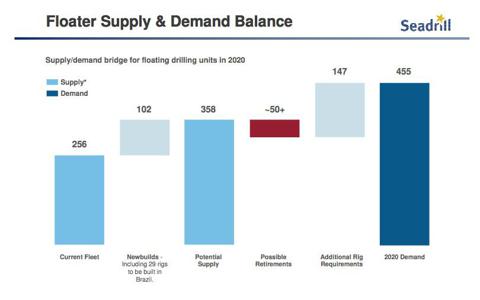 Pareto Oil and Offshore Conference
To meet growing global demand, the world's oil production will have to grow by between 1-1.5% per year. This comes at a time when the biggest oil companies in the most oil-rich areas in the world are having difficulty even maintaining onshore production. As a result, both national oil companies and supermajors alike have been turning to deepwater and ultra deepwater to augment and grow production.
Seadrill predicts a steadily growing demand for deepwater rigs which greatly exceed today's supply. An additional 147 rigs will have to be built to meet expected 2020 demand. There's a lot of work to do for Seadrill and others.

Here is an idea of the growth to follow. We see that Seadrill has grown earnings steadily. Judging from the increased need for deepwater fleets, we have every reason to believe management can meet this growth goal. The bottom line is: Seadrill needs to spend to build more ships.
But while building deepwater rigs ultimately will be profitable, it is a process that takes a few years of investment and development. This is where many computer-generated, strictly numbers-based articles, including the one published by Valuentum, miss the point. Valuentum highlights the company's excessively high debt when compared to cash flow metrics. That's fine. But in this business the capital spent today will not start turning profits until at least a couple years. You have to give it time.
A Worthy Steward of Capital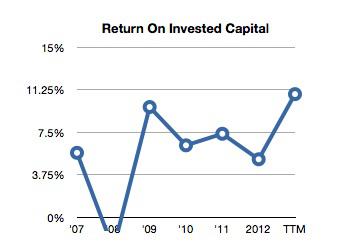 Here we see Seadrill's history of Return On Invested Capital (NASDAQ:ROIC). Seadrill's performance in this metric has generally been better than Transocean (NYSE:RIG), similar to Ensco (NYSE:ESV) but below my personal favorite Atwood Oceanics (NYSE:ATW). Note also the recent spike in ROIC: Some of its ships which began construction in 2010-2011 are now coming online. In this business ROIC is often a lagging metric, and I expect it to come back down as construction intensifies on its six new vessels. All things considered, Seadrill is a fairly good capital allocator.
Economic Value Added
Economic Value Added, I believe, is an another important ratio to consider. For this we look at the EVA Ratio, which is a company's earnings yield less the Weighted Average Cost of Capital. We want to measure the real value of a company's activity above what it cost to obtain the funds to do it. Here is the equation:
(Trailing 12-month EBITDA earnings/Enterprise Value) - (Weighted Average Cost of Capital) *100
Seadrill's earnings yield is 11.29%. Thanks to the fantastic work of Jeff Williams, we know Seadrill's cost of capital was 9.17%. This gives us 2.12 percentage points of Economic Value Added: A good number. Like ROIC, this can also be a lagging indicator in underwater drilling because of build time. Also like ROIC, I would not be surprised to see this number dip as work intensifies on its new ship construction.
Seadrill CAN Cover Its Dividend
Earlier in this article I mentioned that Seadrill must use debt to fund capital projects due to high dividend requirements. However, Operational Cash Flow (which is Free Cash Flow without capex subtracted) has generally been able to cover dividends. This basically means that if Seadrill didn't have to grow its fleet, the dividend would be fine.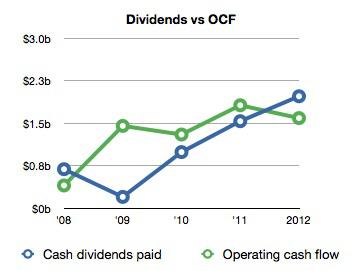 This chart shows dividends versus Operating Cash Flow (OCF) and also gives us a good "big picture" view of Seadrill over the last few years. In this case, dividends have outstripped OCF in 2008 (during the financial crisis) and 2012. Does this recent "gap" mean the company isn't making enough to fund the dividend?
Emphatically, no. Looking at the Cash Flow Statement we see a $1.4 billion "other non-cash" charge which masked a year of otherwise great results. And in fact, that charge was a decline in mark-to-market value of an unrealized derivative, and there will be no cash transaction until the derivative runs its course and is realized. That happens sometimes and is not regular. Without that charge, Seadrill's OCF would have spiked along with ROIC. Operational Cash Flows would have been $3.8 billion without it, compared to a dividend of just under $2 billion.
Seadrill's dividend is fine for now.
What we're seeing right here is a company taking a risk: Adding debt to grow earnings in a multi-year arc. Seadrill is taking advantage of the predictable trend of increasing deepwater rig demand. That sounds like a solid business plan to me.
Tight Rope Walk
The majority of Seadrill's debt is variable and linked to the LIBOR. That makes access to capital markets the biggest risk to Seadrill and its dividend. In the event of higher LIBOR rates, Seadrill's cost of debt will go up, too.
Valuentum was right to point out the company had to cut in '08, and they were right to be concerned about the dividend in an economically stressful situation or meaningful credit event. In the event of suddenly and persistently high LIBOR rates, Seadrill would have some tough decisions to make.
However, barring a crisis, I would have to say Seadrill's dividend is sustainable. If higher rates come with more economic activity, Fredricksen and company should be able to manage. Yes, the company is increasing its already high debt load and the dividend is not currently covered by FCF. But this is being done to take advantage of a steady, secular trend towards deepwater. This is a risk, but a calculated one.
Conclusion
There are a lot of things to like about Seadrill. It has very high insider ownership. It has predictable cash flows secured by long-term contracts with stable counter-parties. We shouldn't look at Seadrill as a "house of cards" but rather a tight-rope walk. So long as capital markets stay friendly, Seadrill will ride the deepwater tidal wave and the driller's 7.7% dividend yield will be just fine in the long run.
Disclosure: I have no positions in any stocks mentioned, and no plans to initiate any positions within the next 72 hours. I wrote this article myself, and it expresses my own opinions. I am not receiving compensation for it (other than from Seeking Alpha). I have no business relationship with any company whose stock is mentioned in this article.