The last two decisions that the President had to make were not at all made by him, but rather for him. The latest event, Summers withdrawing his name from consideration for Fed Chairman, has world markets moving strongly higher on the news with the U.S. markets looking quite strong. Now attention will shift to the Fed's decision to taper or not, and although we think that the decision to taper is put off until December (a view not popular on Wall Street) the market will be disappointed with anything over $10 billion being taken out of the Fed's buying power per month.
Chart of the Day:
A look at the M-1 Money Supply, which has grown sharply since the latest recession. It will be interesting to see how quickly the Fed decides to shrink the money supply via its many levers, but that will be an important topic to watch going forward.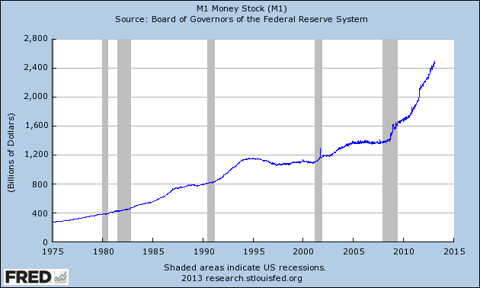 Source: FRED
We have economic news today and it is as follows:
Empire Manufacturing (8:30 a.m. ET): Est: 9.0 Actual: 6.3
Industrial Production (9:15 a.m. ET): Est: 0.5% Actual: 0.4%
Capacity Utilization (9:15 a.m. ET): Est: 77.8% Actual: 77.8%
Asian markets finished higher today:
All Ordinaries -- up 0.52%
Shanghai Composite -- down 0.22%
Nikkei 225 -- up 0.12%
NZSE 50 -- up 0.92%
Seoul Composite -- up 0.96%
In Europe, markets are also higher this morning:
CAC 40 -- up 0.92%
DAX -- up 1.30%
FTSE 100 -- up 0.83%
OSE -- up 0.02%
Technology
Shares in Intel (NASDAQ:INTC) have been bouncing back in recent weeks as buyers have emerged. The buyers are value hunters and yield seekers, two groups of investors which have tended to create a floor for Intel shares in the low $20s. Jefferies created a rush to buy shares on Friday as it upgraded its rating on the company's shares to a 'Buy' from a 'Hold' and also increased its price target from $27/share to $30/share. We still think that Intel has a long way to go on its mobile offerings, but the attitude towards the company's shares is quickly changing for the better.
Whereas Intel was a strong performer on Friday, Stratasys (NASDAQ:SSYS) was a laggard, which pulled the entire 3-D printing sector lower after announcing its secondary. Stratasys shares ended the session down by $5.47 (5.59%) to close at $92.32/share with volume surging to 7.2 million shares after the company said that it would offer 4,500,000 shares to the public to raise capital to continue its expansion. We now know that the price will be $93/share so the price action on Friday appears to have been a bit overdone and we would look to see a rebound, in excess of the regular market movement, during today's session.
Stratasys is a buy on the weakness resulting from the secondary. The stock has support here and the pricing on the 4.5 million shares was not all that bad at $93/share.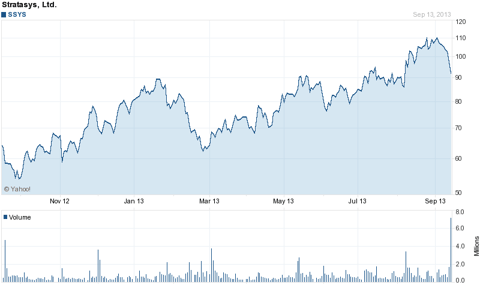 Source: Yahoo Finance
Biotechnology
Shares in ViroPharma (VPHM) moved strongly higher around 1:00 P.M. on Friday afternoon as rumors hit that the company had interest from two overseas companies and had hired Goldman Sachs in order to conduct an auction. The two names which are circulating as the two overseas companies interested in making a bid are Sanofi and Shire, both European drug companies. Both companies make sense as acquirers and there appears to be some substance to the reports, which is why ViroPharma shares shot up $8.66 (28.42%) to close at $39.13/share on Friday. If a deal is announced here it would mark yet another acquisition in the biotech industry, a sector which has seen M&A activity spike this year.
The market liked the ViroPharma news on Friday and after looking at various articles over the weekend it appears that there is a lot of substance to this story. A bidding war could be possible too.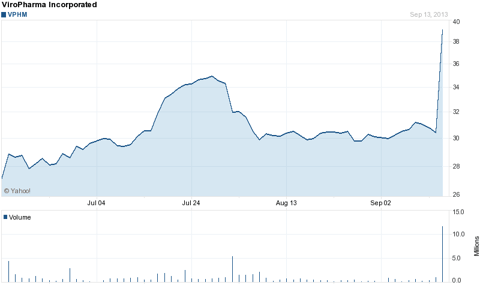 Source: Yahoo Finance
Grocery Stores
There have been quite a few IPOs in this space in the past few years and the business continues to improve as the grocery stores reposition themselves amid the competition from the discount stores that have been moving into the business. Yes some of the specialty names have positioned themselves to focus on the higher-end markets and seen strong margins but names such as Kroger (NYSE:KR) and Safeway (NYSE:SWY) have actually seen their margins increase during this era of increased interest in the field. The consolidation that already took place in the industry has helped with this, and that consolidation continues. But we think that the discounters might be driving some of this success and setting the industry up for further growth by taking over the lower margin and more commoditized goods via their offerings in the space. Safeway received an upgrade on Friday, which saw shares rise over 6% and Kroger has been knocking the ball out of the park with its results. All of this leads us to believe that the good times shall continue to roll.
Disclosure: I have no positions in any stocks mentioned, and no plans to initiate any positions within the next 72 hours. I wrote this article myself, and it expresses my own opinions. I am not receiving compensation for it (other than from Seeking Alpha). I have no business relationship with any company whose stock is mentioned in this article.