The name Allergan AGN - to a person in the know - might only mean one thing: Botox! But, despite the hype around this 'toxin that makes fairy tales come true', this unique pharmaceutical company is one of the luckiest and shrewdest around. While this assumption centers on the gymnastic versatility of the chemical compound itself, the secret of Allergan is not Botox; instead, it is the way in which a compound like Botox can be molded and twisted to commercial advantage. In fact, it isn't just this molecule that has Allergan on an EPS high and its investors smiling from ear to ear (without the crow's feet, mind you): it's the fact that they're making a trend of it! Let's explore how this relatively small specialty pharma company with a market cap of about $25 billion is running circles around its more established and less nimble competitors like Pfizer, Inc.
The Botox Element
Naturally, as with any fairy-tale type of story, we'd have to start at the beginning - a very good place to start, as Maria Von Trapp might say. Allergan's history is certainly the stuff of dreams. From its humble beginnings on pharmacist Galvin S. Herbert's shop balcony where ALLERGAN® Nasal Drops were first formulated, the company has always listened to the voice of its most valuable customer - the customer! As a result, nasal drops soon became eye drops, and Allergan gradually cemented its position as a specialty pharmaceutical company that catered to niche markets that the American public presented to them on a platter.
Today, Allergan remains a niche player - and quite profitably so. Operating in areas such as ophthalmology, obesity and cosmetics, this high-flying pharmaceutical company has tapped into at least two of the world's largest therapy opportunities - anti-aging and lifestyle. But they didn't just stumble upon these chances and make the best of them - they toyed with them, teased them and squeezed them until they breached the barrier between their bottom line and the torrential gush of money that goes with products that everyone wants all the time.
The true star of their show has always been the dreaded "sausage poison" that can make you sick - very sick. Botulinum toxin is one of the most acute poisons ever found, and even 0.000000010 grams of it can be fatal when inhaled; intravenously, about a mere one-tenth of that is enough to be lethal. But ever since Alan Scott and Edward Schantz created a therapeutic compound using this deadly toxin, it has found several applications in the medical world - and Allergan has been at the receiving end of most of the benefits of these applications. It is a well-known fact that, in 2011, Allergan needed less than 1 gram of the pure toxin to cater to the entire world's needs for over two dozen indications that have been approved for the drug!
As a drug, Botox has almost no competition because it is a biologic, which means a compound that has been isolated from natural sources. In fact, there's no patent on it because it existed in nature before it was "discovered" by man. Allergan, however, has created a veritable 'patent envelope' around it using manufacturing processes, indications, applications and the kitchen sink. So, even though they don't actually have rights to the compound, they've covered just about every other area there is. It is truly the holy grail of the pharmaceutical industry.
In recent news, Botox has been approved by the FDA to temporarily treat crow's feet - or lateral canthal lines, as they are known. This is a shot in the arm at the moment - not only because Restasis has generic competition snapping at its heels because of the FDA decision to allow generics into the market without human testing, but also because of the patent losses for Combigan and Ganfort in India based on domestic player Ajanta Pharma's challenge of the glaucoma drugs. But most of all, the rejection of Levadex for migraine headaches because of problems with the company that fills the canisters that dispense the drug is a major setback that needs to be reversed as early as possible.
To cite just some of Botox's indications that are currently approved or in popular use:
Wrinkle treatment (frown lines and, now, crow's feet)
Strabismus (squint eye)
Bruxism (grinding of upper and lower teeth against each other)
Achalasia (inability of the lower oesophageal sphincter to relax)
Migraine headaches (preventive, as opposed to responsive in the case of Levadex)
Excessive salivation
Vaginismus (a condition where spasms occur in the vaginal muscles)
Anal fissure
Movement disorders related to Parkinson's and other central nervous system diseases
Diabetic neueropathy
Allergic rhinitis
Painful bladder syndrome
But far from assuming that Botox is the only hero of the hour, let's take a look at the other members of the Allergan family - the ones that work hard but take little to no credit for the performance of the company in the past, now and in the future.
The Lesser Cousins
Naturally, Botox isn't Allergan's only arsenal against poor financial performance. If it were, then Allergan would be a 'one hit wonder' that was very unstable and an unreliable bet when it came to investing your hard-earned money. Here are just a few of their more prominent drug compounds:
Ophthalmology and Eye Care: Allergan in an undoubted global leader in this category. With compounds like Lumigan, Restasis and Refresh at the helm, this part of their portfolio certainly brings home the bacon - and then some. At $2.69 billion in revenues for 2012, this segment is their top performer.
Skin Care: The key player in this segment is Tazorac, for psoriasis - the first topical receptor selective retinoid to be approved for this condition. The compound is also approved for the treatment of acne, which affects 80% of the 11-30 age groups at some point. Botox makes its appearance in this category with a bang; at $1.3 billion in revenues, it can hardly be ignored. Without Botox, the skin care category rakes in about $300 million (2012 revenue).
Obesity Intervention: Allergan sells two different systems for the management of obesity. The first is the Lap-Band Adjustable Gastric Banding System; the second is the Orbera Intragastric Balloon System. Both these products brought in nearly $160 million in combined revenues in 2012, but the numbers here are on the decline.
Urologics: Two products are currently featured in this segment - Sanctura XR and Botox (again!); both of them are used to treat people with overactive bladder (OAB). This part of their portfolio is less significant, but still accounts for about $27 million in revenue (2012).
Here's a detailed look at how these categories have been performing, revenue-wise, over the past 5 years:
In Millions ($)

2012

2011

2010

2009

2008

Specialty Pharmaceuticals

Eye Care Pharmaceuticals

2,692.20

2,520.20

2,262.00

2,100.60

2,009.10

BOTOX®/Neuromodulator

1,766.30

1,594.90

1,419.40

1,309.60

1,310.90

Skin Care

298.4

260.1

229.5

208

113.7

Urologics

27.7

56.8

62.5

65.6

68.6

Total specialty pharmaceuticals

4,784.60

4,432.00

3,973.40

3,683.80

3,502.30

YOY Growth

7.96%

11.54%

7.86%

5.18%

 

Medical Devices

Breast Aesthetics

377.1

349.3

319.1

287.5

310

Obesity Intervention

159.5

203.1

243.3

258.2

296

Facial Aesthetics

387.6

362.7

283.8

218.1

231.4

Total medical devices

924.2

915.1

846.2

763.8

837.4

YOY Growth

0.99%

8.14%

10.79%

-8.79%

 
 
 
 
 
 
 

Total Product Sales

5,708.80

5,347.10

4,819.60

4,447.60

4,339.70

YOY Growth

6.76%

10.94%

8.36%

2.49%

 
Source: Allergan Annual Report 2012
The Pipeline
They say that the true health of a pharmaceutical company can be seen by looking at its drug pipeline. Even though Botox revenues show no signs of flagging in the near future, it is still useful to see what new molecules Allergan has up its sleeve.
Darpin: This drug is expected to be a big contributor from the ophthalmology segment, but the company's recent statement about the drug not being ready to move into late-stage trials forced its shares downwards by 13.1% post the announcement. If successfully released and approved, Darpin could prove to be stiff competition for Eylea from Regeneron and Lucentis from Roche.
Levadex: This acquired drug made by MAP Pharmaceuticals was expected to offset the $958 million that Allergan spent on the acquisition. However, the problem with the dispensing canister issue has caused it to be rejected for the moment. Allergan has put its own executives on the job at Exemplar Pharma - the company that fills the canisters - and is hopeful that approval will be given by the end of 2013. Unless Allergan gets Levadex to the market as soon as possible, it might weigh down their stock prices. Investors should hope and pray that it doesn't turn out to be another J&J Fort Washington plant type fiasco.
Botox for Lateral Canthal Lines: Though U.S. approval has already gone through, the compound is still under filing stage in the EU for this indication. If successful, this could be another shot in the arm for the company.
Juvederm Voluma: This injectable dermal filler from Allergan's arsenal of facial aesthetics has recently been unanimously recommended for approval by the FDA's Advisory Committee, but has already been performing well for several years in Europe and Canada. In many ways it is superior to other similar products because it lasts much longer - up to two years - and is also reversible, unlike products like Sculptra and Radiesse.
Phase 2: Apart from drugs under approval, Allergan also has about nine compounds in Phase 2 trials. Some of these are: Oxymetazoline and Bimatoprost in dermatology, Tem and Botox in pain management, and Restasis and Novadur in ophthalmics.
Phase 3: Closer to filing are: Restasis (in the EU for ocular surface disease), Botox for juvenile cerebral palsy, SER-120 from Serenity Pharmaceuticals for Nocturia and Latisse for eyelash and brow hair growth.
And, finally, a look at their financial performance over the past decade…
Ten Year Financials
You don't often find companies that have grown revenue and EPS by more than two times in ten years and have still managed to increase their margins. What makes the growth even sweeter is that the total assets grew at 20.18% compounded annual growth rate (OTCPK:CAGR), while total liabilities only grew at 11.38% CAGR during 2003-2012.
In Millions of Dollars, except EPS
| 2004-2012 | Dec-04 | Dec-12 | CAGR |
| --- | --- | --- | --- |
| Revenue | 2,046.00 | 5,806.00 | 13.93% |
| Tangible Book Value | 1,049.20 | 2,368.00 | 10.71% |
| EPS | 1.41 | 3.58 | 12.35% |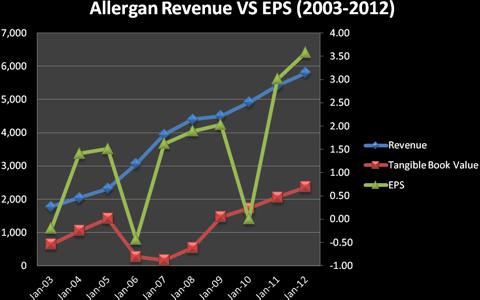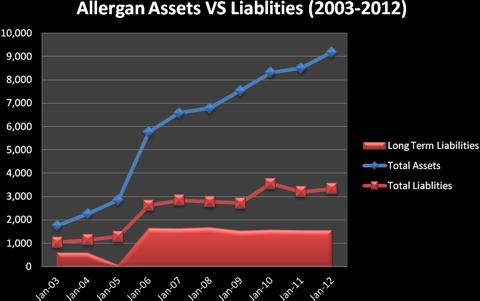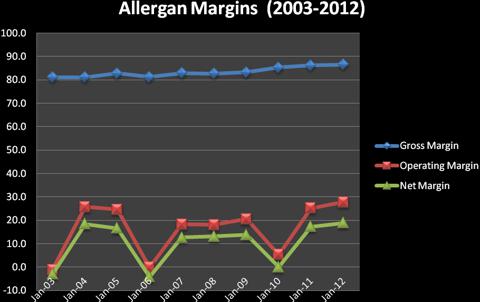 Allergan's owner earnings and free cash flow are at an all-time-high; and, with a cash balance of approximately $2.5 billion, the pharma major has enough ammunition in its hands to do bolt-on acquisitions at any time.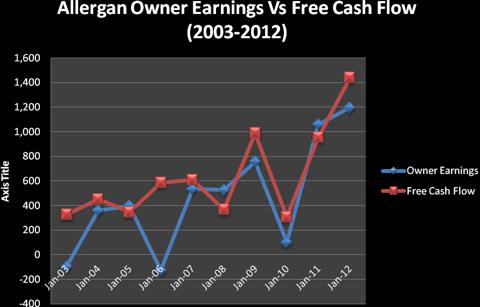 Data Source: Morningstar, Gurufocus, Annual Reports
The most impressive part about the financials is Allergan's capital expenditure, which stands at $161 million for 2012. On average, Allergan spends considerably less on capital expenses than other pharma companies, and that is one of the important reasons why Allergan's revenue and EPS are growing at a very close rate. Though capital expenses are expected to rise in the future as the company grows bigger, the advantage as of now is with Allergan.
In Millions of Dollars
Total CAPEX in 10 yrs

CAPEX 10 yr Avg

2012 Revenue

1518.9

151.89

5,806

Average 10 yr CAPEX as % of 2012 Revenue

2.62%
The Verdict - Valuation
Allergan is currently trading at 28 times its earnings. With a forward P/E of 16 (Morningstar), it definitely looks a bit expensive when compared to similar companies. However, the company's product portfolio and pipeline offer a wide moat, which should help it retain its position in niche markets for many years to come. The final call: Allergan is a decent buy at the current levels, and will be a worthwhile addition to any type of portfolio.
Disclosure: I have no positions in any stocks mentioned, and no plans to initiate any positions within the next 72 hours. I wrote this article myself, and it expresses my own opinions. I am not receiving compensation for it (other than from Seeking Alpha). I have no business relationship with any company whose stock is mentioned in this article.