Stocks can usually be grouped into three categories: value, income, or growth. In my personal portfolio, I usually seek out growth, but the ideal investment would have a mix of all three characteristics. To my surprise and joy, when I finished reading the September 12th 10Q of RF Industries (NASDAQ:RFIL) I felt that I found such a stock! The company is trading after cash at less than 10 times (2013 ttm) earnings, with a 4.10% dividend yield (based on 13/09/2013 close) and showing a year over year quarterly 31% revenue growth in the communications space that is still building out.
RF Industries manufactures interconnect products and complex cable assemblies for wireless carriers and infrastructure, medical and industrial clients. Founded in 1976, the company has experienced 19 consecutive years of profitability through operations in four divisions:
RF Connector & Cable Assembly - Medical Cabling and Inter-connector products are specialized custom electrical cabling products for the medical equipment monitoring market.
Bio Connect - Fiber optic cable, connector and harness products that serve computer, aerospace, computer networking and specialty applications.
RF Wireless - RF Wireless products include digital data transceivers for industrial monitoring, wide area networks, GPS tracking and mobile wireless network solutions.
Cables Unlimited - Medical Cabling and Inter-connector products are specialized custom electrical cabling products for the medical equipment monitoring market.
Now that we have explored what the company is engaged in, it is important to look at the three investment pillars previously mentioned of growth, income, and value
Growth
RL Industries' Growth comes from their Cable Unlimited division, which was purchased in June 2011 for $2.8 million in cash and 762,738 common shares (the combined value at the time was $5.6mm.) The acquisition has contributed $5.17 million in income in just the past five quarters. The company's founder and CEO, Howard Hill, had the following to say during the company's September 12th conference call concerning Cable Unlimited: "Our shining star for RF Industries with record sales." This divisions easily out grows the other three segments of the company with a 103% year over year sales increase since the third quarter 2013.
| | | | | | | | |
| --- | --- | --- | --- | --- | --- | --- | --- |
|   | 31-Jul-13 | 30-Apr-13 | 31-Jan-13 | 31-Oct-12 | 31-Jul-12 | 30-Apr-12 | 31-Jan-12 |
| Cables Unlimited Sales | $5,548,000.00 | $4,450,000.00 | $5,391,000.00 | $4,905,000.00 | $2,728,000.00 | $1,836,000.00 | $1,443,716.00 |
| Cables Unlimited Income | $1,277,000.00 | $ 934,000.00 | $1,496,314.00 | $1,069,000.00 | $ 395,000.00 | $ 105,000.00 | $ 36,757.00 |
|   |   |   |   |   |   |   |   |
The division's most notable product is their baseline OptiFlex, which is sold to wireless carriers and tower operators who are upgrading existing towers for 4G, WiMAX and LTE. This is an area that is still seeing growth as all four national carries AT&T (NYSE:T), Verizon (NYSE:VZ), Sprint (NYSE:S) and T-Mobile (NASDAQ:TMUS) are all still in the process of building out 4G networks, or converting exciting towers to handle 4G, WiMAX, or LTE (depending on the carrier). RBC Capital Markets tracked Cell site additions and estimated that anywhere from 17,200 to 25,000 new tower conversions to be completed in fiscal 2013. It should be noted in the case of Sprint, due to contractor shortages, the company is actually behind schedule for 2013. As such, the second half of 2013 should see more activity by them, especially with the Softbank/Clearwire issues behind it.
RBC Capital Markets Wireless Cell Site Addition Estimates

April 15, 2013

 
 
 
 
 
 
 
 
 

Carrier

2011

2012

2013E

 
 
 
 

AT&T new sites

2,450

1,400-1,800

2,200-2,500

AT&T lease equivalents added from overlays

6,200

6,000-7,000

4,000-5,000

T-Mobile new sites

1,000

600

500

T-Mobile lease equivalents added from overlays

750

1,500

4,000-6,000

Verizon Wireless new sites

1,100

1,050

1,000-1,200

Verizon Wireless lease equiv. added from overlays

2,500

2,500

1,000-1,500

Sprint Nextel new sites

400

300-600

300-600

Sprint Nextel lease equivalents from overlays

500

2,700

4,000-7,400
The market opportunity in the upgrade cycle to 4G is big and still strong. James D. Taiclet of American Tower Corporation (NYSE:AMT) recently stated on a conference call: "4G handset penetration still under 10 percent, we continue to believe that we are in the early stages of the 4G deployment cycle," . While the largest markets without a doubt is the US market, 4G conversion is a global trend, and will continue to be for some time.
Income
The current dividend yield of 4.1% (13/09/13) is attractive, thanks to a strong cash flow. The company recently paid an accelerated dividend of $0.05 cents per share on December 28th, 2012 (due to tax uncertainties at the time) and then subsequently increased the dividend 40% to $0.07 per share starting in April 2013 (5). With cash balances over $10.7 million currently (and no debt on the balance sheet), I wouldn't be shocked to see another special dividend at this years end, an increase in the quarterly dividends, or some combination of both. The company can also engage in another acquisition which could fuel future return of capital.
Value
As you can see from the cell below, RF Industry trades at a lower metric than its peers in several key valuation metrics.
| | | | | |
| --- | --- | --- | --- | --- |
|   | RFIL (NYSE:TTM) | MOLX | Industy Avg | S&P500 |
| Price/Earnings | 11.7 | 28.4 | 22.4 | 16.6 |
| Price/Book | 2.1 | 2.7 | 2.4 | 2.3 |
| Price/Sales | 1.4 | 1.9 | 1.6 | 1.5 |
| Price/Cash flow | 12.1 | 18.1 | 13.6 | 10 |
| Dividend Yield | 4.10% | 2.30% | 1.90% | 2.2 |
| Forward Price/Earnings | 8.6 | 22.8 |   | 14.8 |
Source: Morningstar
Conclusion
So the question is, why buy RF Industries now, after it failed twice at the $7 level already this year? Well the last test of the $7 level occurred in June 2013, but the subsequent decline was mostly due to a note in the second quarter 2013. The note was related to the winding down of the Los Angeles County Fire Department and how this will decrease segment revenues in future periods. Yet the September 12, 2013 third quarter earnings call was decisively more upbeat with no hint of negative tones with Howard Hill ending the conference call with by stating: "Well, thank you very much for looking at us. Wonderful fourth quarter coming up, we'll see some increases around us and we'll see some bounces around us. So note, our type of business is the phone rings and we get the order. Thank you."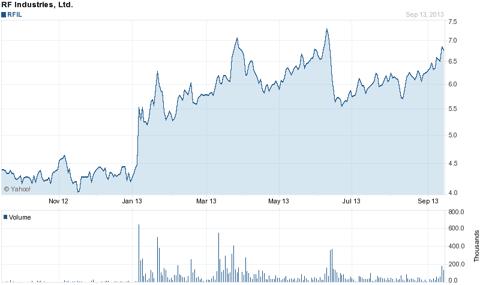 I would be doing a disservice if I didn't point out the two negative aspects of the company. The first being the fact that insiders do sell stock and options consistently. The last insider purchase I see was in March 2012, since then insiders have constantly sold stock/options. The second negative aspect of the company is stated in their own 10Q filings: The Company is aware of other competing products that have recently been introduced that compete with this product line and, as a result, net sales of the product may decrease when carriers choose those competing products for their own cabling solutions.
I like RF Industries as investors will get paid via an attractive dividend yield, while benefiting from the updated cell sites trend domestically and globally for 4G networks. The million dollar question is at this valuation, does someone buy them, like what happened with Molex (NASDAQ:MOLX). Either way, it will be an attractive (and interesting) company to follow, and as such I'm a buyer of shares at current prices. But do to new competition will monitor it carefully and not be scared to take profits.
Disclosure: I have no positions in any stocks mentioned, but may initiate a long position in RFIL over the next 72 hours. I wrote this article myself, and it expresses my own opinions. I am not receiving compensation for it (other than from Seeking Alpha). I have no business relationship with any company whose stock is mentioned in this article.