Gorilla glass panels, revolutionary display glass panels, have seen demand growth due the boom in smartphone and tablet sales. As the name suggests, this glass is durable and provides scratch resistance features. Since its launch by Corning (GLW) in 2007, major smartphone and tablet manufacturers have used this glass as the display panel. To maintain its growth streak, the company is attempting to expand from smartphones and tablets to touch notebooks and markerboards.
Gorilla is out of the cage! Can it continue its bull run?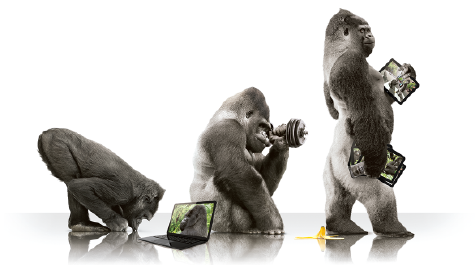 Source: Company website
Corning, a world leader in specialty glass, launched Gorilla Glass NBT for touch enabled Notebooks on July 29, 2013. This type of glass provides 10 times more scratch resistance than glass previously used in devices. With annual sales surpassing $1 billion last year, this glass has been used by every major device manufacturer including Apple (AAPL), Samsung (OTC:SSNLF), HTC, etc.
To continue its growth in device display glass, the company has entered the touch notebook market. These panels are expected to cost as low as 2% of the notebooks retail price, therefore manufacturers can use these glass panels without a major change in their cost. Dell is the first computer manufacturer to adopt this new glass in their upcoming touch notebook, and due to its cost effective advantages, more notebook manufacturers are expected to follow suit.
The touch notebook market is an emerging market with sales estimated to be around 10%-15% of the 188 million laptop sales in 2013, as per IDC. Therefore, at an estimation of 15%, 28 million touch notebooks will be shipped this year.
At an average price of $750 for each touch notebook, this glass panel will cost $15 per unit. Gorilla glass had achieved 20% cell phone market share from 2007-2010. Assuming that total touch enabled sales remain constant in the next year, then 20% market share new Gorilla glass NBT is expected to achieve revenue of $85 million in 2014. Gorilla glass has been adopted in 1.5 billion devices, and with adoption in touch notebooks, this figure is expected to rise.
Corning is also extending application of Gorilla glass to markerboards, or whiteboards. It has announced collaboration with major markerboard manufacturer Krystal Glass Writing Boards and Egan (EGAN) to position Gorilla glass as a markerboard surface, replacing traditional porcelain and soda lime board surfaces. The traditional markerboards have a short lifespan, are prone to stains, and are thick, which creates a double image when viewed from the side.
In contrast, Gorilla glass is scratch resistant, durable, and 88% thinner so it doesn't create visual distortion. The development of this Gorilla glass is in its initial stages, with early adoption by Egan in its EganAero markerboards. If the company successfully develops and markets this application then Corning can expect demand growth from markerboard manufacturers too.
Both these initiatives are just the beginning; the company plans to increase Gorilla glass application to automobiles, with BMW expected to use this glass in the rear window of its new hybrid i8 car. Expanded applications of Gorilla glass are expected to bring additional revenue from different industry verticals.
Can the raging Gorilla ever be caged?
Gorilla glass is a part of Corning's specialty material division and has been a star performer. This division witnessed 17% year-over-year revenue growth in the second quarter this year and contributed 14% of the company's total revenue for the first half of this year. The boom in smartphone and tablet sales, which increased 46.5% year over year and 59.6% year over year respectively in the second quarter of this year attributed to this revenue growth.
One of the major smartphone and tablet manufacturers, Apple, has been using Gorilla glass in its product line, most recently in the iPhone 5S and iPhone 5C. Corning can expect revenue growth potential from this new launch, as Apple is expected to increase its iPhone sales due to its new strategy of launching a cheaper product (i.e. iPhone 5C) for growing emerging smartphone markets. It launched these products in the U.S and China simultaneously, which signifies the importance of the Chinese market for Apple. China is the biggest smartphone market, and Apple commands just 4.6% market share as of July this year.
Looking at the growth potential in China, Apple has been in talks with the world biggest telecommunication company, China Mobile (CHL), to launch its new handset that supports China Mobile's current TD-SCDMA network 3G and the upcoming TD-LTE network for 4G. However, Apple made no announcement regarding an agreement with China Mobile during its product launch event. China Mobile has 138 million 3G users reported in June this year, so if Apple signs an agreement and grabs even a 10% market share in this subscriber base, it would result in additional sales of 13.8 million iPhones, and this figure excludes the potential 4G market.
Gorilla glass sales growth is expected to provide value to the investors in terms of earnings growth. Corning's 12 months forward P/E of 10.30, which is less than trailing 12 months P/E of 11.36, substantiates this growth. The stock is still undervalued which can be concluded from comparison with industry average of 16.9. Therefore, we feel that this stock has still upside potential.
Conclusion:
Expanding the application of Gorilla glass is expected to bring additional revenue from new markets like touch notebooks and markerboards. In addition, the launch of new iPhones is expected to increase the demand of Gorilla glass. Apple is expected to boost its iPhone sales from the expected collaboration with China Mobile for launch of a new compatible handset, furthering their demand for Gorilla glass.
Disclosure: I have no positions in any stocks mentioned, and no plans to initiate any positions within the next 72 hours. I wrote this article myself, and it expresses my own opinions. I am not receiving compensation for it (other than from Seeking Alpha). I have no business relationship with any company whose stock is mentioned in this article.
Additional disclosure: Fusion Research is a team of equity analysts. This article was written by Rohit Gupta, one of our research analysts. We did not receive compensation for this article (other than from Seeking Alpha), and we have no business relationship with any company whose stock is mentioned in this article.