Equifax (NYSE:EFX) stock has not been immune to the recent dip in the market. Shares are down around 10% from the all-time high of $65.65 in early August to around $60. The dividend yield is 1.5%, which is lower than the S&P 500 (NYSEARCA:SPY) average of around 2%. Is Equifax now a buy?
Dividend History
Equifax management seeks to return around 25%-35% of its net income to shareholders through dividends or share buy-backs. Dividends have increased steadily over the last few years, and expected earnings of $3.61 for 2013 leave a lot of room for future increases.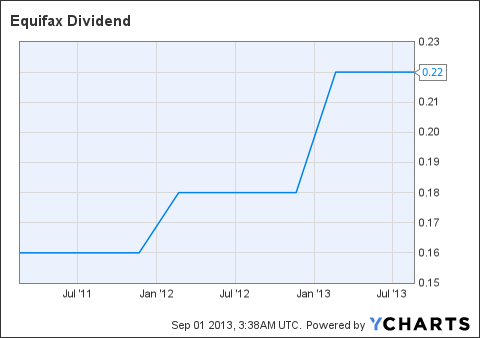 EFX Dividend data by YCharts
Equifax's "Wide Moat"
Equifax is one of the world's largest consumer credit bureau operators and provides related information services in North America, Europe and Latin America. Credit bureaus assemble data on credit quality from a variety of sources and provide credit scores and other predictive services based on analysis of that information. By their nature, credit bureaus become more valuable as more information sources are plugged into them and more sophisticated data analysis is developed. Credit bureaus also become more entrenched over time as they build historical credit information. For these reasons, it is very difficult, if not impossible, for new entrants to compete against established competitors.
The business is also intensely local, with a handful of credit bureaus dominating each local market. In developed countries, the competitive landscape is generally stable. For example, in the United States, Equifax competes with Experian and TransUnion, with small changes in market share driven by pricing and credit analysis technologies. In developing countries, the landscape is much more open because credit bureaus are just beginning to assemble information and large percentages of the population do not have access to credit at all. The big three, Experian, Equifax and TransUnion are investing heavily to build strong positions in these markets, often with local joint-venture partners. Experian is generally leading the way in Asia and Latin America is generally split, with local operators and the big three taking strong positions on a country-by-country basis.
These dynamics have allowed Equifax to generate consistent earnings growth over the last 10 years (other than 2009):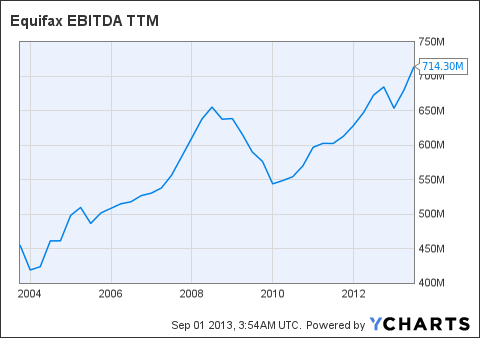 EFX EBITDA TTM data by YCharts
U.S. Consumer Information Solutions
Equifax's largest reportable segment is U.S. Consumer Information Solutions, which grew 19% during the first half of 2013 and generated 44.2% of total revenues. This segment includes the U.S. consumer credit bureau and related products. This is a relatively stable business in terms of market share for the reasons outlined above, but does tend to be affected by wild swings in the U.S. mortgage market that are driven by interest rates and mortgage refinancing volumes. The current spike in interest rates will hit this business in the back half of the year, and management's expectations guidance has been adjusted accordingly - expectations for the full year are for 10%-12% revenue growth after 13.2% growth in the first half. Given the stable market positions in this business, any drop in the share price as a result of temporary declines in mortgage volumes presents an attractive buying opportunity.
One of the key drivers of this unit going forward will be its so-called "sandbox" product, whereby Equifax partners with large financial institutions to create a database of customer credit information that includes both Equifax's and the customer's data. Equifax and the financial institution then together develop new analyses on this data and produce new models. The sandbox products are just now launching and there is some initial revenue associated with hosting the database but management is more focused on new analytical models and products that can be developed from working and experimenting on this data. This promises to be a great source for new products going forward that will drive both the U.S. business and eventually the international business as the products are pushed to international markets.
International
The international business grew 8% on a constant currency basis in the first half of the year and represented 22.1% of total revenues. Compared to Experian, Equifax is much less exposed to international markets. Experian generated 52% of its revenues from outside North America in the year ended March 31, 2013. Still, Equifax enjoys strong positions in several international markets, and has experienced strong growth in Argentina, Ecuador and Uruguay. Equifax also holds a strong position in Brazil through its 15% stake in Boa Vista (which is not consolidated in the financial results), which competes against Experian's Serasa venture, and management has indicated an intention to increase its stake in Boa Vista in the future.
Going forward, international can be a huge driver of future earnings growth if management continues to invest abroad. The international market is still extremely fragmented, with credit bureaus in very early stages in most of the developing world. Fortunately, the low payout ratio of 25%-35% and recent reduction in leverage give ample room for future investments abroad.
Workforce Solutions
In the Workforce Solutions, Equifax offers verification services to verify employment, income and social security numbers, and employer services through which Equifax handles unemployment claims, certain payroll-related transaction processing and assesses new hires.
The verification services are driven by a database of payroll data that Equifax maintains through connections from 2,500 organizations, including almost three quarters of Fortune 500 companies, as of December 31, 2012, according to the 10-K (up from over 2,250 organizations as of December 31, 2011 (see 10-K)). Equifax then uses the payroll information to respond to third-party verification requests, charging the companies a per-transaction fee. This business is somewhat unrelated to the core credit bureau business but nevertheless benefits from extremely strong network effects and it would be extremely difficult for a competitor to enter the market given the large scale of the existing database network. Verification services revenue increased 21% in the first half of 2013 to $145.5 million, and should be a strong driver of future growth.
Personal Solutions
Equifax, like the other credit bureaus, offers personal solutions like credit monitoring products and other fraud prevention services. Revenue in this segment was up 12.6% in the first half 2013. Equifax recently acquired TrustedID for $30 million, which should bolster its identity protection product line.
Commercial Solutions
Equifax also provides business credit information services by leveraging its consumer credit bureau data and data on small businesses. To date, this business line has not gained much traction against competitors such as Dun & Bradstreet (NYSE:DNB) that are more focused on business information. Over time, possibly through acquisitions, it may be able to get this business going.
Leverage and Firepower for Acquisitions
Leverage increased at the end of 2012 in connection with the $1 billion acquisition of the credit services business of Computer Sciences Corporation, which has since been rolled into the U.S. Consumer Information Solutions business line. The acquisition was financed with cash and a $500 million bond. Since then, the company has repaid $225 of debt in the first half of 2013. Current leverage is at 1.9, higher than the company's target of 1.75x-2x EBITDA. While the company intends to further reduce leverage, it is ready to take on the "multi-$100 million" range deals it is seeing in the market. Expect several of these size deals over the next few years as the company invests internationally and in accretive opportunities in the U.S.
Future Growth
The largest competitors in the consumer information market are Experian (OTCQX:EXPGY), which trades on the London Stock Exchange and has a market capitalization of $18 billion, and TransUnion, which is majority-owned by private equity firm Madison Dearborn Partners.
Equifax, with a market cap of $7.2 billion, is smaller than Experian, and offers more opportunity for future growth. The two main drivers will be:
Development of new technologies and products in the core U.S. market. New initiatives like the "sandbox" product will fuel innovation. Over time, these new products, along with the unique business lines like employment verification services, can be transferred to international markets.
International growth. Equifax benefits from a stable core market in the U.S., and with low leverage and a modest payout ratio, it has the firepower to aggressively lay its claim to many local markets in an industry that is really at the beginning of consolidation.
By the nature of the business, credit bureaus enjoy limited competition. They are fantastic businesses, which is why they have relatively high multiples. With a P/E of 23.5 (forward of 15), Equifax isn't exactly cheap. But its prospects are good and the recent dip in the market is a great buying opportunity.
Disclosure: I am long EFX. I wrote this article myself, and it expresses my own opinions. I am not receiving compensation for it (other than from Seeking Alpha). I have no business relationship with any company whose stock is mentioned in this article.