The market is in a cheery mood and within sight of new highs. Internet stocks are booming like the 90s, with the Twitter IPO (mania) yet to come. And corporations that are building cash piles are spending it not on organic growth but on share buybacks and M&A (mergers and acquisitions) - shareholder friendly moves with immediate returns. The impending QE3 tapering is lending a sense of urgency to M&A (especially the large deals), as a rise in interest rates affect debt markets and therefore the cost of an M&A transaction. The chart from Zero Hedge below shows the skew towards spending cash on shareholder friendly financial transactions over CapEx or research & development.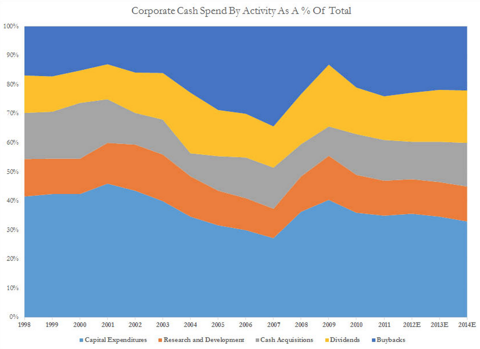 All this urgency in M&A should be very positive for investment banks such as Goldman Sachs (NYSE:GS), Morgan Stanley (NYSE:MS) and JPMorgan (NYSE:JPM), which are a mandatory participant in any large M&A deal. The question is, who is best positioned for earnings upside and stock appreciation from the M&A boom? Since there are no true large 'pure play' investment banks, the investment thesis has 3 components - fundamentals, valuation, stock momentum and headline upside.
Fundamentals. First off, let's assume that M&A is good for investment banks. How much of these three (non pure-play) conglomerates is actually investment banking? Is it enough to move the dial on earnings? Investment banking is not explicitly called out in many cases, but drives much of the institutional services revenue. If you look at the investment banking revenue (both explicit and implicit) - you're talking about 70% of GS's business, about 50% for MS and about 35% for JPM. In short, the health of investment banking is core to the investing thesis for all three.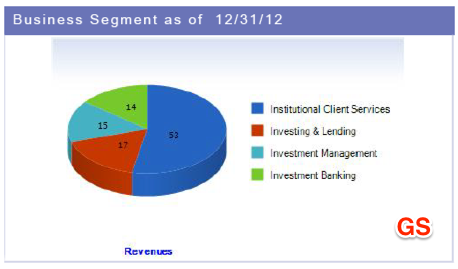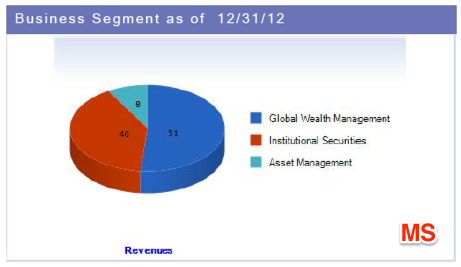 Valuation. On valuation Enterprise valuation (EV/EBITDA) or Price-to-Book (P/B) are common valuation methods. Comparing on this dimension, JPM seems like a better value than GS and lastly MS.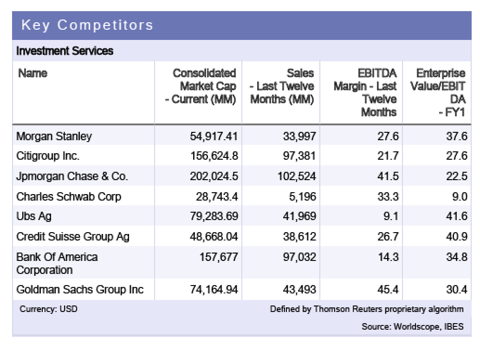 Momentum. On stock momentum, MS is the clear winner as it is viewed as 'Goldman Mini' on the investment banking side, with a growing wealth management franchise. JPM is the most muted, because it has a large 'old school bank' franchise.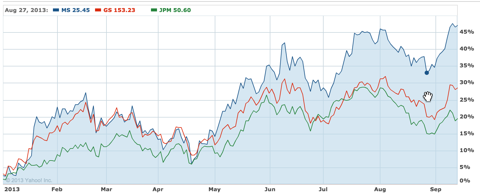 Headline Momentum. On headline momentum, Goldman will have a clear upcoming advantage as the lead banker on the upcoming Twitter IPO. To the extent that Twitter drives IPO mania, Goldman will likely be the desired prom date on those.
In short, if you were to pick amongst the three - JPM allows you to participate in the M&A boom the 'safe' way but with the least upside. MS gives you a higher growth, higher momentum and higher volatility. GS gives the greatest leverage (70% Investment Banking business vs. 50% or 30% in the other two). Additionally, GS gives you the 'lottery ticket' potential if tech IPO mania returns. This article suggests that 2013 could be one of the most fertile years for IPOs, with over 200 companies 'on deck' if Twitter ignites the market. So if I had to pick only one, I would take GS with the view that an IPO mania is likely, but all three are good choices as a function of your risk profile.
Disclosure: I have no positions in any stocks mentioned, and no plans to initiate any positions within the next 72 hours. I wrote this article myself, and it expresses my own opinions. I am not receiving compensation for it (other than from Seeking Alpha). I have no business relationship with any company whose stock is mentioned in this article.