Enterprise Products Partners (NYSE:EPD) and Kinder Morgan Energy Partners (NYSE:KMP) are the two biggest Master Limited Partnerships (MLPs), with market capitalizations of $53 and $35 billion, respectively. Both have long records of spectacular returns.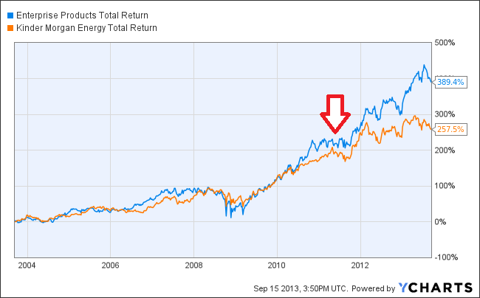 The question is, which is the better buy right now? In a previous article (indicated by the red arrow above) I favored EPD. Since then, EPD investors scored a 54% total return vs. only 20% for KMP investors. But with EPD's steep price increase and KMP's recent drop, KMP has become more attractive than before. Its yield is now roughly 2% higher than EPD's. A top brokerage analyst has even dubbed KMP "one of the most undervalued MLPs." So let's compare the two companies in light of this.
The Numbers
Some key metrics for evaluating MLPs are the distribution yield, the compounded annual growth rate (OTCPK:CAGR) and the distribution coverage ratio based on distributable cash flow (NYSE:DCF). Here's a quick comparison based on consensus numbers from leading brokerage analysts.
| Metric | EPD | KMP |
| --- | --- | --- |
| Yield | 4.7% | 6.6% |
| 3-Year Distribution CAGR | 6.8% | 6.0% |
| 2013 DCF Coverage Ratio | 1.39 | 1.01 |
| Price/DCF | 15.3 | 15.1 |
For a seat-of-the-pants estimate of total future returns, we add the yield to the CAGR. By this estimate, KMP looks better with a total of 12.6 vs. 11.5 for EPD. But there's a hitch: EPD covers its distribution with a big surplus, compared to KMP's razor-thin 1.01X coverage. This reality is also reflected in the Price/DCF ratios, which are nearly on par, despite the vastly different yields.
What's more, we need to account for a sleight-of-hand trick in coverage ratios. In 2012, KMP paid $2,560 million in cash distributions, but also paid $625 million in KMR share distributions. These share distributions are excluded from the coverage ratio calculations. Instead they're counted as dilutive equity issuances, totaling 1.83% dilution per year. Likewise, EPD paid $2,179 million in cash, but also issued $132.6 million in new units to participants in its DRIP program, totaling a 0.2% dilution.
To make coverage ratio numbers truly comparable, we need to adjust them for the non-cash distributions. That lowers KMP's coverage ratio to .82X and EPD's to 1.34X. Viewed this way, KMP looks a lot less attractive. If we adjust the yields for these coverage ratios, we get 6.5% for EPD and only 5.4% for KMP. By these numbers, EPD wins over KMP.
The Businesses
Both EPD and KMP have diversified, mostly midstream businesses.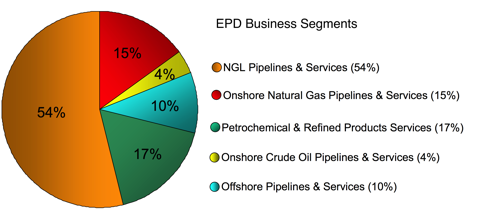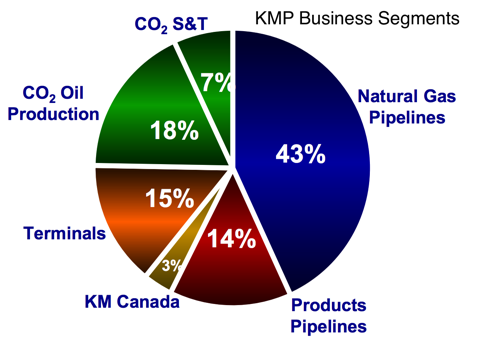 Both companies have some incremental risks over pure fee-based pipeline businesses. For example, EPD derives over half its income from Natural Gas Liquid (NGL) pipelines and services. This is not an entirely fee-based business - some of the income is derived from keep-whole, POP and other contracts that depend on commodity pricing. Moreover, the entire NGL business has significant volumetric risk: if NGL and oil prices decline dramatically and ethane rejection increases, the business will realize less revenue. We have already seen the impact of this on other NGL-focused midstream MLPs, like Oneok Partners (OKS).
KMP has a different risk: it is the second largest oil producer in Texas and derives nearly 20% of its income from oil production. This is a fact that many KMP unitholders were blissfully unaware of until Hedgeye's recent hit piece on the company. That being said, I believe oil production, which you can easily hedge, isn't necessarily riskier than NGL fractionation and shipping, which have volumetric exposure that can't be hedged. So based on overall risk and diversification, it's a rough tie between the two companies.
Other Factors
In the previous article I discussed how KMP's Incentive Distribution Rights (IDRs) put it at a disadvantage to EPD, which has no IDRs. KMP's general partner, KMI, currently takes nearly 50% of KMP's distributable cash flow in IDRs. KMP needs to increase cash flow by nearly 10% just to increase distributions by 5%. The advantage here still goes to EPD.
I also discussed EPD's DRIP program, which offers an attractive 5% discount based on the ex-dividend unit price rather than the pre-dividend price that KMP uses for its KMR distributions. This also slightly favors EPD for unitholders who intend to participate in the DRIP.
And The Winner Is....
For me the bottom line on MLP valuation is the combination of the Price/DCF ratio and CAGR. Right now, these two measure are very close for KMP and EPD. In fact, they would be even closer except for one outlier CAGR estimate. EPD's DRIP program and its lack of IDRs tip the balance slightly in its favor. So if I absolutely had to choose between the two, I would take EPD. But it's no longer the slam dunk it was two years ago. And there's another choice.
For a 7% discount off the price of KMP, you can buy the i-units version of KMP - Kinder Morgan Management (NYSE:KMR). A unit of KMP and a share of KMR provide you with the same ownership and same entitlement to distributions, with only a few key differences:
KMP
KMR
Distribution
Cash
Additional KMR shares
Tax Reporting
K-1 form each year
1099
Tax Liability

~10% ordinary income each year; basis is reduced; upon sale, depreciation is recaptured and significant amounts of ordinary income tax may be due

Unitholders are responsible for filing state returns in any states where apportioned income exceeds filing thresholds.

Basis is reduced; capital gains paid on sale.

No state taxes other than state of residence

Suitable for IRA?
Maybe, subject to limitations (less than $1000 UBTI)
Yes
Current Yield
6.6%
7.1%
Owning KMR gives you much greater flexibility than owning KMP. Many unitholders who have owned KMP and other MLPs for a long time find themselves in "golden handcuffs." Their cost basis has dropped dramatically and they have accumulated years of depreciation and depletion that must be recaptured if they sell. Faced with regular income taxes on a large part of their proceeds, they're stuck holding the MLP. With KMR, you pay capital gains taxes when you sell, just as you would with any other stock.
As some intriguing language in KMP's 10K notes, KMP unitholders effectively subsidize KMR shareholders when it comes to taxes:
The i-units we issue to KMR generally are not allocated income, gain, loss or deduction for U.S. federal income tax purposes until such time as we are liquidated. Therefore, the issuance of additional i-units may cause more taxable income and gain to be allocated to the common unitholders.
Kinder insiders hold 20% more KMR shares than KMP units and have continued to buy more KMR shares over the last year. I suspect they know what's best to own. So, I'm taking a pass on both EPD and KMP, and buying KMR instead.
Disclosure: I am long EPD, KMR. I wrote this article myself, and it expresses my own opinions. I am not receiving compensation for it (other than from Seeking Alpha). I have no business relationship with any company whose stock is mentioned in this article.
Additional disclosure: I am short KMP single-stock futures and may add to the position in the near future.